Family Trip to Knott's Berry Farm & the Boysenberry Festival
Almost every adventure with Augustine is a new, fun experience for her, plus an opportunity for us to see the world in a whole new way, and our trip to Knott's Berry Farm was no exception. Her first theme park (check), her first meatball (check), her first boysenberry (check), and her first theme park ride (check, although admittedly with a few tears).
The roller coasters speeding by on the wooden tracks left quite an impression – so much so that she was making roller coaster noises all the way home and using her toy truck as a roller coaster on my arm once we were back in our living room – and the theme park treats made her loopy and super silly. It was a day to remember – and one you too can have with your family.
—-
We ventured out to Knott's Berry Farm on the 1st of the month for the opening day of the Boysenberry Festival, a once a year festival to celebrate all things Boysenberries (including pies, pizzas, meatballs, cider, wings, jams and butters- among 70 other treats). The Boysenberry Festival takes over Ghost Town and with the purchase of a $25 dollar Boysenberry tasting card, you can sample six different Boysenberry treats, including Boysenberry BBQ meatballs, Boysenberry pana cotta, Boysenberry Fry bread and Boysenberry pizza. The sample sizes are huge, seriously three large meatballs and 6 wings each were included. It's more than enough for lunch while visiting the park and can be sampled throughout your visit (meaning you don't have to try it all at once).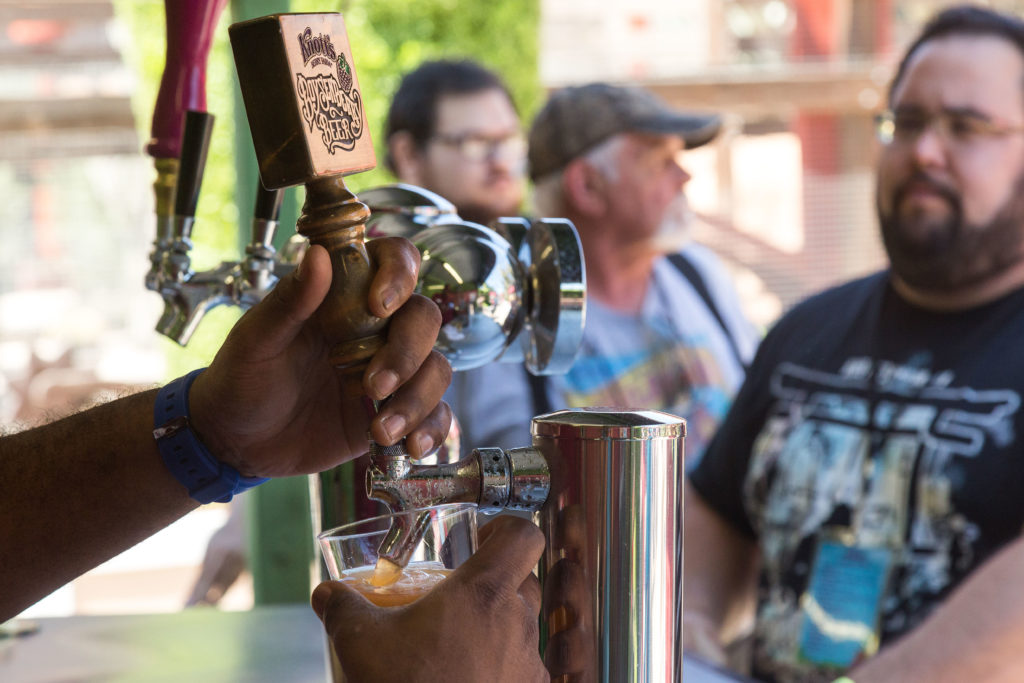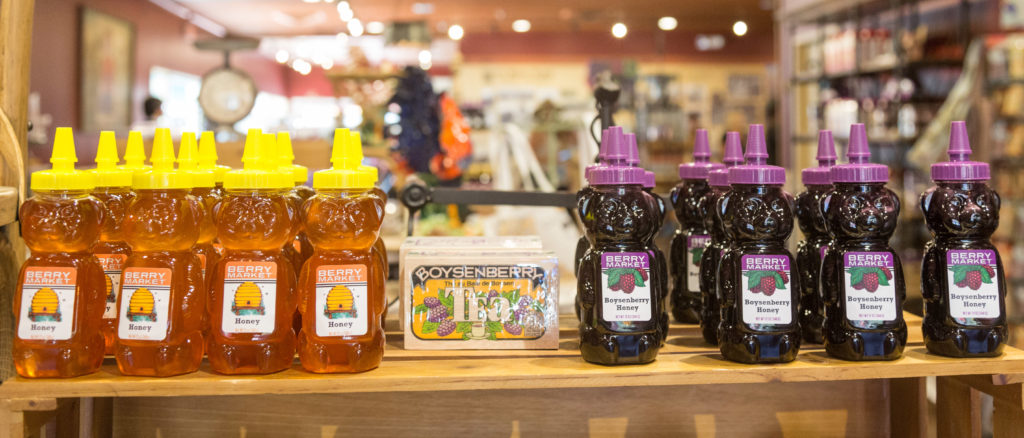 Additionally, you can purchase a $25 dollar ticket for entrance into the Wine and Craft Beer tent, with 6 tastings offered. The tastings aren't tiny glasses, either. If you're into beer or cider, we suggest getting those first and then walking through the wine tent later in the day after you've been on a few rides.
This was actually our first visit to Knott's Berry Farm during daylight hours, as we usually visit the park during Halloween time. After stopping at the front gates to fully later Augustine up with sunscreen, we marched our way into Ghost Town to sample our first treat before taking Augustine over to Camp Snoopy to put her on her very first theme park ride. If you watched our Insta-Stories you'd see how well that went over! (insert laughing-crying emoji face here)

Once back on solid ground, Augustine loved the entire theme park experience- from the costumed characters to the sounds and sights of roller coaster and all the food. The Boysenberry Festival is the perfect time to visit because it's not too hot and you have all the added benefits of the Boysenberry foods and wine/beer tastings (for adults).
Tips for visiting the park during the Boysenberry Festival:
Arrive early to beat the heat
Bring sunscreen and a hat
Buy your park tickets before you arrive to save time
Bring a stroller or carrier for your child so they can squeeze in a nap if they get tired (Although walking around was Augustine's favorite part)
Space out when you eat all your Boysenberry treats as the portions are quite large (We had the meatballs and pastry around lunch time and then the wings when we needed a snack and then later the pizza. You can also break up the wine and beer tasting to be throughout your visit, so don't feel the need to drink all your samples at once.)
Schedule out your day so you don't miss any of the shows or entertainment (Our formula: eat, show, ride, repeat.)
The Boysenberry Festival lasts until April 23rd, so start planning your visit now!
Knott's Berry Farm comped our tickets for the Boysenberry Festival, but our experience and reviews are all our own. Thanks for supporting the partners that make this blog possible.