Most/Least Romantic Destination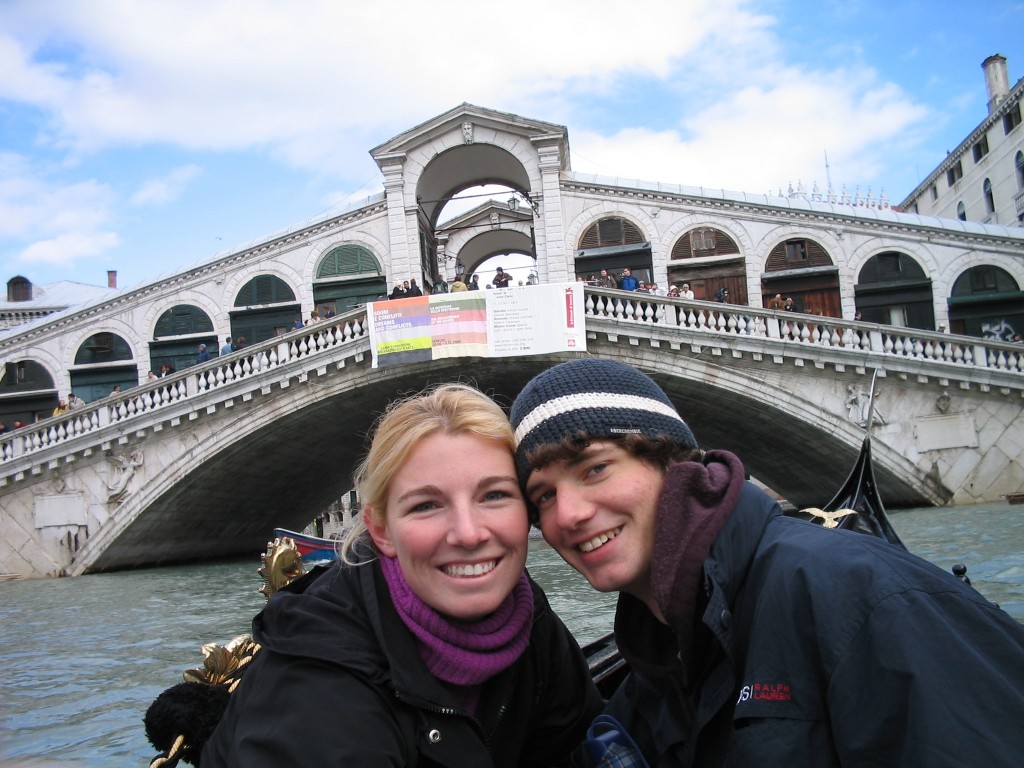 What is your most romantic and least romantic travel destination?
Bob:
While I would like to think of myself as a romantic, I think a majority of my most loving moments are the result of complete chance.  So, when it comes to listing my most romantic spot, I can't take credit for piecing the experience together, however, for I can take complete credit for my least romantic travel destination.
Most Romantic: I don't know why but I associate romance with cold weather, so, while I would love to say Cinque Terre, I can't.  My most romantic travel spot would have to be Venice, Italy.   I ended up in Venice after traveling through Greece and Italy with a friend of mine, and hadn't seen my girlfriend for nearly two weeks.  Now, the city alone is majestic and lovingly whimsical, but this particular trip was the result of my girlfriend scouring the city to find me and my friend a room and began with the most delicious sparkling red wine I have ever tasted.  We did the necessary gondola ride and hit up the museums, but simply wandering around for two days with my girlfriend made Venice the most romantic travel destination of my life.
Least Romantic: This is easy.  I met up with my girlfriend and some friends in London.  They had just arrived in Europe for our semester abroad, while I had been traveling for nearly two months as a camp counselor with the YMCA and then as a backpacker.  Since I had been traveling, I wanted to change things up…which lead to an overnight trip to Dublin from London via two trains and a ferry.  Horrible idea.  Also, no advance reservations meant that we ended up in a 13 room hostel.  Hot un-slept morning sweat, tons of drunk travelers, and delayed night trains do not put anyone in the mood.
Jade:
Most Romantic: After reading Bob's most romantic, I feel like I should also say Venice if for no other reason than his answer was really sweet but also because it was simply magical. Getting lost on tiny alleys, the majestic teal green water, the most gorgeous sunsets and delicious food all spell romance to me. Plus, with Italian mean screaming "ciao bella" from the gondolas and drinking the most delicious red wine I've ever tasted, there's a reason Italy's known for romance! Venice may be predictable, but for us, it was perfect.
Least Romantic: This is also easy for me. After an all night flight, we arrived in Hong Kong around 5:30am. After fighting the morning commute with our luggage on the subway and bus, walking almost a mile in the worst humidity I had ever experienced to get to our hostel, we were both left exhausted and smelly. I'm not sure how anyone in Hong Kong could be romantic after taking two steps outside during the summer time. Check the birth rates… but I'm pretty sure there aren't that many births in February or March!
What about you?