You Must Try: Ice Climbing in Mammoth Lakes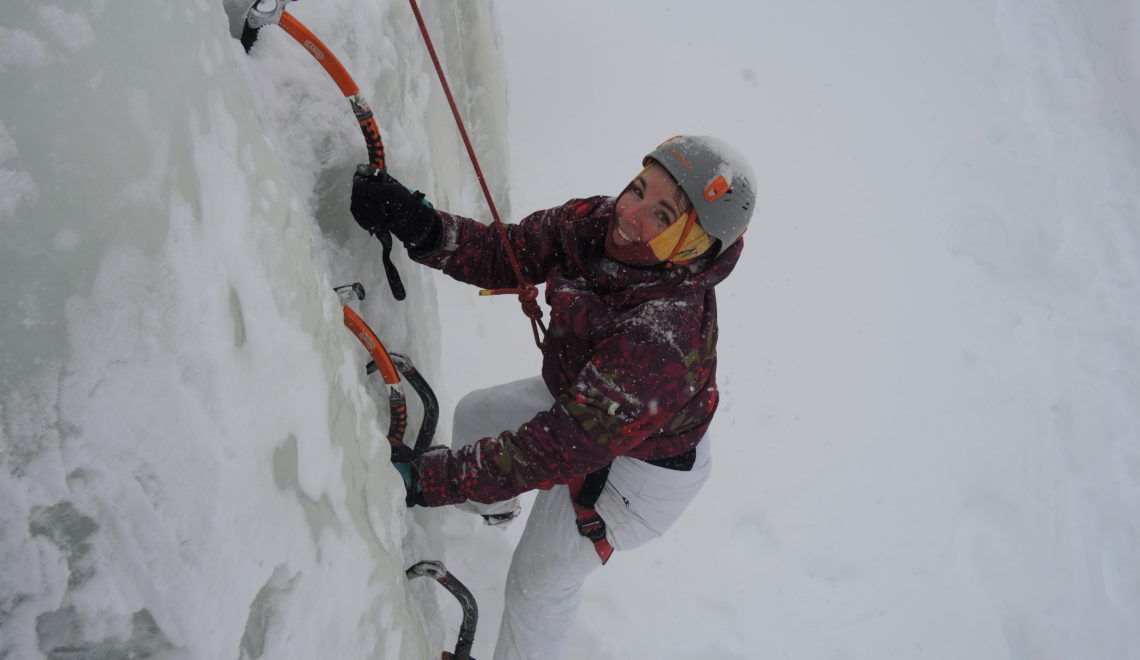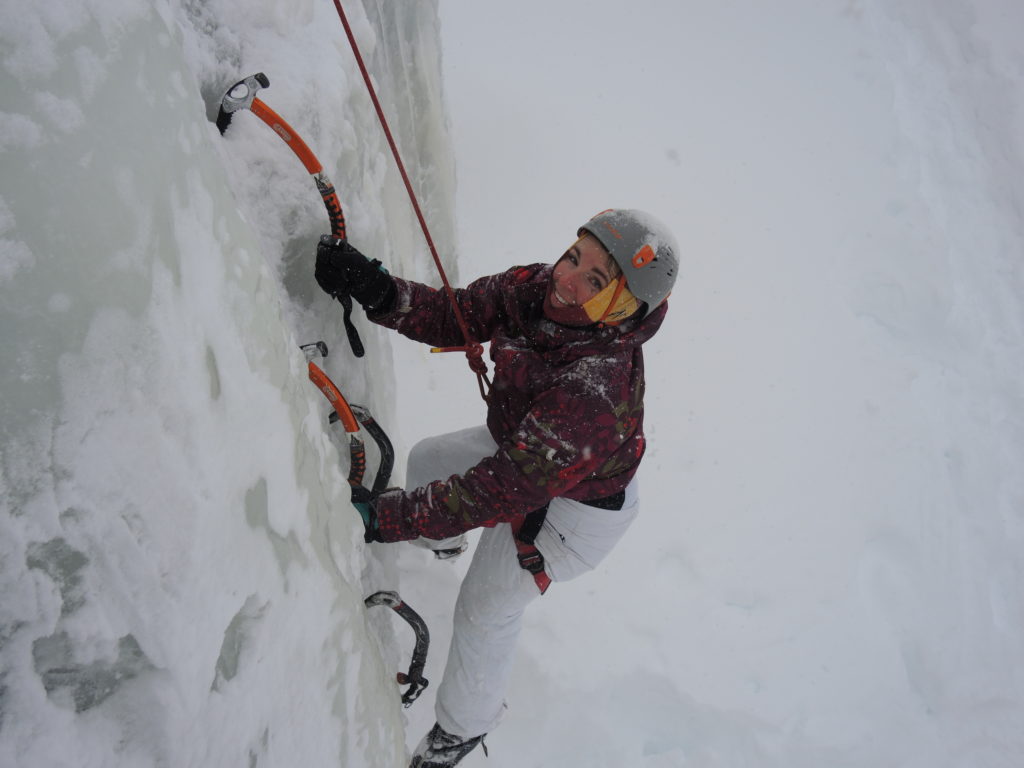 I've climbed Mt. Fuji, snorkeled the Great Barrier Reef, hiked to the top of the Narrows in Zion National Park, and SUPed in the whitewater rapids in Colorado. If there is an adventure to be had, I've either tried it or it's on my always growing, never-ending bucket list.
Winter adventures have gotten their fair share of the bucket list, except for one. While I had tried snowmobiling, skiing, and snowshoeing, I had yet to tackle ice climbing. It's been the one winter activity that I had always dreamed about but never was able to actually cross off my list. This year, in Mammoth Lakes, home to the mountain with the most snow in all of North America, I changed that.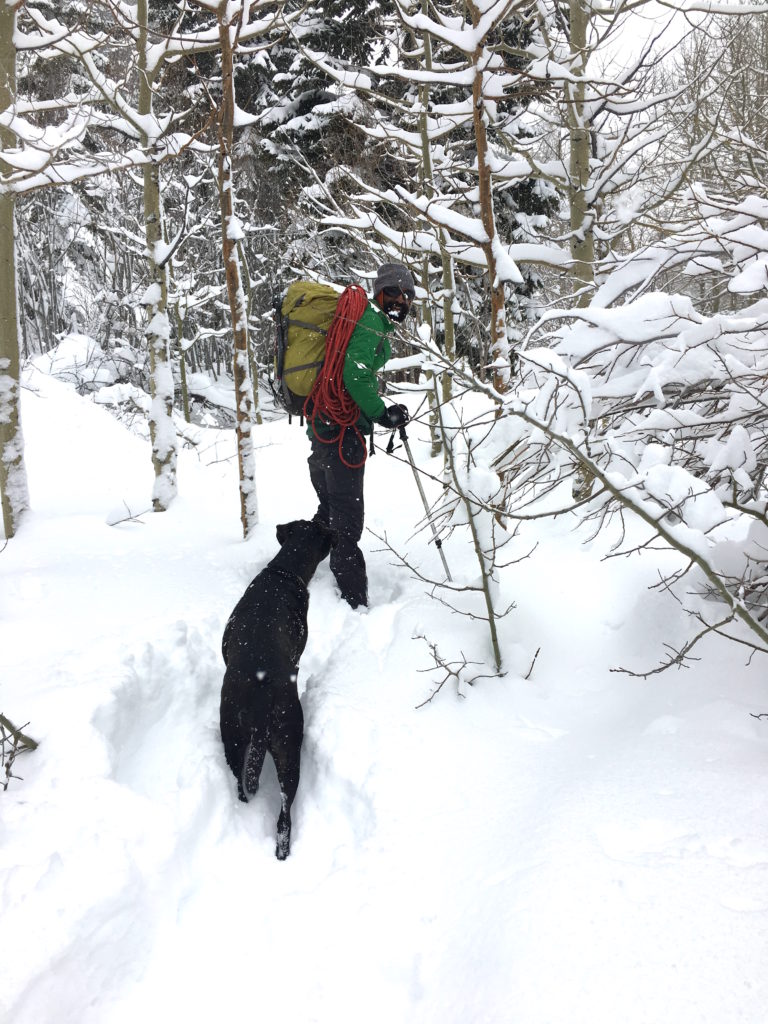 …
I woke up early to meet Viren, my ice climbing guide from Sierra Mountain Guides, at a local Mammoth Lakes coffee shop before departing on our full day of ice climbing. This was my first experience ice climbing, and I didn't really know what to expect. While I had done some research on it, the mechanics of the whole thing were still a bit foreign to me.
Viren immediately put me at ease. He's an expert climber and has climbed on ice all over the world. He explained how the ice in and around Mammoth Lakes is some of the best in the world. For a newbie, I felt great in my decision to try ice climbing there.
As the snow was really starting to come down, we drove toward June Lake, where Viren took me to the warehouse to get outfitted. He then took me (and his dog, Slanty) to a few popular climbing spots to snap some photos before finally parking the truck for our adventure to begin.
Before you can ice climb you have to get to the rock face. It sounds easy enough, but it really meant strapping on snowshoes and hiking, in 20-degree temperatures with thick, heavy snow falling down all around us, for about an hour. While I've been on many snowshoe treks before, this was the first where after about 10 minutes I was totally out of breath and wondering if I was going to be able to hack it.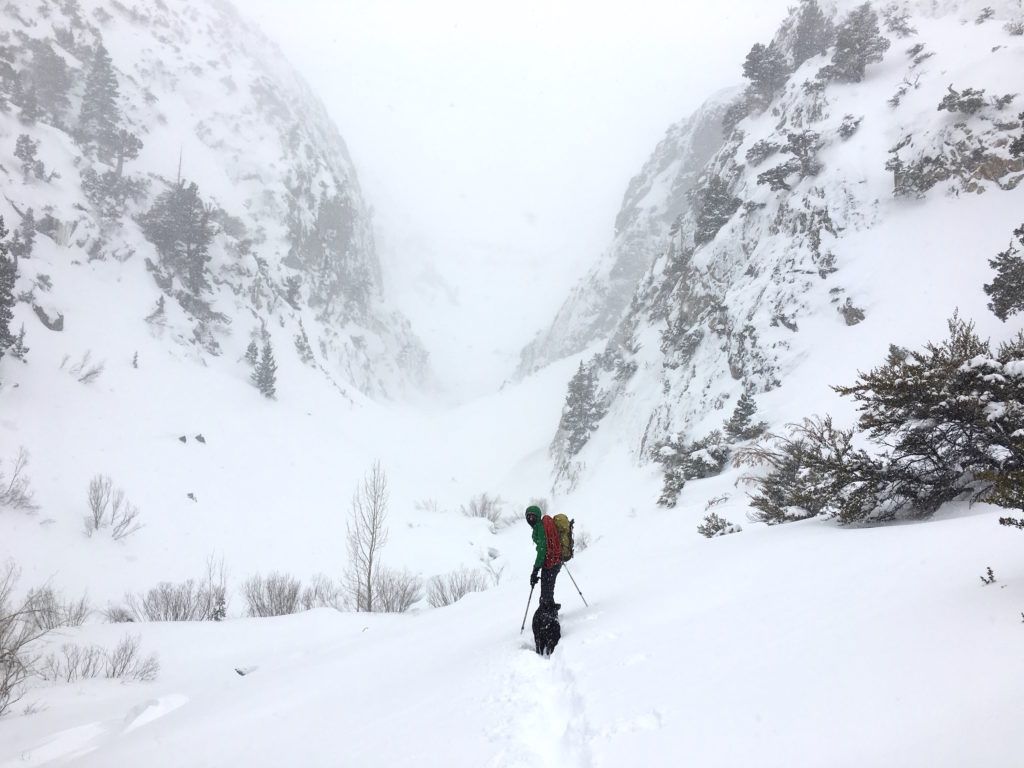 Slanty did great- running through the snow (almost skipping) —that dog was made for winter weather. I, on the other hand, was beat. I spent a big chunk of the hike talking out loud, offering up reassuring phrases and motivational quotes to pump myself up to continue walking. From the moment we got out of the truck, it had been intense — and we hadn't even seen the ice yet.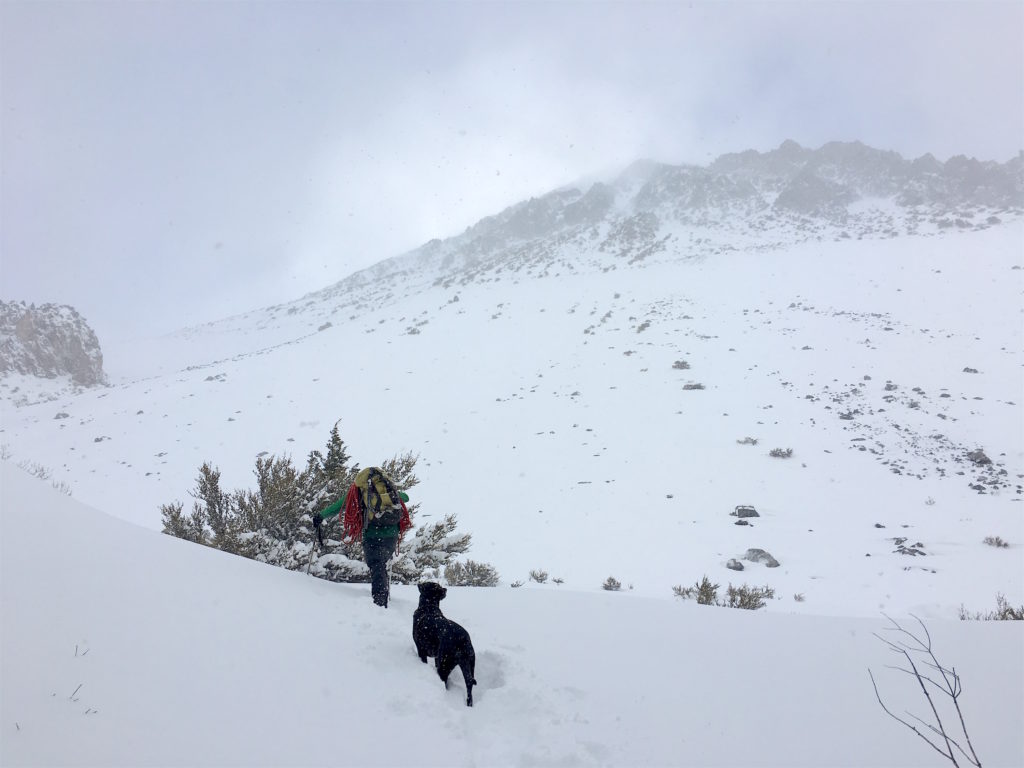 Exploring the backcountry is exciting and full of adventure, especially when you're the only people around for miles. One of the many advantages of exploring with an experienced guide means they can show you areas you might never had known existed and keep an eye on any potentially dangerous situations since they know the backcountry so well. After claiming that one of the areas was ripe for an avalanche, we picked up the pace and finally hit the rock face with the ice.
Viren was pumped. Seriously, you can tell that he absolutely loves his job and loves showing people how to ice climb even more. He kept repeating "I get to be with people on the days they try something new for the very first time, that's so awesome". His excitement was enough for me to totally forget about my freezing fingers and the blinding snow.
He walked me through the gear, offered a few practice rounds where I could watch and then it was basically up to me to get off the ground and onto the ice.
The thing that no one tells you about ice climbing is that the majority of the weight is on the tips of your toes. Your arms, while they do have to strike the ice just so, don't really do the heavy lifting. Even knowing that and being reminded of it several times by Viren, I still tried to lift with my arms. It took a few times to really get the hang of just hanging out on my toes in the ice.
It wasn't long though before I was up there climbing on the ice and checking another item off my bucket list. Slanty was pretty proud of me (I could tell), and I was pretty proud of myself, too.