A Weekend of Firsts: Exploring Rapid City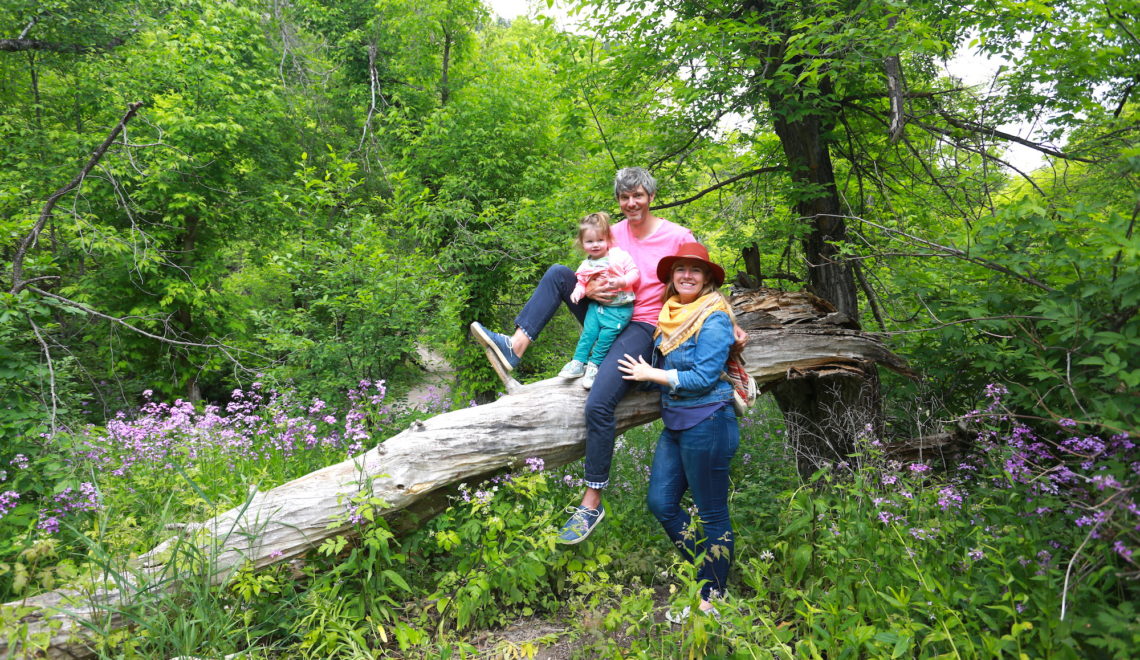 Ever since having a child, the idea of the 'first time' has been in the front of my mind. Her first foods, her first steps, her first words, her first trip. Each one will forever be cemented in my mind and will be the stories I tell her once she's a bit older. Now that Kid Augustine has eaten her first foods (mac and cheese dominate her meals), taken her first steps (and is now running!), and can adorably say 'cheese', 'hi', 'shoes' and a dozen other words, we have now moved on to first adventures. She took her first road trip at 6 weeks old and her first flight when she was 4 months old. And now at 20 months old, we are jumping into a really fun time of firsts with her, since she is much more interactive and can show emotion about trying new things.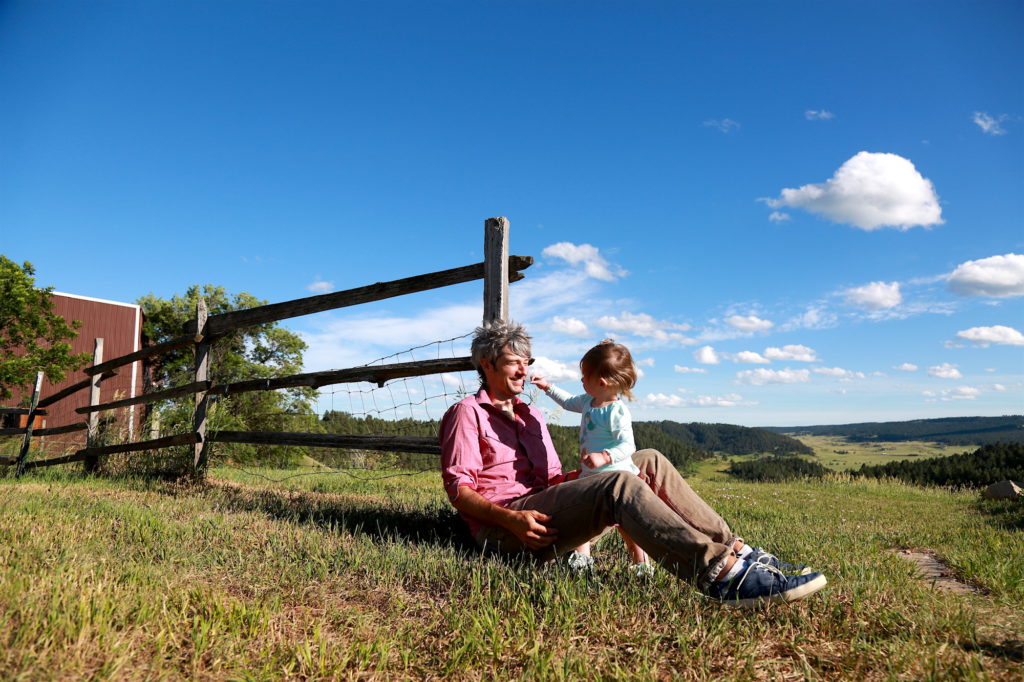 A few weeks ago, we embarked on an awesome trip around Rapid City and Kid Augustine added a bunch of firsts experiences, including her first hike, her first splash park, her first helicopter ride, and her first time petting a cow. The funny thing was, some of the activities were our first times doing them too!
—
Rapid City has actually been on our bucket list for a few years. I had seen a video of the bison roaming around Custer State Park and knew I had to visit one day. Additionally, with Mount Rushmore only a short 30-minute drive away, I knew we would have a lot to see and do if we ever planned a trip.
Fast forward to May and our trip planning was taking place. We were going to fly into Rapid City on a Thursday morning and explore for three full days, leaving on the last flight out that Sunday night. I thought this would be plenty of time to see and do everything on our list. But surprisingly, there are still a few places and activities we didn't have time to do that will warrant a return visit(s) to Rapid City in the near future.
But let's walk through all the firsts, shall we?
First Splash Pad: 
Immediately after landing in Rapid City and getting our rental car we drove to downtown main street area and had lunch. Right outside was the Main Street Square where kids were running around and through the splash pad. The water sprayed so high and so much that the arches were mesmerizing to Augustine. She didn't quite get what she was supposed to do but marveled at the other kids who were giggling and laughing so hard each and every time they got soaking wet. She finally had enough of waiting and watching that she grabbed Bob's hand and ran into the middle of the pad. The water was at a holding pattern and then all of a sudden it started back up again and they both got soaked. The look on her face when she got sprayed was horror and then quickly delight. She laughed so hard for almost five minutes. She was totally hooked and it was difficult to get her dried off and ready to leave for the next adventure that afternoon.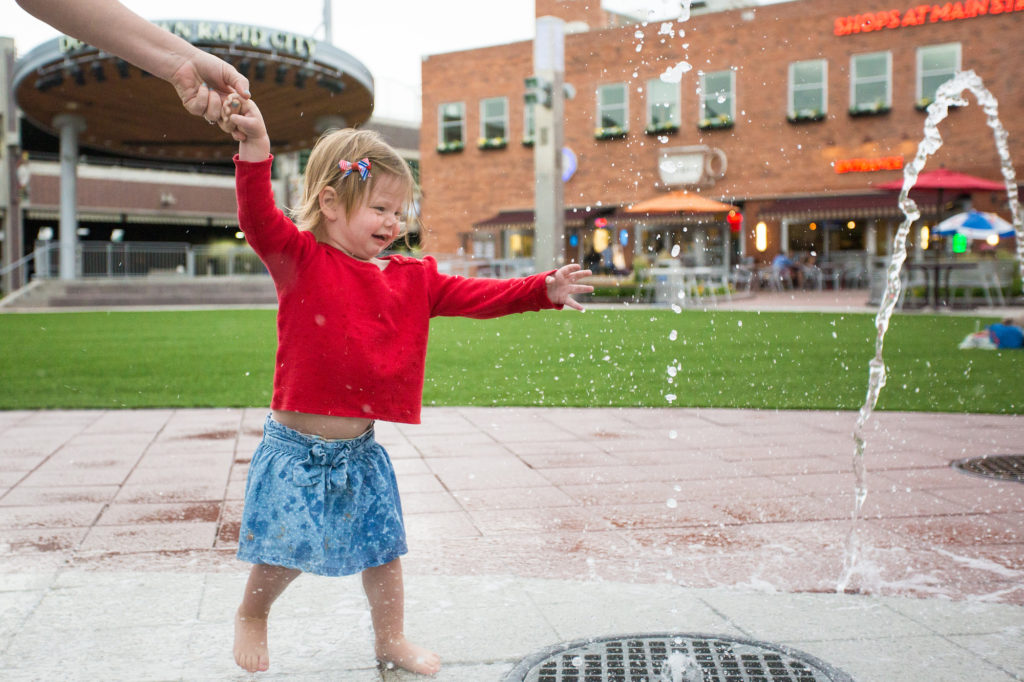 First Music Festival:
Every Thursday night in the summer downtown Rapid City hosts two music concerts and several streets are shut down so you can easily walk around and explore both of them. We started at Rapid City Summer Nights, where Dirty Word rocked classic songs that everyone could sing along to. From there, we walked down Art Alley, a super cool public art display that started in 2005 and continues to be one of the hippest streets in Rapid City, to a Jazz concert near the splash pad and main downtown square. People of all ages filled the streets, and there were food and beer stalls for adults and games and cotton candy for all the kids. Augustine LOVED the train ride behind the main stage so much that we rode it three times.
First Hike:
Bob and I were pumped to explore some of the Black Hills area a bit more and try out rock climbing. We drove about 20 minutes outside the city to Rock Maze, a small cluster of bouldering rocks in the Black Hills forest. The rocks were huge, towering over Bob and my heads and must have seemed monstrous to Augustine. The hike from the parking lot to the rocks isn't far but a good distance for small little legs like hers. She was a champ though, and walked the entire way all by herself and loved watching us climb on the rocks and explore the area.
This is where she found some sticks and a few smaller rocks that she then used to build a little circle pit. I'm not sure what she was going to do in the circle but it definitely reminded me of a makeshift pit you'd build for s'mores when you're camping. When we returned to the car she still had the sticks in her hand and didn't want to leave. I think it's safe to say she is an outdoor adventure kid.
Travel Tip: Driving Directions to Rock Maze: 
From Rapid City, take West Chicago Street / Canyon Drive west, which becomes Nemo Road, and drive approximately 14 miles to the Steamboat Rock picnic area on right. Park here and cross the road. Here, you'll see the trail being blocked by large boulders. Hike south up the closed road, then shortly after take a left on a faint road. Follow this road as it parallels the rocks that are just to the left. Take a left at the hill top and walk for a minute or so to the main area. You might think you are lost but keep going and look around. You can boulder and climb on any of the rocks and we ran into several groups while we were out there, some with several kids aged 5-10.
First Helicopter Ride:
On the morning that we were going to spend at Mount Rushmore National Memorial, we decided to first see the monument and the Black Hills via the air. As we were getting flight instructions for our helicopter tour with Black Hills Aerial Adventures, Bob realized that this was also his first helicopter ride. How special for them to share that moment (I was kind of sad I had already been on one before). We got ready for the ride and as the helicopter touched down, the guides ran us out to the launch pad (Bob filmed the whole thing) and I got Augustine all suited up for the trip, including her headgear and seat belt. She looked so little in the seat all by herself but also such a big girl as she smiled when we took off. She loved watching the helicopter take off and looking around at all of us above the ground. Even though we had the headgear on, I could still see and hear Bob taking a billion photos. It wasn't long after you're up in the air that you see the large faces of Mount Rushmore starring back at you. A huge sense of American pride swept over me as we flew around them. It was definitely a moment we will all remember for a long time.
Travel Tip: Mount Rushmore can be explored in so many ways. We loved seeing the statue from above to put the whole thing in perspective with the surrounding area and then going into the park and seeing it from below. The hike around the bottom of the hill is yet another way and then seeing the lighting ceremony at night is the cherry on top of the whole experience. We'll be sharing a full blog post on our Mount Rushmore experience very soon.
First time petting a cow (and a turtle):
One afternoon of our trip was a little overcast, so we decided to hit up a few of the kids' parks that were indoor (or covered) and could be experienced rain or shine. We started at Reptile Garden, the world's largest reptile zoo in the world, where Augustine touched a 50-year-old tortoise for the first time. She was in love. She has touched and pet animals before – we have two dogs and she's done the petting zoo at our local zoo – but never a turtle (which is her favorite animal). We could have stayed there all day and I think she would have had the time of her life.
Old MacDonald's Petting Farm was calling our names and with the option to bottle feed lambs and sheep, Bob was eager to get over there. Our first stop inside was to see the baby cows and Augustine lost her mind when she touched one. They were bigger than her and I was shocked how fast she walked over to them. The expression on her face once she did was priceless. She turned around to us with her mouth wide open and in disbelief. This was obviously the coolest thing she had ever done (at least that afternoon).
Travel Tip: Both of these attractions are en route to Mount Rushmore and easily could be added on the same day to vary your adventures.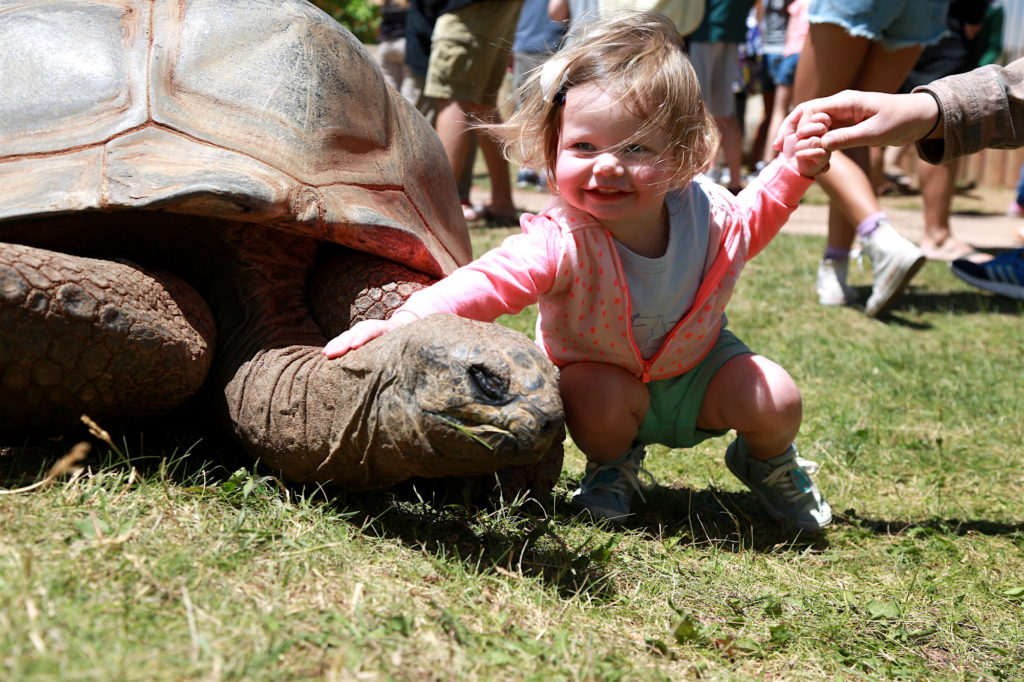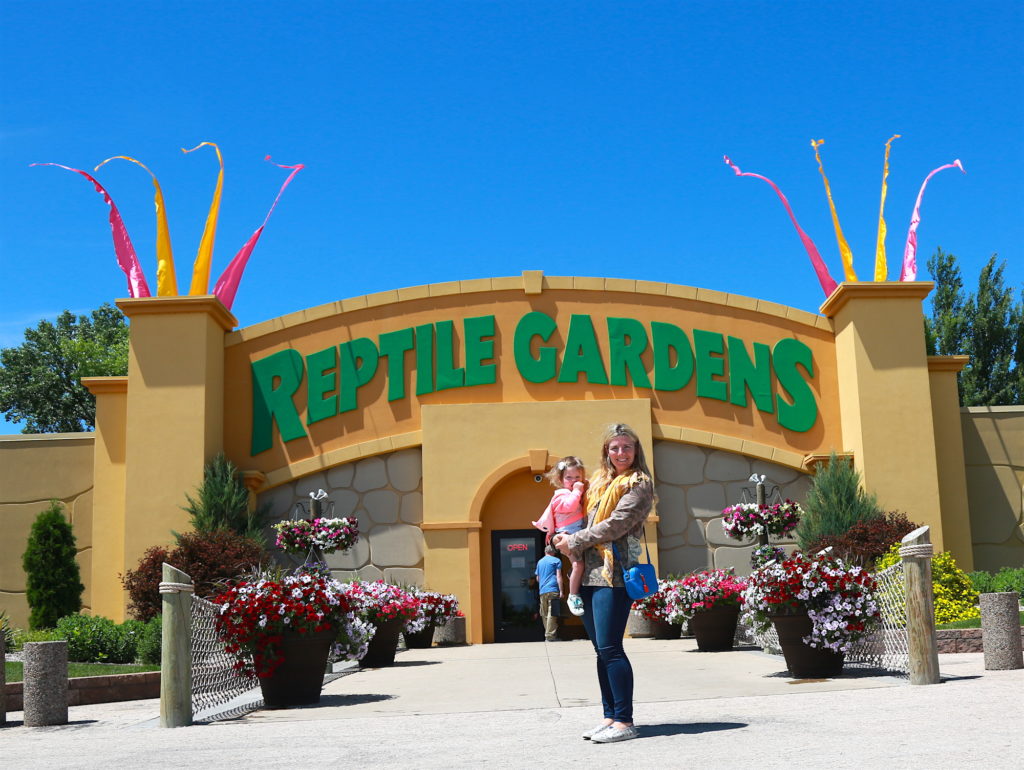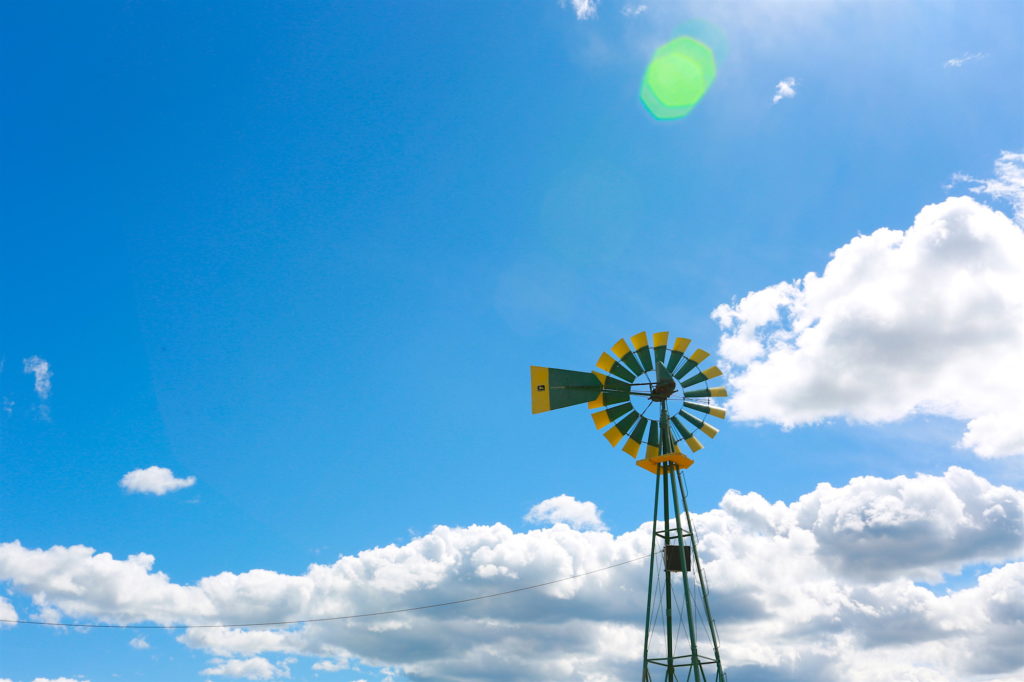 First time seeing a bear: 
Bob and I have yet to go on a proper safari and even this winter when I took a snow mobile tour of Yellowstone, Bob wasn't with me and missed all the live in-person animal encounters. Animal encounters are probably our most favorite adventures to have together and something we are so excited about passing on to Augustine.
Bear Country USA is a motorized safari tour of a dozen or so different types of animals that live in the Black Hills, including bears, elk, deer and wolves. You slowly drive around the park and the animals roam around you.
It has a Jurassic Park / safari feel and was so much fun to hear and watch Augustine see her first bear. She sat in my lap as we drove around and each time we saw a new animal her 'wows' got louder and louder. "Wow, wow, wow!" She screamed and pointed. "oh, Wow!" as we turned. Then, as almost in an echo, Bob and Augustine were just saying wow one after another in harmony. It was such a cool experience seeing the animals so close up but still safely in our cars. This is definitely a bucket list adventure for animal lovers.
First time riding a carousel by herself:
Two hours before we headed back to the airport, we stopped by Storybook Island so that Augustine could run around before our flight home, and that was one moment that I pat myself on the back for being the best mom ever. Augustine was obsessed with Storybook Island, a free city park about 8 minutes from downtown Rapid City. Complete with slides and tree houses and swings, decorated in all your favorite children's book stories and characters, Storybook Island is like a mini Disneyland. It wasn't too long before she had swung every swing and gone down every slide and hugged every character when she saw the carousal. Like most kids, Augustine loves carousels. This one had a really sturdy seat belt and Augustine could be strapped in by herself, without us holding onto her. (We were very close by though, so she wasn't totally alone) You could see her beaming with pride that she had done it all by herself.
First time recognizing a dinosaur:
In addition to turtles, Augustine loves dinosaurs. Her first taste came during our road trip around Southern Alberta and the dinosaur museum. Then as we were driving from downtown Rapid City to Skyline Wilderness Area for an afternoon hike, she pointed out a dinosaur on a nearby hillside. The free Dinosaur Park opened in 1936 and was one of the Black Hill's first tourist attractions. There are seven large life-sized replicas of different dinosaurs that dozens of people were snapping photos of and climbing on. The whole area is great to let the kids stretch their legs and run around while the adults enjoy the 100-mile view of the South Dakota Badlands.
Additionally, we spent an entire afternoon and morning at Spearfish Canyon, where we hiked to three waterfalls, skipped rocks in the river, picked wild flowers, and watched fishermen catch and release fish. A four-hour driving tour includes stops and time at each hike and waterfall, plus a few other stops along the way. If the weather is really nice, consider renting a fishing pole or bike from Spearfish Canyon Lodge. Stay tuned for an entire in-depth post about Spearfish Canyon- it was one of those areas that we could have spent several days in and around and can't wait to return.
Planning your own Rapid City vacation? Here are a few logistical notes:
Where we stayed: Comfort Suites Hotel and Convention Center
The rooms are super large and great for traveling with your family
The location was perfect to get to downtown Rapid City and then out to Mount Rushmore. You never feel like you're too far from any one location.
Where to eat:
Here are just a few suggestions in downtown Rapid City:
Firehouse Brewing Co. (super cute spot for a local brew and good, family friendly atmosphere)
Historic Freight House Grille and Tap House
Klinkletown (for made to order burgers and shakes)
Tally's Silver Spoon and Colonial House Restaurant and Bar are great family friendly options for breakfast
Other Activities to add to your itinerary:
Day trip to Custer State Park
Afternoon visit to Crazy Horse Memorial
Fort Hays Old West Dinner Show
Grab a beer at Hay Camp Brewing
South Dakota Air and Space Museum
Badlands National Park