Heroes of the Desert Past

We came upon Saint George at night, the city lights winking as they passed behind massive canyon walls.  We were left knowing more lay out there, but for a time there was only the amber of our headlights looking for the canyon mouth.  Finding the horizon, Saint George Utah opened up across the valley as a thousand small dots encircling a stark white monument.  Sitting amid the cloud of night, the brilliant white Temple recalled the beacon of hope it must have been all those years ago, standing amid dust and fire-rock as hundreds of settlers broke the once barren desert into farmland.  Alone in its prominence while everything else hid in the dark, the beaming Temple began to tell me the story of the town I'd driven 700 miles to explore.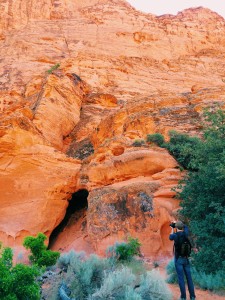 At daybreak, the sun on the autumn colored cliff face is literally too beautiful to turn away from, and I continue to gaze noticing veins of white and purple marbling its stone façade.  The magnitude is something from a fantasy novel, when heroes head out on impossible quests, crossing foreign, wild lands.  These are the types of experiences I've always sought out, the fantasy of exploration, possibility, and doing great deeds.  It's universal, no matter when we live, we all want to go further, explore more, and leave our mark.  Here in front of me is a two hundred year old version of these dreams come to life, in the shape of a city built from dust.

The vista that is amazing to me, must have terrified the first families who, chasing these ideals, came up on an overlook very much like mine and peered down upon the desert below finding miles of barren land to call home.   They were a people galvanized by faith and belief, and, like me, wanting to do something great, but this is too common a story to warrant their survival.  I know their story separates from much of the Americana West when I see, in the distance, the bleached LDS Temple still standing apart, in solidarity, even as daylight has illuminated the rest of the city.
We turn onto the boulevard.  With a century of small town ideals followed by decades of rapid growth, Saint George has an architectural style of convenience fringing the main drag.  Cottonwood has taken the place of dust, and is now blowing across the hood of our car like thick, juicy snowflakes before being caught up and blown further down the blacktop.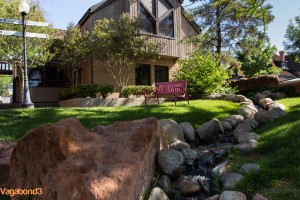 Away from the interstate and off the main thoroughfare, the city shows a softer side; pieces of a more neighborly community move to prominence in old cafes and vintage shops, bordering on antiques.  We pass along increasingly Mayberry-esk side streets as we head into the LDS Tabernacle.
Inside, Elder Dobb carries an aged Mr. Roger's air about him as he begins our tour, which is full of all the country crossing travels and impossible divinity stories that I would expect from attempting to build anything in the middle of nowhere.  As the history unfolds, I can see the 'ten thousand mile' stares and calloused hands of frontiersmen hammering away at the building, but Elder Dobb stops.
The din and drum of hundreds of men working away is only in my head, and Elder Dobb doesn't know he's wrecking my Salt of the Earth vision as he points out how the pinewood was aesthetically painted to look like oak, maple, and cedar woods.  It's a small detail, but pulls at a thread that begins to unravel a different culture.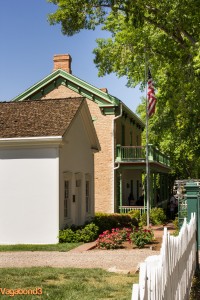 A new picture of Saint George's origin starts to reveal itself, not one of the legendary men of the plains fit for Buffalo Bill's Wild West Show, but of a common people building a community, forging a lifestyle, and creating idealistic customs.
Visiting Brigham Young's Summer House, the period displays and antiques underline the settler's focus on moderate living, not merely survival.  In place of the standard distilleries and gun displays of many Old West towns, the displays here are unique period pieces, like an early telegraph and labor-intensive woodwork.  These small differences are part of the reason, that after one hundred and fifty years Saint George endures, while many towns of the Old West have returned to the desert.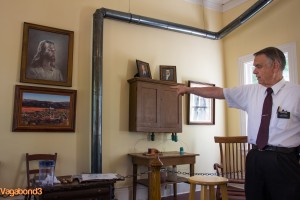 Having always thought of the Old West as epic and foreign, filled with heroes closer to myths than men, it has only ever been accessible to me as a fantasy.  This new vision of the Old West though is tangible.  While there were still acts of legend and heroism, it's clear they were performed by everyday people working to the extent of their abilities, and, in doing so, were able to do great things.
No where is this more clear than as I stand below the LDS Temple, pure white walls soaring skyward overhead, almost as a response to the desert red rock that Saint George was carved beneath.  Unlike the overwhelming feeling I get standing hundreds of feet beneath a canyon rim, standing beneath the LDS Temple feels bold and fortifying because, like everything else in Saint George, it was raised by people who worked through the dust and barren rock because they knew they could.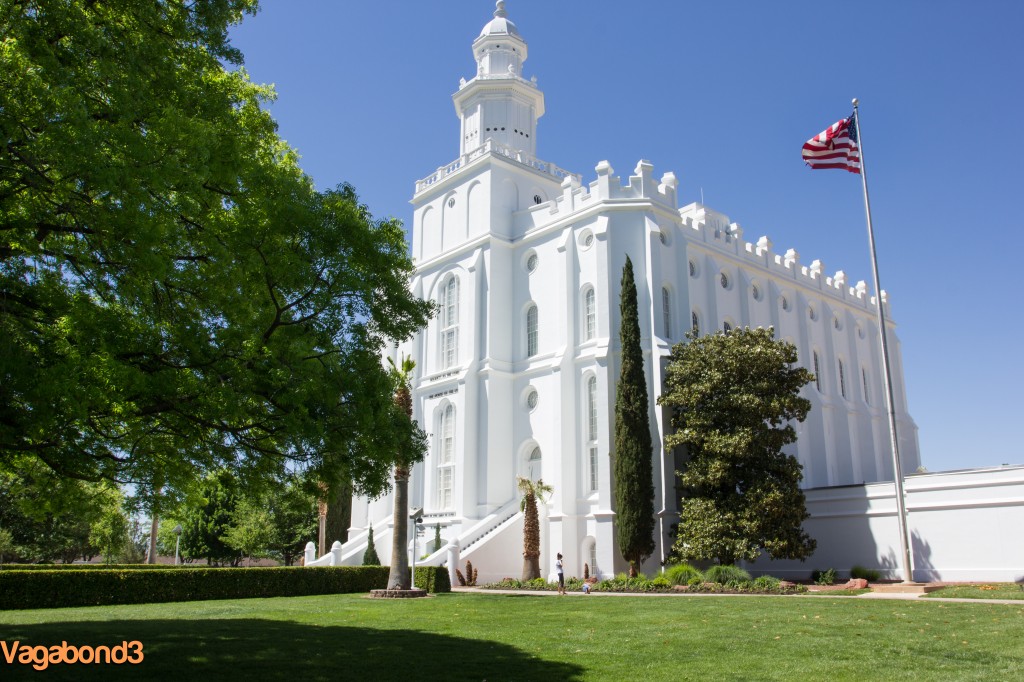 St George Utah isn't a shining example of a hero's success over insurmountable odds, but concrete proof that within us all is the ability to accomplish great things.  Heading South on the interstate, I check my mirror to change lanes and catch a last glimpse of the LDS Temple, just a white bulb in the fading light.  Refusing to blend in, it closes the story with "to be continued" right before it disappears behind the purple canyon wall of dusk.