Catalina Island on a Budget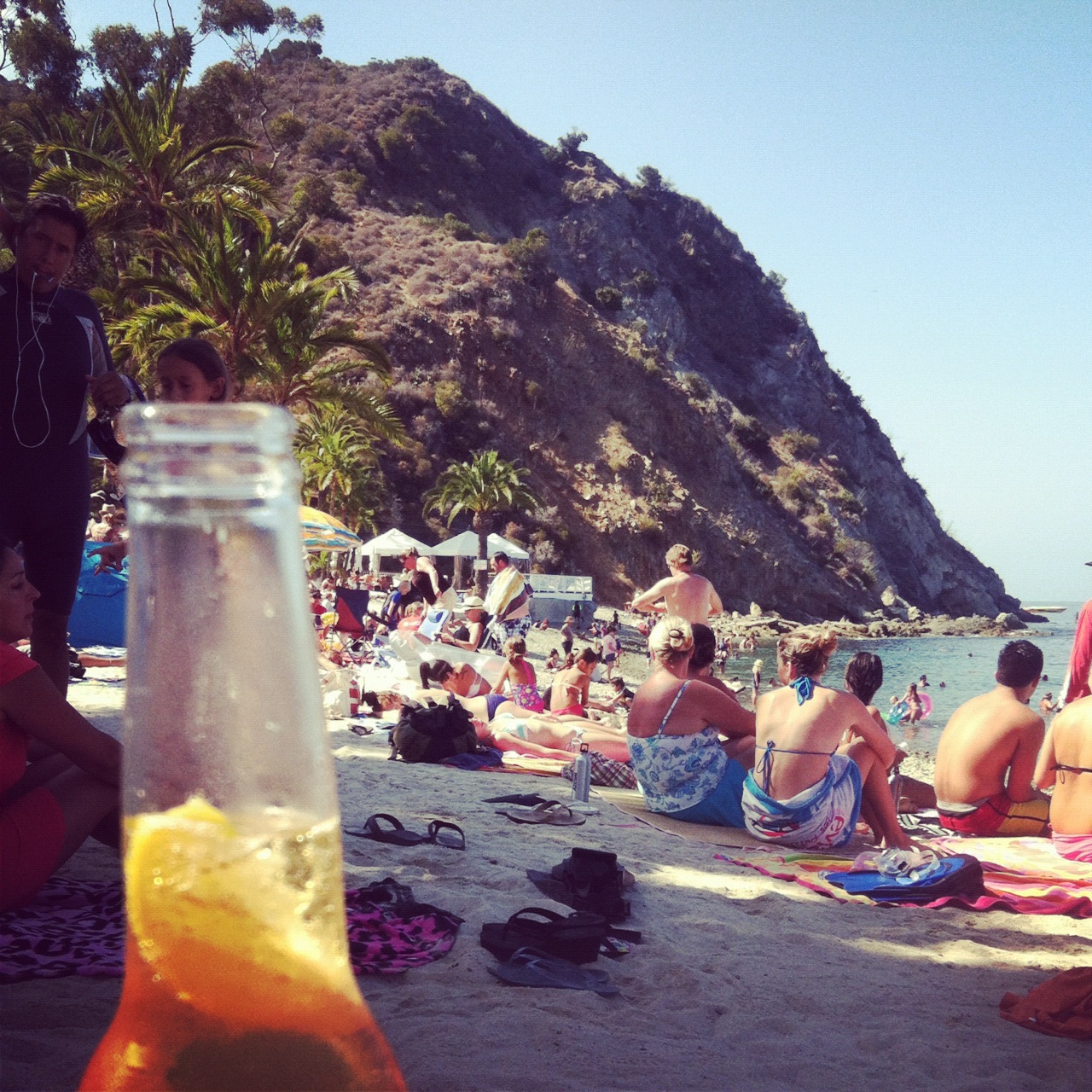 Join me in welcoming Ashley from Fun As We Go on her recent trip to Catalina Island. She breaks down exactly how to have a luxury vacation on a budget!
I love traveling during the summer months so when my parents came to visit at the end of July, it was my turn to plan a quick weekend getaway. Since they have seen most of Southern California on past trips, I was at a loss of places to take them until Catalina Island, a small island off the coast of LA, came to mind as the perfect retreat. The island offered my more conservative parents a dose of relaxation while my husband and I satisfied our adventurous side partaking in a plethora of outdoor activities one of which my father was crazy enough to join in on the fun—zip lining!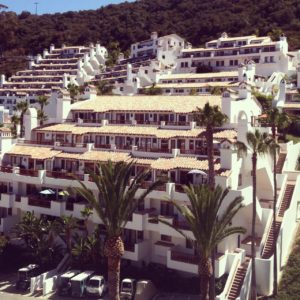 But an island vacation tends to come at a price, so here are a few key tips on how we did Catalina Island on a budget and some smart money management.
Accommodations: Since there were four of us, we needed some extra space so renting a condo at Hamilton Cove was the most economical option. We stayed in unit number 1040, which was an end unit situated on top of a cliff overlooking the Pacific Ocean. With a large deck, where we enjoyed our morning coffees and evening cocktails, the cool breeze and stunning views gave us a taste of luxury. The unit also came with a complimentary golf cart—the main form of transportation on the island. Even though it took a little getting used to carry four people up and over the mountains, it came in handy.
Good Eats: Luau Larry's is where the party's at! Overlooking the port in Avalon, the Hawaiian-themed restaurant offers a variety of daily drink and food specials—oh, and crazy hats to go along with each. Start with the world famous Wiki Wacker, a refreshing fruity drink made with rum, brandy, pineapple and orange juice with a splash of grenadine—to get your vacation off right. The restaurant is also known for serving the freshest grilled swordfish tacos topped with plump tomatoes, Nappa cabbage and homemade salsa. Or try the oversized buffalo burger with thinly sliced onion rings piled high on top. The doors and windows are always wide open, which makes for a great place to people watch.
Activities: Descanso Beach is a place to lay down a towel and catch some rays. It is situated in a little cove surround my rocky cliffs just a mile outside of downtown Avalon. The beach offers cabanas with plush couches or rent a simple beach chair to save some money. A DJ is spinning tracks during summer months and servers are delivering drinks to your towel, but pack your own snacks to munch on since the price of food can add up.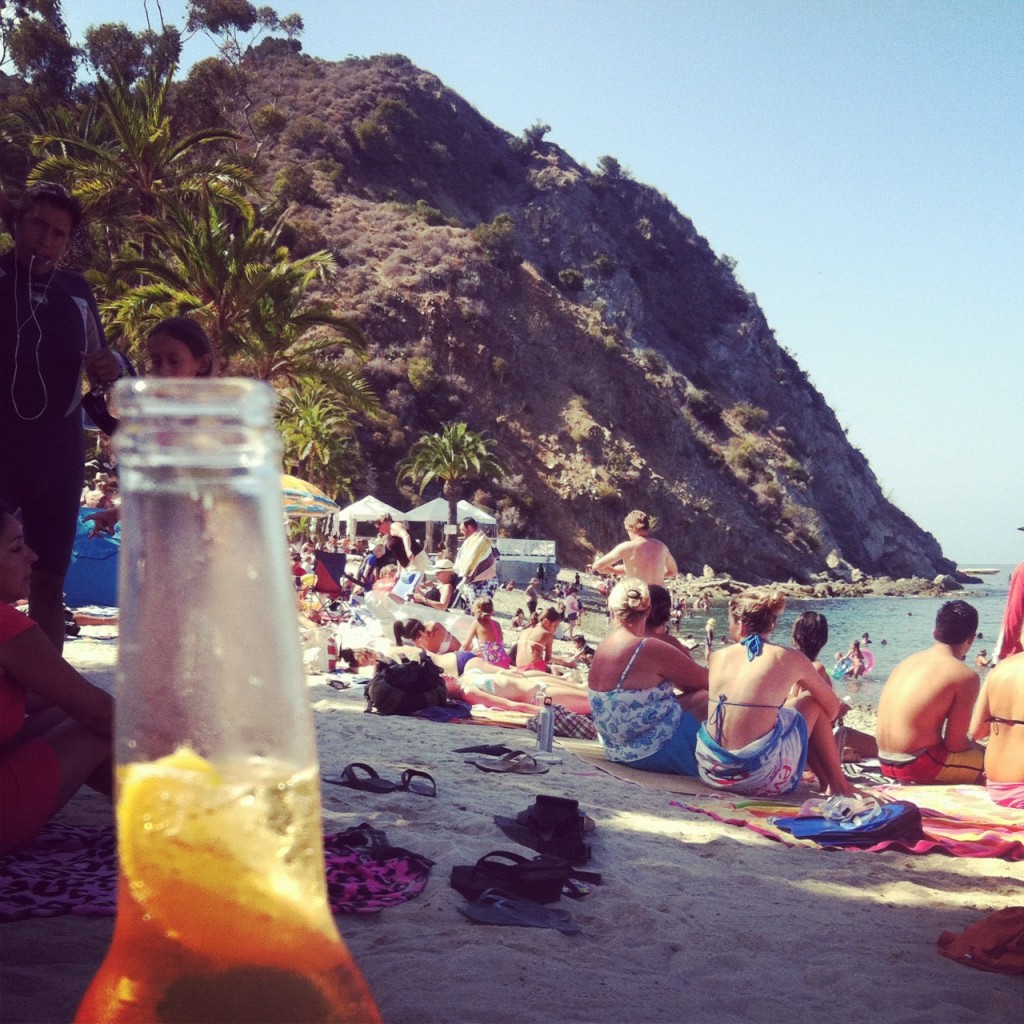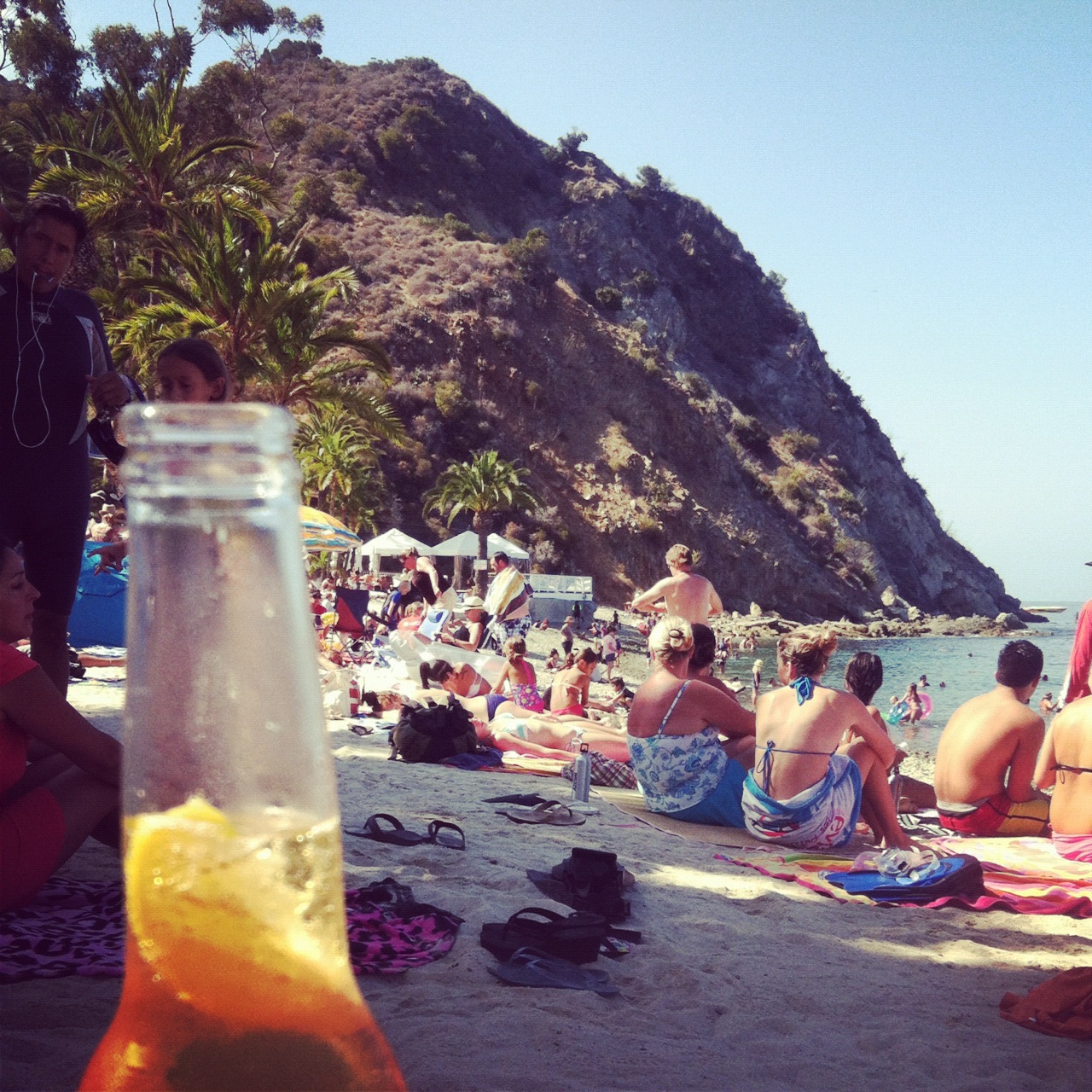 Besides relaxing on Descanso Beach, there is a kiosk off to the side offering kayak, stand-up paddleboard and snorkel rentals. We came to realize that the best deal is an all-day rental package, which allows you to participate in these activities as you please over a course of 6 hours.
Parasailing is a fun way to see the island from up in the sky. Sailing either 600 or 800 feet high, it is a very calm and peaceful experience. Get there before 11 a.m. or after 5 p.m. and the price per flight per person is a bit cheaper.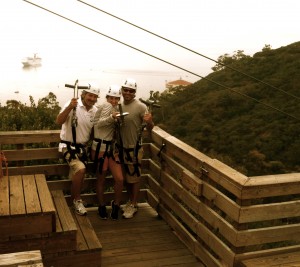 Catalina Zip Line Eco Tour is the newest outdoor activity on Catalina Island and it is an exhilarating experience. Traveling at speeds of 50mph, the lines go through the mountains and run parallel to the ocean offering profound views of Catalina Island. But if you are like me, my eyes were closed more than half of the ride down until I finally talked myself into opening them. Save some money and get a one-on-one guided tour by signing up for the first tour of the day, which starts as early as 7 a.m. Not only will your grogginess disappear after the first run, you will be left with overwhelming adrenaline for the remainder of the day.
If you might be interested in a round of golf or other land or sea expeditions, check out all that Catalina has to offer.