Dog Travel: Hollywood Sightseeing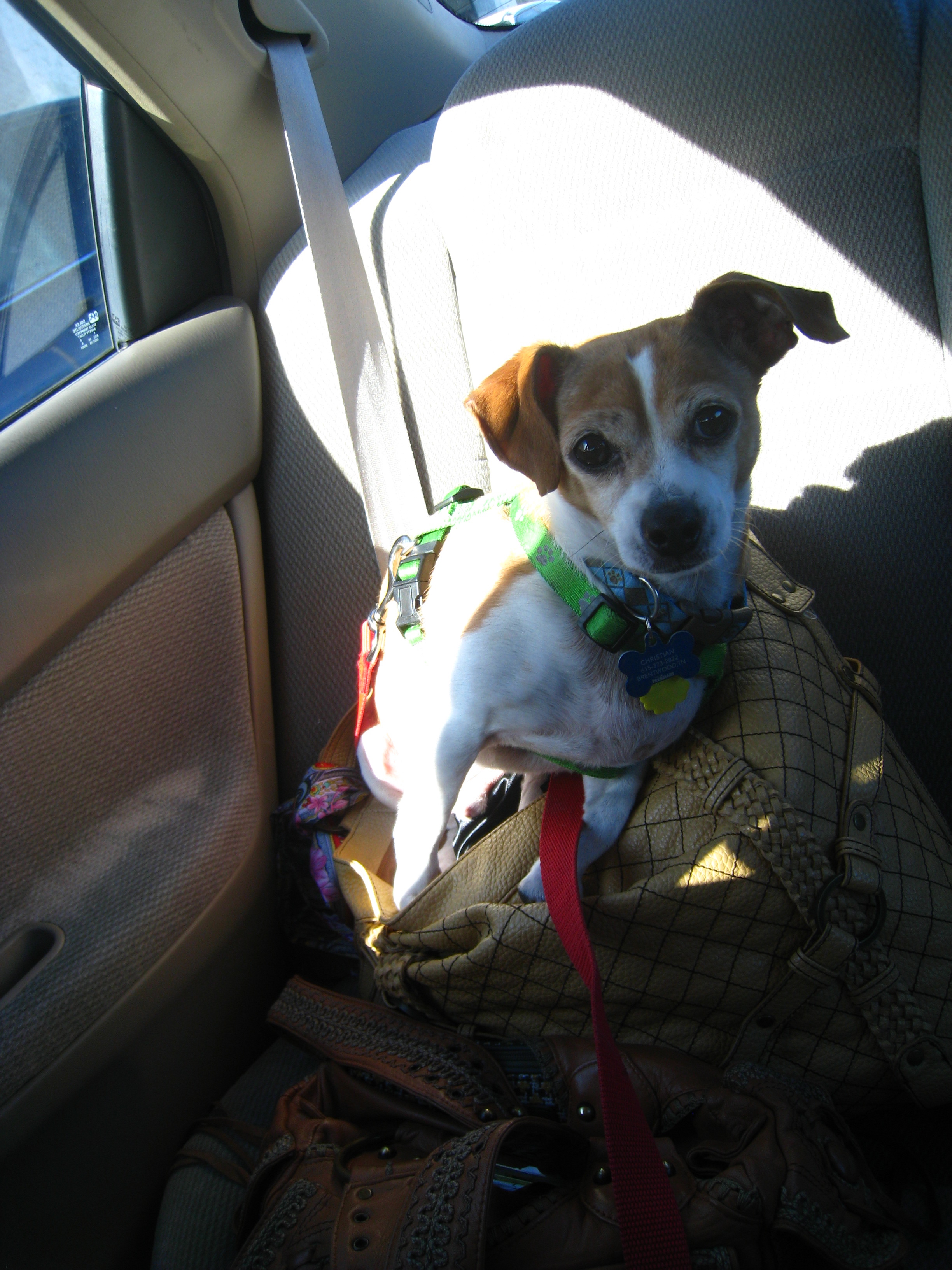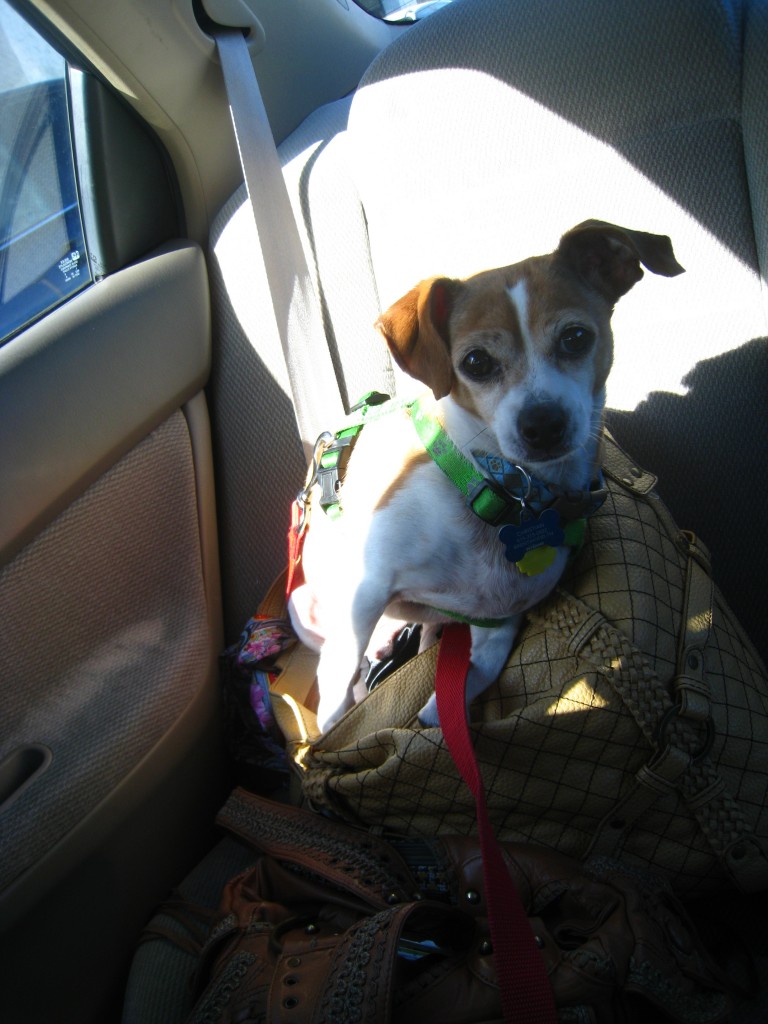 Our dogs Romeo and Bolt like to get out of the house, and this week, as we headed out, Romeo decided to pack himself up and come along.  Naturally we couldn't leave Bolt at home alone.  So, we headed out to take our two dogs on a sightseeing tour of some of our favorite Hollywood attractions.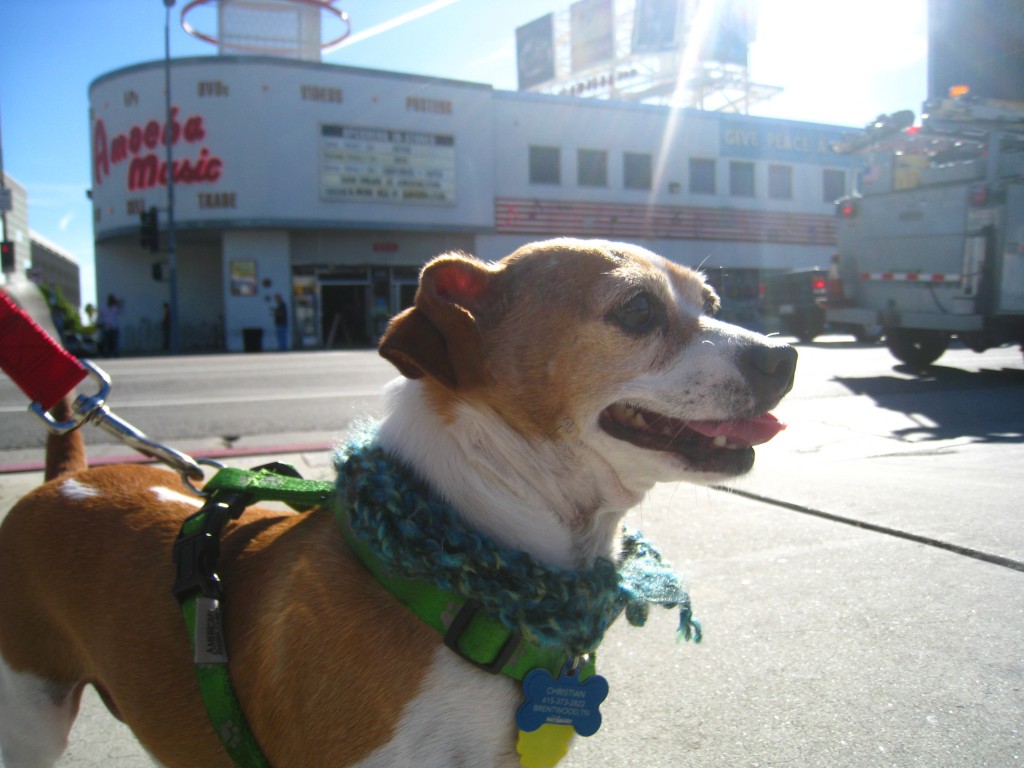 Our first stop was Amoeba Music on Sunset Boulevard.  Amoeba Music is known as 'the largest independent record store', and stocks a huge selection of new and used CD's and DVD's.   Although it has only been in Hollywood since 2001, it has quickly become one of the cities top landmarks, and is a great place for travelers to stop and see free live shows or pick up cheap used CD's by nearly every band.
This was the perfect chance for Bolt and Romeo to mix and mingle with the scene kids in Hollywood.  Romeo was super excited to be walking down Sunset Boulevard, but Bolt was a bit more apprehensive; let's face it…Bolt's always a bit more apprehensive…he's a Radiohead fan.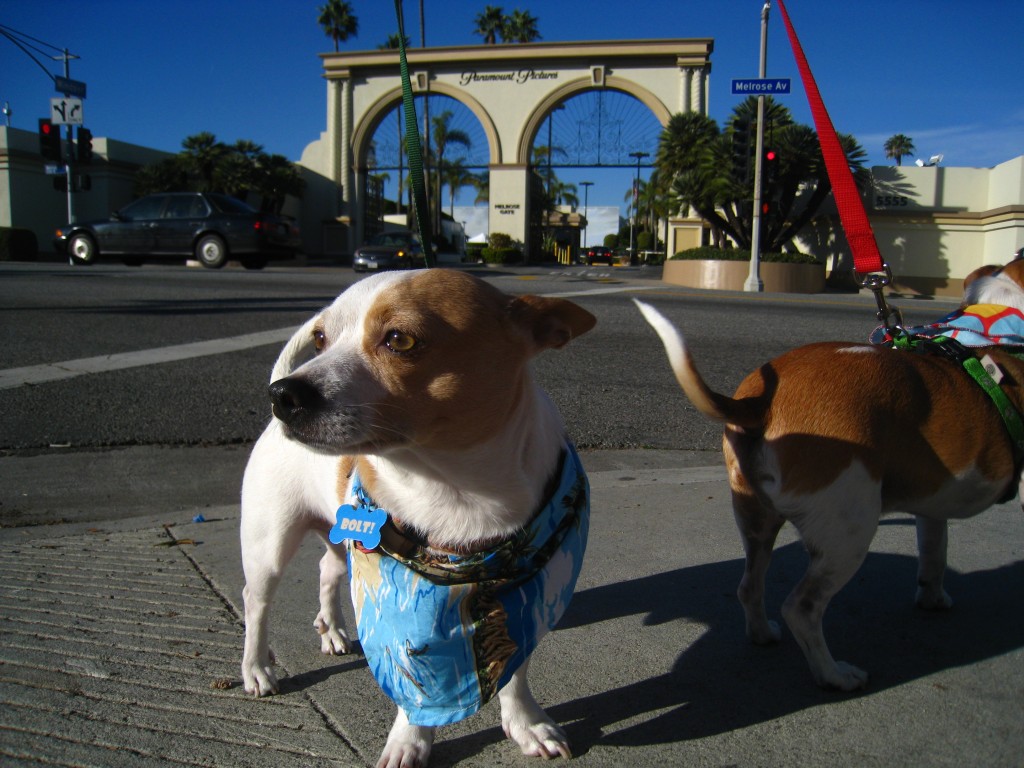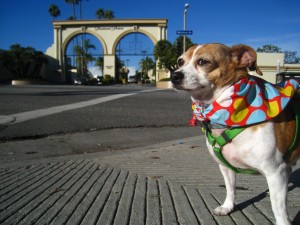 Heading just a bit South from  Amoeba, we stopped by Paramount Studios.  Though it is advertised less, there are studio tours of the Paramount Lot, featuring sets from hundreds of movies.  Some of the bigger attractions on the tour are the dressing room of Lucille Ball, the New York back lot (featured in Spiderman and Rent), and a number of television shows (usually working between August and May).
Naturally, Bolt, who is named after the Disney movie of the same name, wants his fifteen minutes of fame.  If you're looking to cast him, he's great with comedy and his dream role is the lead in Homeward Bound.  Romeo however only loves westerns.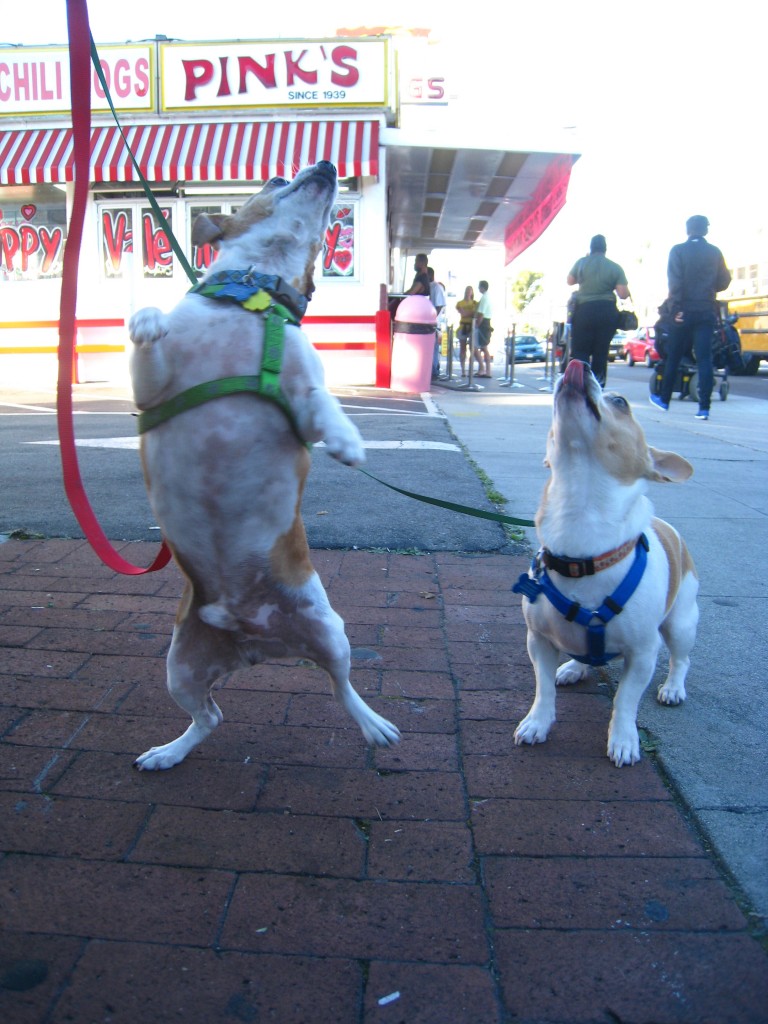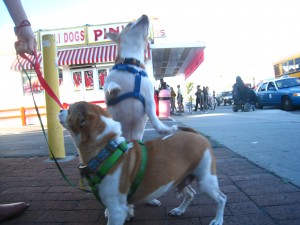 After driving around Hollywood, we needed a small break and decided to take the dogs to get some hot dogs at Pink's.  Since 1939, Pink's on La Brea has been serving up hot dogs to hungry customers.  There is usually a line outside of the La Brea location, so you might want to stop instead at the Universal City Walk location.   A lot of people visiting LA make a big deal about eating at In & Out, but, if given the choice, I'd try Pink's; people say In & Out isn't on the East Coast of the US but Pink's in only in LA and Vegas.
Bolt and Romeo love people food, so it was no surprise that they went crazy over the chance to eat some of LA's most famous hot dogs.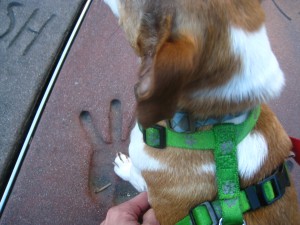 Our last stop was the Hollywood Walk of Fame and Grauman's Chinese Theatre.  I know a lot of people might think that we forced our dogs to put on pirate costumes and parade down Hollywood Blvd, but Romeo loves costumes; he will literally drag outfits out to have them put on him.  Bolt on the other hand, hates costumes, which is unfortunate because, with his slimmer hips, he can fit into more costumes than Romeo.
Everyone who visits Hollywood, has to visit Hollywood & Highland and Grauman's Theatre, they are the biggest attractions in the city.  Also, the Walk of Fame stretches on forever, so make sure you look up any particular stars you hope to see before heading out.  Also, there are a number of apps available to help locate certain stars.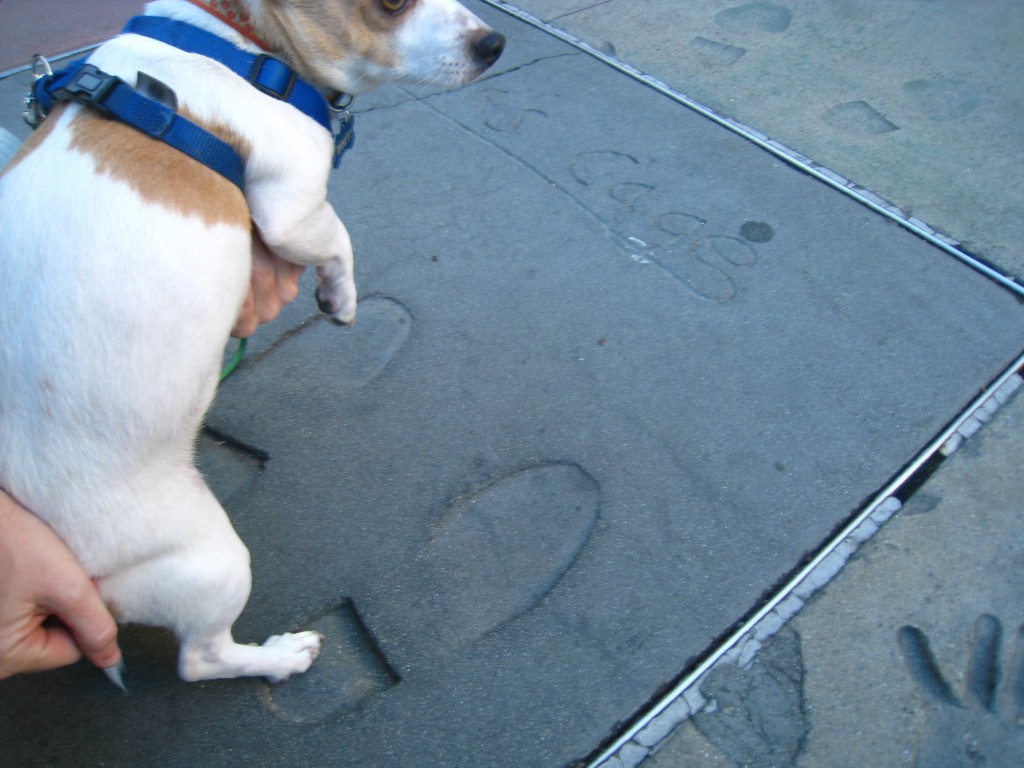 Though dogs were allowed everywhere we took Bolt and Romeo, they can't go on the Paramount Studio Tour or inside Amoeba Music.  Overall, this was cute and fun, but probably not the best way to see Hollywood, so if you are considering bringing your dog on vacation, check out the number of doggy daycare facilities in LA to let them have the best experience possible.