Don't Panic: Cancun to Route de Los Cenotes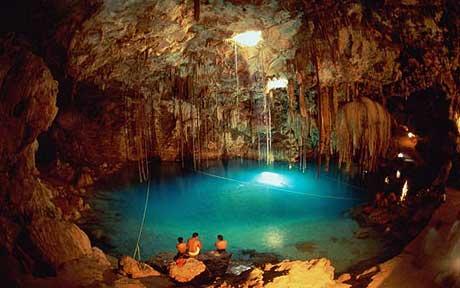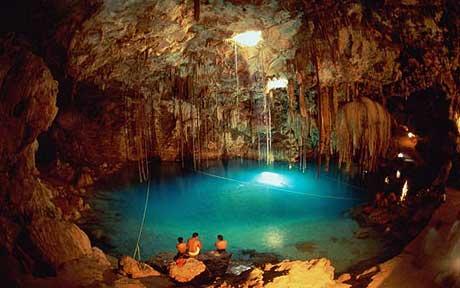 Lounging by pools of water buried beneath rock, swimming through underwater passages into new and deeper caverns, finding yourself feet away from a family of bats as you surface in a passage that has never seen sunlight, the experience of visiting a cenote is not to be missed and if you are in Cancun, you aren't that far away from doing all this yourself.
We headed out from Cancun on on an independent trip to the Route de los Cenotes, and confirmed that, with a little work, anyone can share one of the coolest swimming experiences we've ever had.  So, if you have ever had a dream of seeing the world like Indiana Jones, here are a few tips and steps to make that dream closer to a reality.
What is a Cenote?
Cenotes are limestone sinkholes filled with water.  Unlike most swimming holes though, these "Sacred Wells" are often found inside caves.  Which means that a trip to a cenote usually involves climbing beneath the Earth's surface for a refreshing dip, with only your echos and the sightless creatures of the deep to keep you company.
Now, the Yucatan Peninsula is one of the more prevalent locations on Earth for cenotes, and one of the best places to try a bunch of different cenotes on the Yucatan is the Route De Los Cenotes in Puerto Morelos.  This strip of road is speckled with well more than a days worth of different cenotes, varying from open air pools to cavernous sinkholes.  Being that Route De Los Cenotes is within 40 miles of Cancun and has the closest cenotes to the city, if you are in Cancun you must go.
Now, as with everything in Cancun, there are a number of tours and all-inclusive parks that make a cenote excursion a door-to-door service, and the truth is that, while you get to do a wide variety of activities, the price can get kind of steep.  We decided to trek out to the Route de Los Cenotes by ourselves and see if it's an option for more adventurous travels who are looking to pack in the best experience and aren't afraid to cut a few corners to save some cash.
A word of warning: Being that we live in the US, we are kept abreast of problems in Mexico, however many people from further abroad are unaware.  So, I just want to mention that it is important to be cautions when you travel through Mexico.  Most places are very safe, but it never hurts to keep an eye out.
How to Get from Cancun to the Route de Los Cenotes
What You Will Need: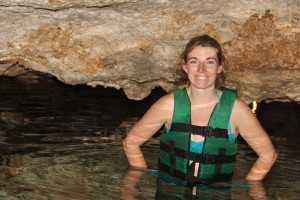 Cash – If you have Pesos you will save yourself money and frustration.  Each of the cenotes is privately operated, and costs roughly $10 USD (slightly less in Pesos).
Swimsuit
Towel
Snorkel Gear –  Optional, but I would highly recommend bringing it as beneath the water is awesome and  most places don't offer snorkel rental.
How To Get There:
We have found two ways to get to the cenotes; public bus and rental car.  We took the public bus option, so we'll cover that first.
Public Bus
After two bus rides and a taxi ride, we found a independent trip to the cenotes via public transportation can be a medium-difficulty trip that is more economical that an all-inclusive day trip if you are traveling with 2 or more people.  (Depending on the all-inclusive trip being compared, it is a close call if there is really any savings for the solo traveler following our bus route.)
To be honest, despite the new promotion of Route de Los Cenotes, this collection of cenotes isn't currently a public-transportation-traveler friendly destination; meaning that people wanting to go without a tour will find several challenges in their way as they head out for a swim.  Most of the challenge of this trip is that there isn't a convenient way to get back from Route de Los Cenotes to Puerto Morelos.
Before You Go:
This trip takes very little pre-planning, but what needs to be planned is very important.
Which cenote(s) do you want to visit?  One cenote for an hour or so?  Several cenotes?  What is your ideal trip?  There are a number of cenotes on the Route De Los Cenotes, and you need to know which one (s) you want to go to specifically.  You will need to either have your taxi driver stay to drive you back to town or you will need to get their cell phone number and make sure you have a way to call them to return to pick you up.  So knowing what you want to do ahead of time will make this portion easier.
Step by Step Guide:
1) The First Step is getting onto a North bound R1 bus – 8-10 pesos.  City Bus stops are usually near the entrances of hotels, but ask your hotel's front desk for directions.
(TIP:Make sure you are at the North Bound side of the road, this is the side of the road closest to the ocean and opposite the lagoon.)
2) Take the R1 to the Central Bus Station, which is called ADO.  This should be a 10-20 min ride.
(TIP: We were told to look out for the McDonald's, but there were two along the way.  When you get on the bus tell the driver ADO, so he know where you are going.  Keep an eye out for the McDonalds – it's across the street from the ADO.  The ADO itself is a long white building, but can be difficult to see due to traffic and trees.  Don't panic, you will be able to find this without too much of a problem.)
3) Buy a return ticket to Puerto Morelos (Mor-al-us) – roughly 40 pesos.  This bus ride is about 20 miles, and it's an easy ride in a great air conditioned bus, they even showed us a movie.
(Make sure you buy a return ticket, it will make things easier on the way back)
4) You are dropped off at the tip of Puerto Morelos, near a 7-11, and you will need to get a taxi.
We were cited 200 pesos for a one way trip to the cenote of our choice, so 400 round trip.  After we asked the first taxi drivers at the 7-11, we wondered down into the town and found the price was the same even once we were away from the bus station.
5) Tell the taxi driver: Route de Los Cenotes as well as the name of the cenote(s) you wish to visit.
6) Ask the driver if they will stay with you while you are at the cenotes or if they have a cell phone to come and pick you back up.  Our driver offered to stay for an hour, and we tipped him 70 pesos for the service.
(Being that the Cenotes are only roughly 13km from the bus stop in Puerto Morelos, I asked if there was a bicycle option, and was told I could rent a bike once there but there was not an in-town bike-outfitter for these purposes)
7) Returning is simple.  The taxi driver will drop you off at the Puerto Morelos ADO/Bus Station, which is across the street from where the original bus dropped you off.  This bus station looks more like a roadside stand than an ADO, but it does the trick.  Catch any bus headed to Cancun, which will take you back to the Cancun ADO.
8) Once you have returned to the Cancun ADO, walk outside and catch an R1 bus back to your hotel.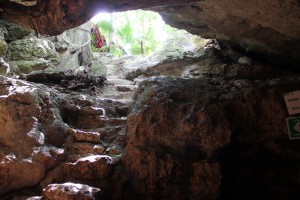 This option is as affordable to taking the bus route, and offers way more flexibility in your day.  (When I was researching cars, I found a number of car rental options price $20-$30 USD on both big sites like Expedia and independent car rental services in Cancun.)  I would highly recommend looking into this option if you want to make the most out of a day at Route De Los Cenotes.  Since we did not take this option, I can't give too many pointers as to the experience of the trip, but I can provide driving directions from the hotel zone of Cancun.
1) Head South on Kukuikan (the road that runs down the main portion of the Hotel Zone in Cancun).
2) This road intersects with Mexico 307.
3) Head South on Carretera Federal 307 (Mexico 307).  You will be headed away from the city, so if you are driving for 5 minutes and are surrounded by a big city, you went the wrong way.  A good rule of tumb is to keep the Ocean to on the driver's side of the car.  Now you won't be able to see it as you drive, but you can imagine it.
4) You will take Mexico 307, roughly 35-40 km, until you reach the only main road past Puerto Morelos, Quintana Roo Puerto Morelos – Leona Vicario.  In case you don't see a road sign, there is a large yellow wall and arch with the name "Route de los Cenotes" printed across the top.  You really can't miss it.  Keep your eyes on the cars kilometer gage, and you will know right when you are there.
5) Take a Right onto Route de los Cenotes (aka Quintana Roo Puerto Morelos – Leona Vicario).
6) All the cenotes are located along this stretch, starting about 10 kms down the road.
As I said in the opening, we took the public bus option and found minimal savings and the trip to be slightly more complicated than we had hoped.  However, either the rental car option or the public bus options are viable ways for independent travelers to see some of the best cenotes in the world.  I cannot recommend a trip to the Route de Los Cenotes enough, and if you find you way down there, make sure to let us hear about it.