Don't Panic: Driving from Los Angeles to Las Vegas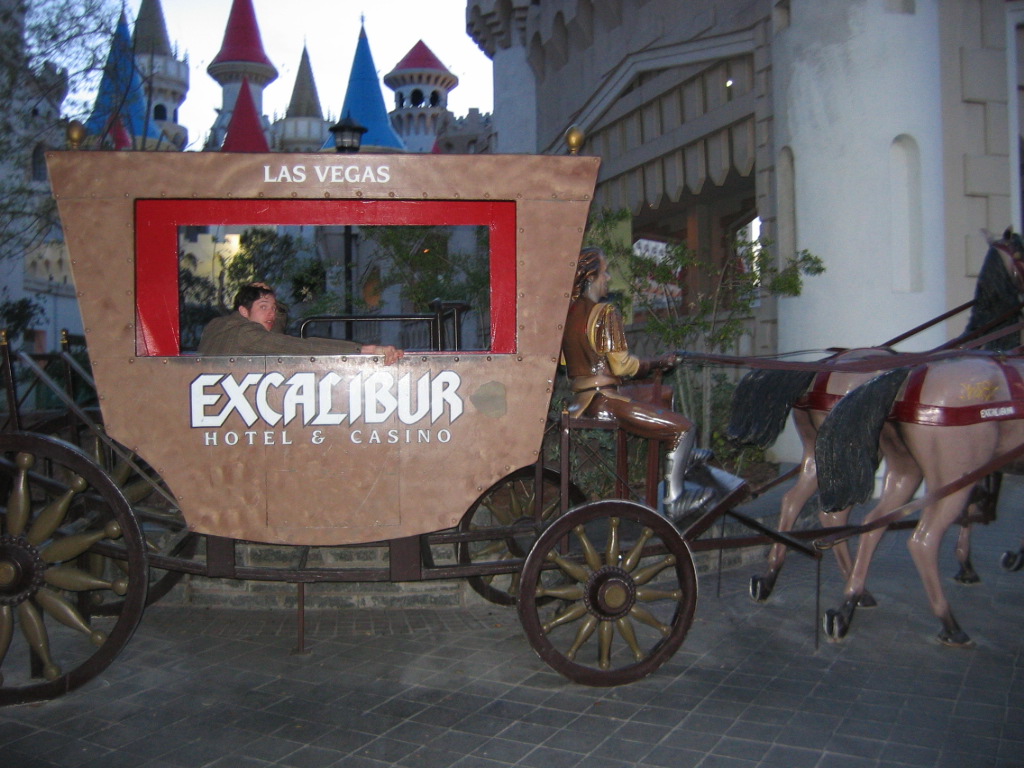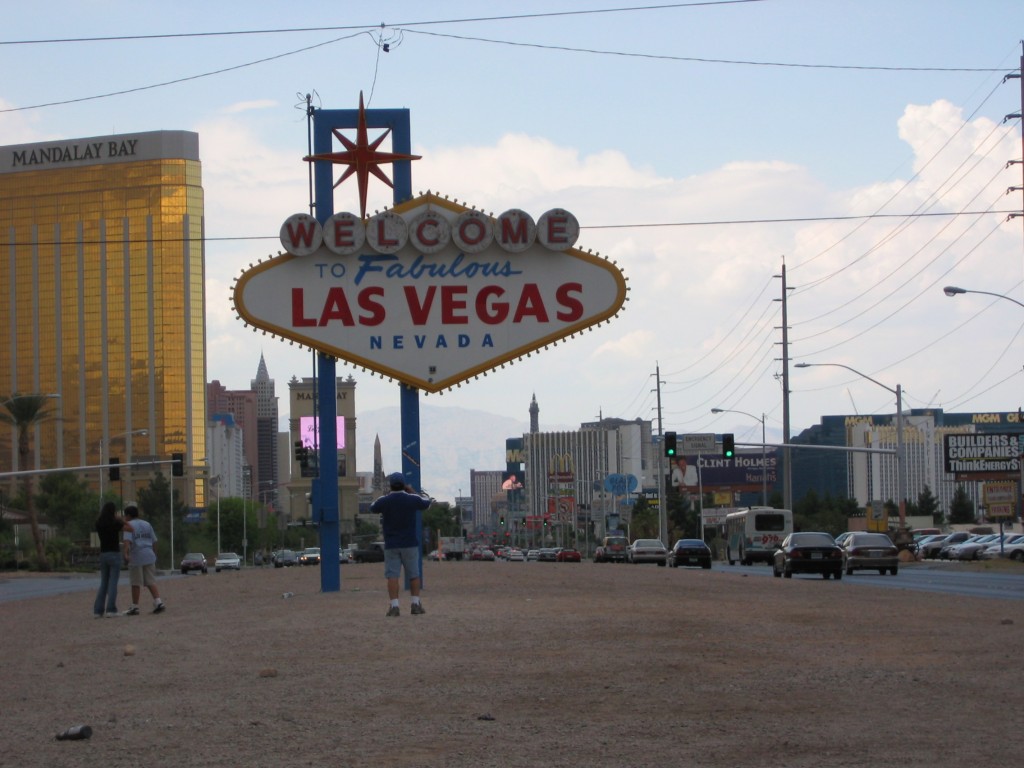 One of the first trips I made after moving to LA was a drive to Vegas.  To me, this trip was manditory, and I'm shocked by how many Angelinos haven't gone.  A mere 4-5 hour drive away, Vegas it the ultimate adult playground.  From slots, strippers, and shots to desert vistas, hiking, and skiing, Las Vegas is the US equivalent of Amsterdam, but I don't need to sell you on how awesome Vegas is, if you've read this far, you want to go.
Whether you're a SoCal resident looking to escape for the first time or a visitor wanting to pack your trip with as much fun as possible, the first question to inevidively pop up is "How do I get there?".  Though there are air options, I would highly suggest a roadtrip.  The drive is an easy, straight shot through the desert, which means, with TSA screenings, you'll pull up to your hotel about the same time as if you had taken a flight, but along the way you'll be able to see some great vistas and maybe pack in a few Route 66-ish tourist stops.
I'm going to lay out the route, sights along the way, and things to watch out for in order to get you there and back with your Vegas spirit intact.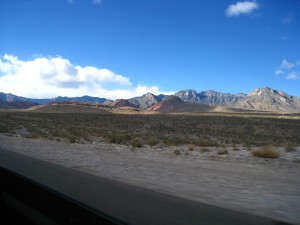 You will need:
An automobile (motorcycle if you're feeling really wild).
1 tank of gas each way
Cash for pit stops
Great music
When to Go:
I-15, the highway connecting Los Angeles and Vegas, is crowded and crazy Friday's (going to Vegas) and Sunday's (headed to Los Angeles).  With that in mind, try and schedule weekend departures at non-peak times (i.e in the morning), and holiday travel is best done two days before the weekend or one day afterward.
The Route:
The goal is to get to I-15 N, and depending on where you're staying, your trip will begin with either:
I-10 East – Coming from South LA or West LA (Santa Monica, Venice)
I-134 East to the I-210 East – Coming from Hollywood or the SanFernando Valley (Sherman Oaks, Burbank, Pasadena)  This route has the added bonus of passing by a Chick-fil-A on the way
I-15 will take you all the way to Vegas.  Once you've reached it, you just cruise the rest of the way.
Note: Either way you choose, where the I-15 and I-210 meet is called the Cajone Pass.  It's a mountain highway that backs up really bad at the end of the weekend (easily more than an hour of traffic).  On the way out to Vegas, notice the gas station, Subway, and McDonald's half-way up the mountain.  This is a good place to stop for emergencies if you get stuck on your return trip, but if traffic is bad the lines are going to be worse.  I suggest stopping either before (in Barstow) or after exiting the Cajone Pass, this will make your overall trip a better experience.
Along the Way:
If you are in a hurry to get to Vegas, or leave Friday afternoon, you'll probably want to race straight down the I-15 to the Strip, but, if you have a little extra time, there are some interesting stops along the way.  Though the vast majority of these are just curiosities or something to look at while driving by, a stop at any of these will definitely be unique.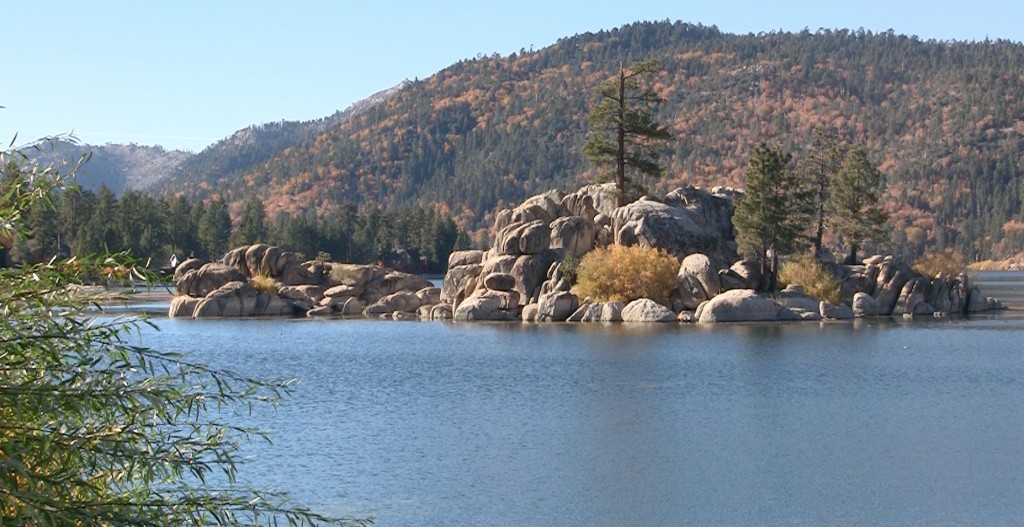 Big Bear – Right about where I-210 and I-15 meet, the highway spurs off and leads up into the mountains above.  About an hour drive uphill, Big Bear is best known as a local ski resort, but also has great summer sights (although significantly less is open in the Summer).  This is a great place to stop for a few hours, and did I mention they have zip-line that lets you fly through the snow?

World's Largest Thermometer – (Baker, Ca) I'm a huge Americana fan, and really wish I could take a drive down the classic Route-66, when wigwam motels and giant dinosaurs dominated the roadside, which probably explains why I have a fond place in my heart for the World's Largest Thermometer (and the movie "Michael").  The world's largest thermometer can be seen just about as well from the interstate as it can from up-close, but if you pull off you'll be able to try some of the Greek food that's been advertised on every billboard for your entire trip.
Calico Ghost Town – This tourist attraction is a renovated gold mining village, and, though it's not located right off the freeway, Calico won't take you too far off I-15.  It's an interesting place to stop for a few hours, but keep in mind that it is very touristy.  Check out a first person account with CaliTravelGirl.
Zzyzx – By far one of the most interesting names in the American lexicon, Zzyzx is a failed mineral spa turned US geological study center.  I've only known people to journey down the road based on pure curiosity, but there are classes held here in association with California State University.  If you choose to drive the 4-5 miles down, you'll find a few remnants of the original spa and some sweeping desert views.  Check out One persons trip out to Zzyzx here.
Barstow Station McDonald's – If you have to stop to eat along the way, the McDonald's in Barstow is probably a good bet.  It's built to resemble an old train station.  That's really all there is to say about it, but I think it's cool.
Abandoned Waterpark– If you're into social check-in apps, this is the ultimate pass-by.  Notice I didn't say to stop, there is no reason to stop (and I don't think you could stop if you wanted to),but you can check in at the "abandoned waterpark" on both Foursquare and Gowalla.
Primm –  Not only is it home to an outlet mall, but this roadside town is home to the authentic Bonnie & Clyde getaway car.  Also, there is a roller coaster at the casino here.  Please, if anyone has stopped along the way here or stayed in Primm, leave a note below.  Also, this is the last town to pass before you hit Vegas.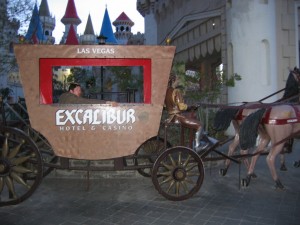 That's it.  Following this route, you will come upon Vegas from the South.  Many people recommend that anyone's first trip to Vegas should land in the city after sunset so you see the lights of the Strip as you drive in, it really is pretty cool.  Either way you do it, this trip is really simple, and has only been a hassle to me when traveling Friday nights or Sunday afternoons/nights.  If you have any notes, stories, or suggestions, leave a note and let us know.