Don't Panic : Joshua Tree in One Day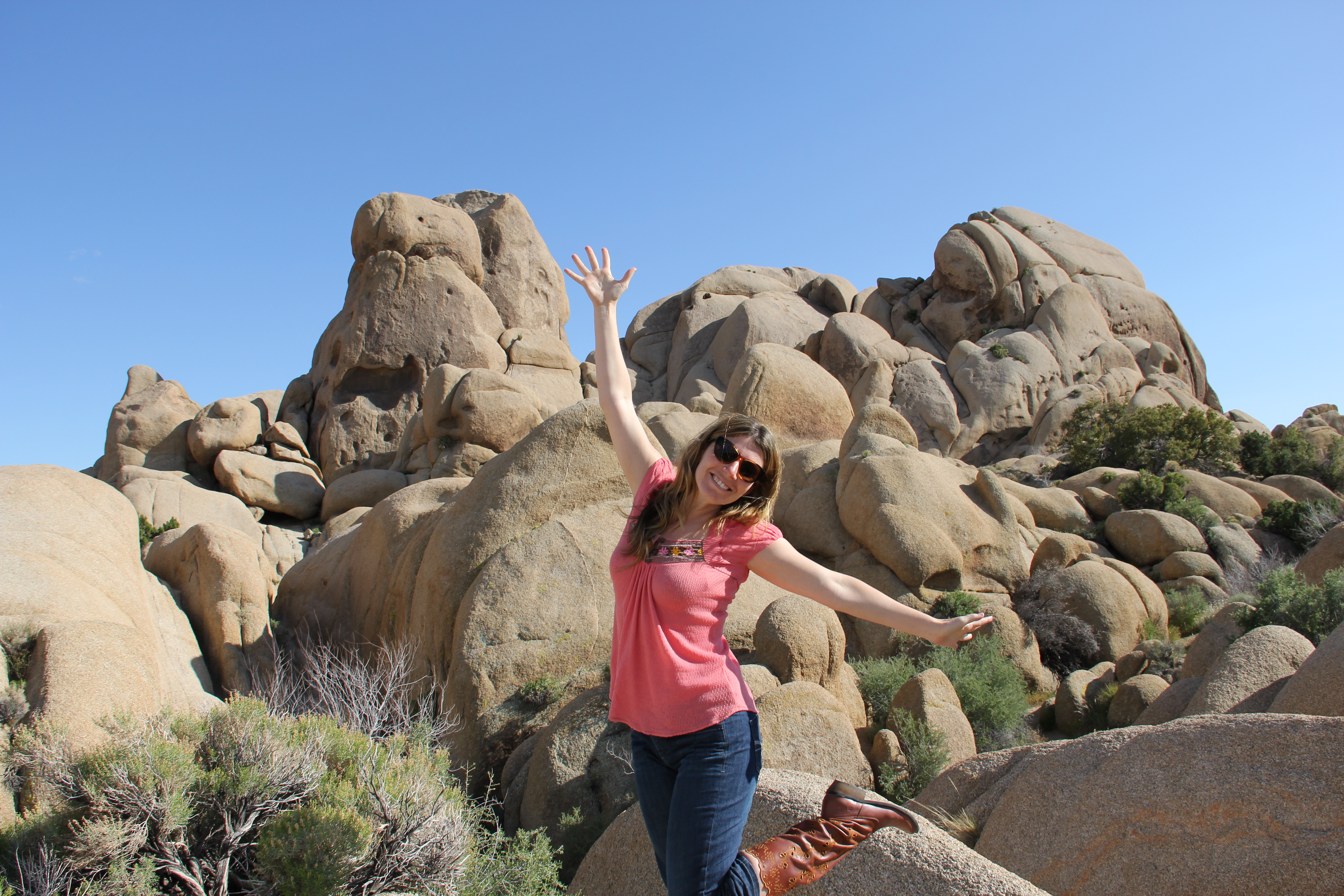 Joshua Tree National Park is one of the most interesting landscapes in SoCal, and we found a super simple way to do it in one day.  Here are some tips to keep in mind as I tell you how we did it all in 12 hours – roundtrip.
Driving from Los Angeles should take you about 2-2.5 hours depending on the number of stops you make.  (You can check out the best way to get to the Palm Springs area on Don't Panic : LA to Palm Springs)
For shorter trips I would recommend just traveling the Northern Loop – it packs in all the sights and cuts your trip down by a few hours (which can be spent doing more hiking around the area.)
For the whole park experience, which I might not recommend for everyone, you should start at the South entrance and travel north. Not only will the drive home be a tad bit shorter, but you'll get the best sunset views on this route.
Bring extra water bottles and food as there aren't any stores or supplies inside the park.
Gas – fill up at Twentynine Palms (a small town just North of Joshua Tree National Park)
If you need food- Twentynine Palms has a few fast food restaurants, a taco shop and a pizza place.
Pack a bag to carry all your trash out with you.

Pack layers

, wear a hat and bring sunscreen to reapply throughout the day – this is the desert, so the climate moves from hot to cold.
Pick out the Parts of the Park that Interest You the Most – From cactus fields, to rock climbing, to sightseeing, Joshua Tree has it all. Do a little research before heading into the park or meet with a visitor centers guide so you spend your time doing what fits your best.
12 Awesome Hours in Joshua Tree National Park
A few weeks ago, I decided to hitch a ride to Joshua Tree National Park with a friend- just for the day. It's about 2 and a half hours away from Los Angeles, and with a stop at Chick-Fil-A, pumping the U2 album on repeat, the drive to find those namesake trees went really fast.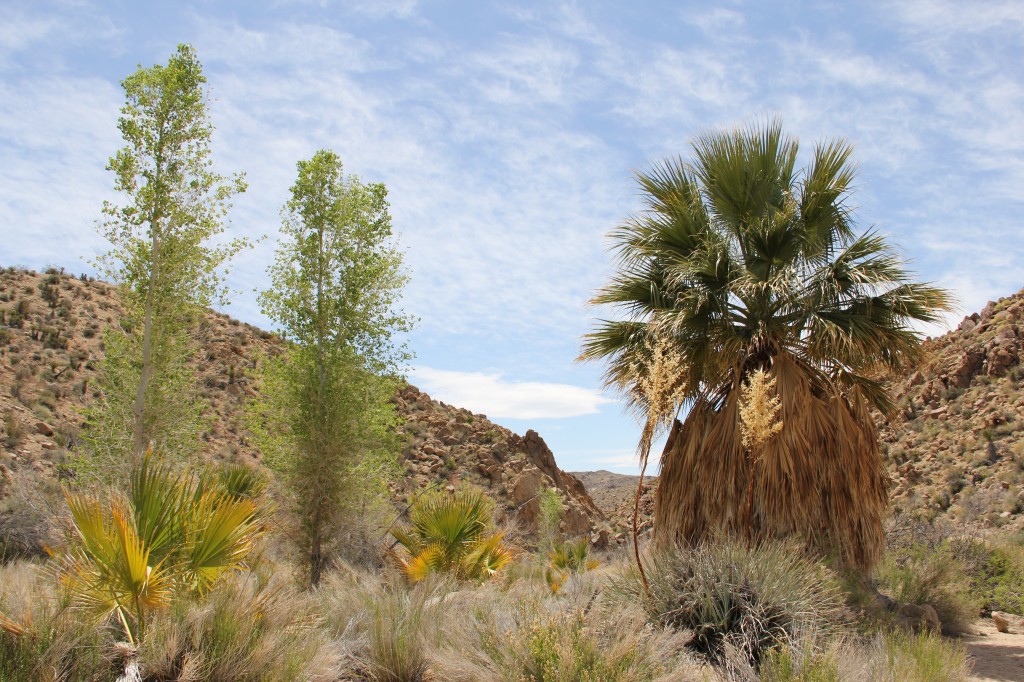 We were set to have the perfect Joshua Tree experience- we had looked up a few things about the park before heading out and knew we wanted to hike some of the shorter loops, see the San Andreas Fault and stay until well after dark to see as many stars as we could. (Being from L.A., we don't get a lot of "real" star sightings that often!) We were ambitious, yes, but knew we could do it.
We entered the park through the south end (not too far from Palm Springs), off I-10, and headed straight to the Visitor's Center.  I would highly suggest starting your trip from this point. The natural landscape and trees change dramatically as you go from one desert (Colorado) to the other (Mojave) and, since the picture opps and Joshua Trees are more towards the northern part, driving South to North situates you perfectly for the best golden hour and sunset shots.
Our first stop was at Cottonwood Springs, which is about 7 miles into the park, for a ranger lead hike to the Oasis.  There are several hikes from this spot with the shortest one being only about 30 minutes, while the longest comes in at 7 miles. The rangers told us this was the best bird watching area- although we stumbled upon more lizards and unique squirrels than we did birds.
TIP: Wear sunscreen and a hat at all times- these trails have hardly any tree or shade so you are constantly in the sun. Even in the winter you will get a sunburn!
We jumped back into the car after downing a bunch of water and headed North to Cholla Cactus Garden. The best part about the park is that there are tons of things to see along the drive and many turn -outs for pictures or resting. This area of the drive is pretty flat, but still absolutely gorgeous. Just remember that the majority of hikes still lay ahead and you want to make sure you have time to do a few of them- so don't stop too many times.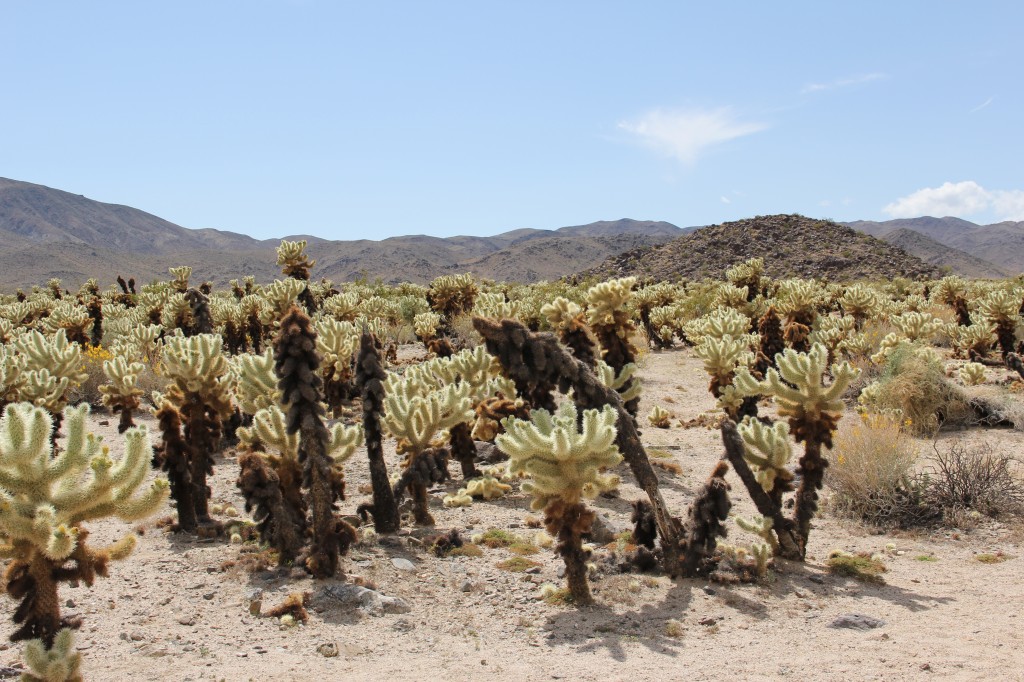 Cholla Cactus Garden is an easy stop- even taking our time we did the whole loop in about 20 minutes. There are printed guides at the beginning of the trail that outline the history and facts about each corresponding number. These cactus are pretty cool- as parts of them start to die, the other parts eat off of them and start living. Kind of a strange circle of life (but of its own life)!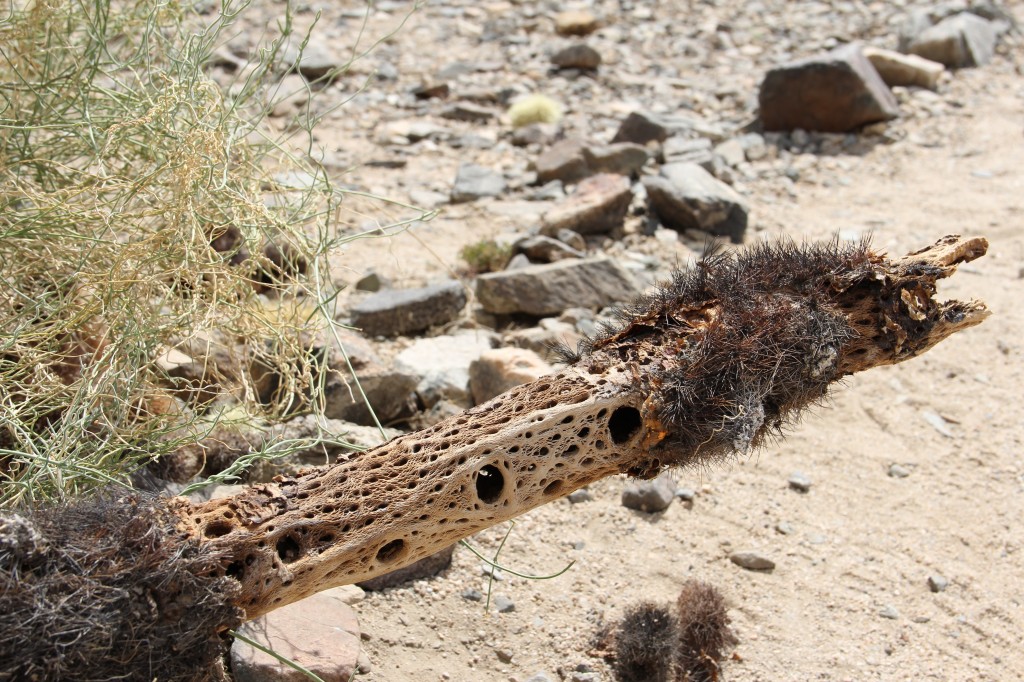 After the garden, you have a choice to continue heading Northwest which will take you to all the hikes or head dead North, towards Twentynine Palms, if you need any gas or food. (If you are running low on gas, this will be the easiest and quickest place to fill up.)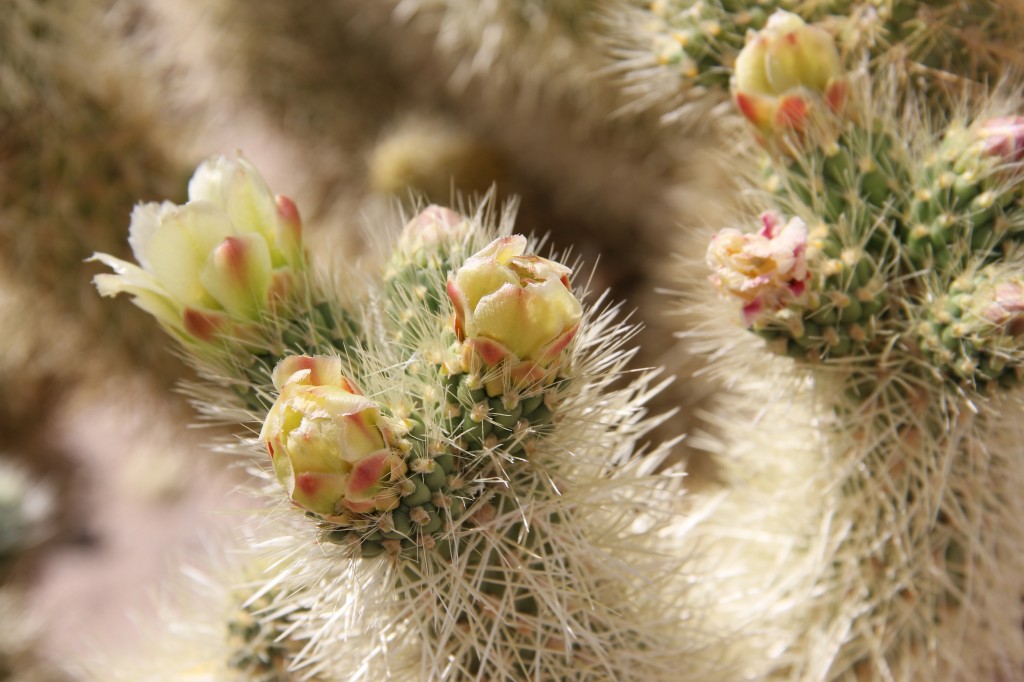 We took the more scenic Northwest route.  Our next stop was Skull Rock at the Jumbo Rock campground entrance. There is a 1.7 mile hike loop you can make, but the main skull looking rocks can be seen right from the road. We simply parked our car and started climbing on the rocks (just as everyone else was doing) and it was pretty awesome. They really do look like skulls- the biggest skulls I've ever seen not in a Disney movie! This hike and climbing would be really fun for kids and teenagers too. (Check out more of our pictures from Skull Rock)
Heading on, Barker Dam was our first full hike- an easy 1.3 miler- that lead down to a pretty large body of water for being in a dessert. I later found out that it was a water dam built by early ranchers of the area. We saw the most wildlife of our whole trip in this area- tons of birds, lizards, and beetles. I was surprised to see a bunch of people swimming in the water but didn't see any signs that said it was prohibited. The water felt pretty cold but I'm sure after hiking around all day, it would feel amazing.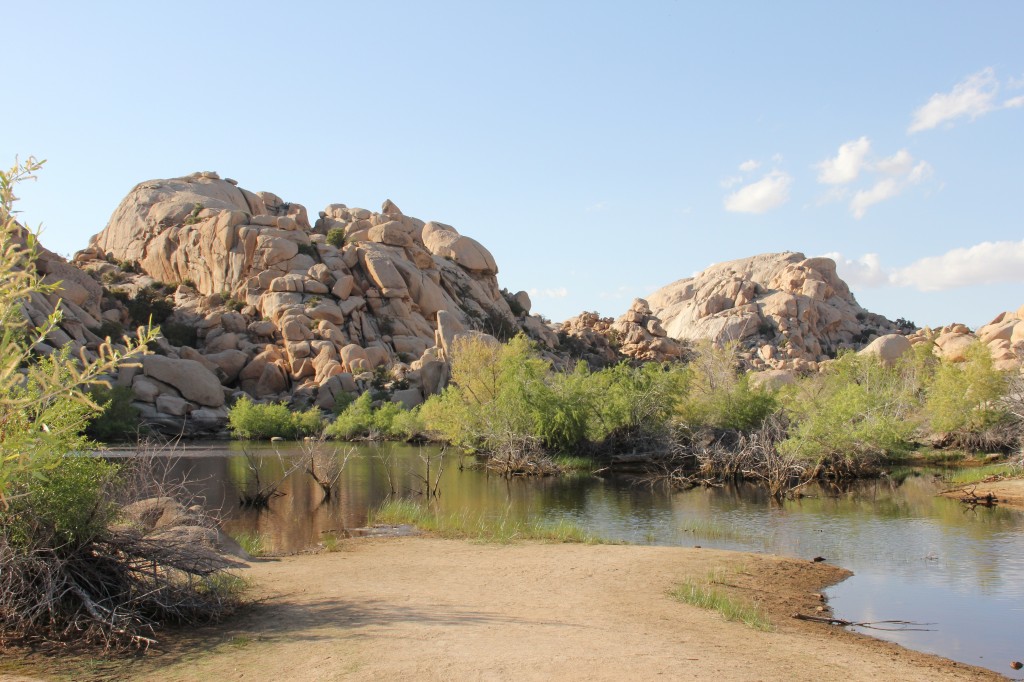 TIP: We also found a lot of people rock climbing- if you are interested in watching something out of 127 Hours, then this would be the perfect spot to set up a lounge chair and camp out for the day!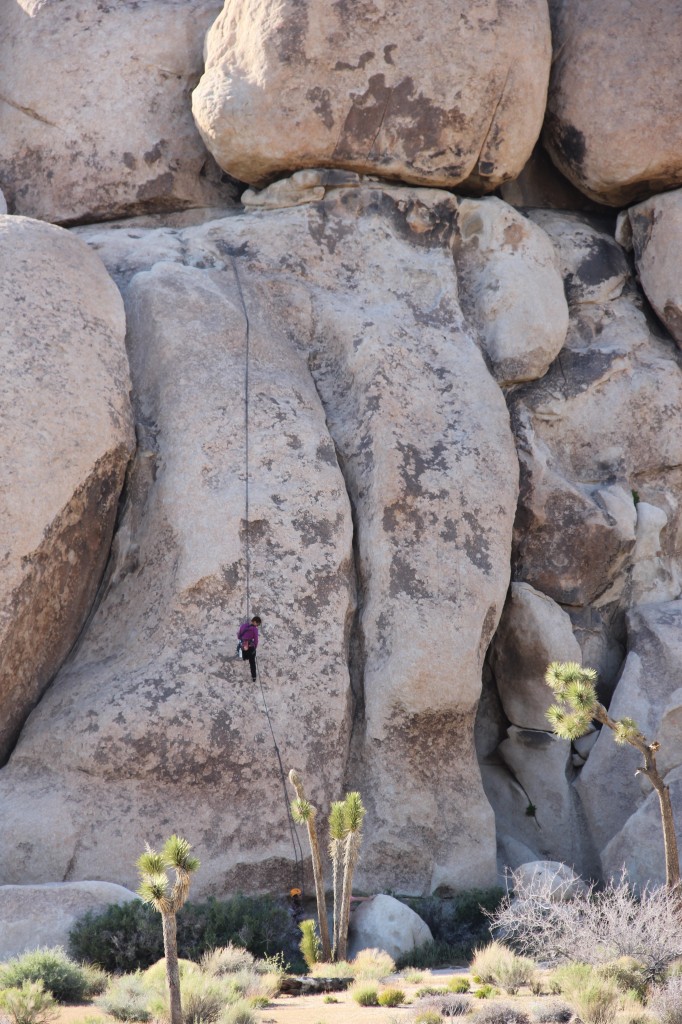 Not knowing exactly how much time it would take us to get from Barker Dam to the higher elevation of Keys View (to see the San Andreas Fault), we started making our way about an hour before sunset. This turned out to be way too much time. (The park guides set the drive time at 20 minutes, but it only took us about 10.) It was freezing at the look-out, super windy, and, even with an added sweatshirt, I was ready to head back to the car after about five minutes. So, we snapped a few photos, watched a black bird make death defying dives around us, and then headed back to the car and our map.
We realized that there was another short hike not too far away and decided to end the day and get our coveted sunset photos from there. Plus, with it getting a little colder out, the exercise would warm us up.
We arrived at Hidden Valley as a bunch of people were leaving for the day- which was great because we pretty much had the whole thing to ourselves. If you want to feel pretty small- drive out to the desert and isolate yourself!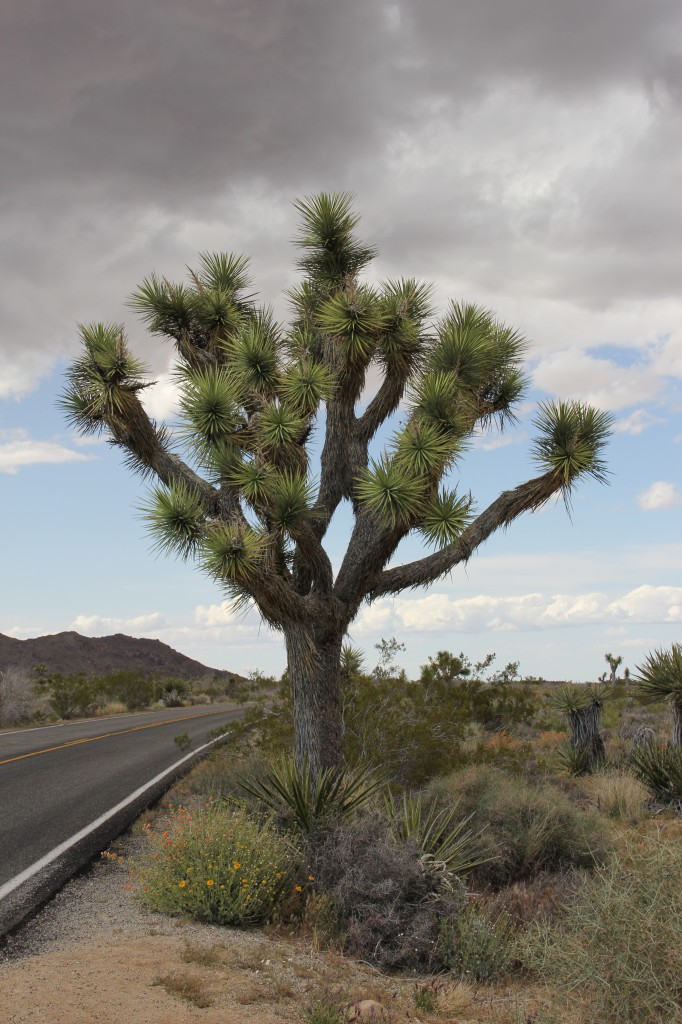 I loved all the different rock formations, trees and flowers along this trail. I found it so fascinating how many colors there were against such a stark background.
As we finished up the hike, the sunset was in its full glory. We were lucky to be driving out of the park to theWwest, as we were able to follow the setting sun for a little while longer. (Check out our Sunset Photos from Joshua Tree)
While we waited for the sun to completely disappear and all the stars to shine super bright, we had a quick beer and meal at the local hang out. After the drive, hiking and being in the sun all day, it was pretty relaxing just sitting still and drinking a nice cold one.
By the time we were done, the bar was really starting to get packed and the stars were out, which was perfect to head back into the park, pull over and turn off all the lights. We parked near a campground, so we could hear other people laughing and talking in their tents but most people had all other lights out. It was amazing. I have never seen so many stars in my life! And, they were super bright. It really was like they were twinkling and glistening for us.  As we sat in silence, starring at all the stars, I started contemplating what else must be out there in our huge universe. There must be something else. It's just way too big!
Have you been to Joshua Tree National Park? What tips would you add (besides maybe another music album)?