Don't Panic: 8 tips for a Stand-Up Paddleboard Newbie (like me)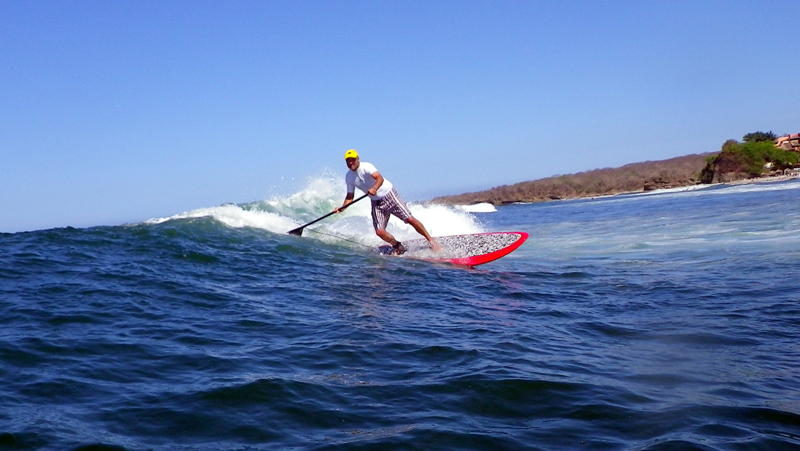 To say I was born a water-baby would be an understatement. Just days after I was born, my mom and dad took me to the beach (smothered in sunscreen of course) and I've been in love with the ocean, beach and marine life ever since. Also, my parents are surfers, so the second I could swim I was thrown on a surf board and pushed into waves. Needless to say, when Bob first met my parents, one true test of how well he was going to get along with our family was whether or not he could hack it in the water. If he was scared, he didn't show it as he strapped on the leash to his first surfboard and paddled into the waves. Of course he passed with flying colors- he was brave and somehow, even after being feed to the sharks, he loved it! Ten years later, multiple surf trips to Florida, San Diego and Mexico under his belt and he's truly part of our family.
So when my parents fell in love with Stand-Up Paddleboarding (SUP) last year (that's a photo of my Dad from this last trip), we were excited to try this new sport. SUP is a cool combination of kayaking, canoeing and surfing, and, if you're really balanced and don't fall off, you might not even get wet! No more surf hair- awesome! We had practiced one afternoon in Mission Bay in San Diego but that was the extent of our introduction to SUP before Mexico.
When we arrived in Mexico last week, my parents rented 5 boards from a surf shop in town and we had the whole week to practice, paddle around and play. Again, Bob had beginners luck and really got the hang of it; he was whipping around, catching waves and had amazing balance.  I, on the other hand, was really good with balance but let my own fears about the waves get in the way of really going for it. I'M A WIMP! (There- I said it!) However scared I was of the crashing waves, I loved paddling around on the open water and searching for a peek of one of the sea turtle that was swimming around us.
If you like water sports, I'd highly suggest giving SUP a try. It's really fun, even while learning.  Just in case you don't happen to have a father with equally mad skillz (yes, that is with a z) like me, I've had mine put together a beginner's guide to SUP to help you conquer the first steps and get you on the water. Here are 8 tips from a surf pro- my Dad:
8 Tips to get started Stand-Up Paddleboarding:
1.) Pick the right size board for you. Get a wide board that is at least 30″ wide.  The width will help make it more stable.
2.) Practice in flat water. Find some flat water, like a lake or marina, to practice and test out your balance.  From knee deep water, put the board in and get on the board, sitting on your knees first. Push off into deeper water with the paddle across and in front of your knees. (Don't try to stand up too quickly!)
3.) Break out your best yoga mediation pose! Getting the feel of balancing the board might be the trickiest thing to do- it will use every muscle in your body– but once you get the hang of it, it's really fun. When you feel like you are balanced on your knees, quickly stand up and put the paddle blade in the water. With the blade in the water, you should immediately have more balance and stability.
6.) Don't go in circles. Change sides while paddling to keep the board moving in a straight line. (Just like with kayaking or canoeing, if you paddle just on one side, you will go in a circle!)
7.) Keep your head up looking at the horizon. This helps with your balance.
8.) Get ready to fall off! When you fall off (and you will fall off), fall away from the board- they are big and hard! You should have a leash attached to your ankle or thigh that will keep the board close enough to you that you can just swim and get back on.
Once you feel confident and balanced, try paddling into some small waves. If you have ever surfed before, you'll immediately notice how much easier it is to catch a wave and how much faster you are than the surfers! When we first started, we practiced far away from the big group of surfers and SUPer's. Bob felt like SUP was way easier and he didn't tire out as quickly as he does surfing. He felt like he could spin around and catch the waves better because he was higher in the air and could see when a set was coming in.
I really enjoyed the awesome workout I got just from paddling around on board. The whole catching waves thing kind of freaked me out- but the thrill of riding a wave is unlike anything I can describe. Whether it's on a boogie board or paddleboard, when you feel the wave pick you up and start pushing you, it's exhilarating.  If all else fails- smile, because you know I'm taking a picture of you!