Speaking at KEEN Digital Summit in Nashville
November 18, 2013
by Jade Broadus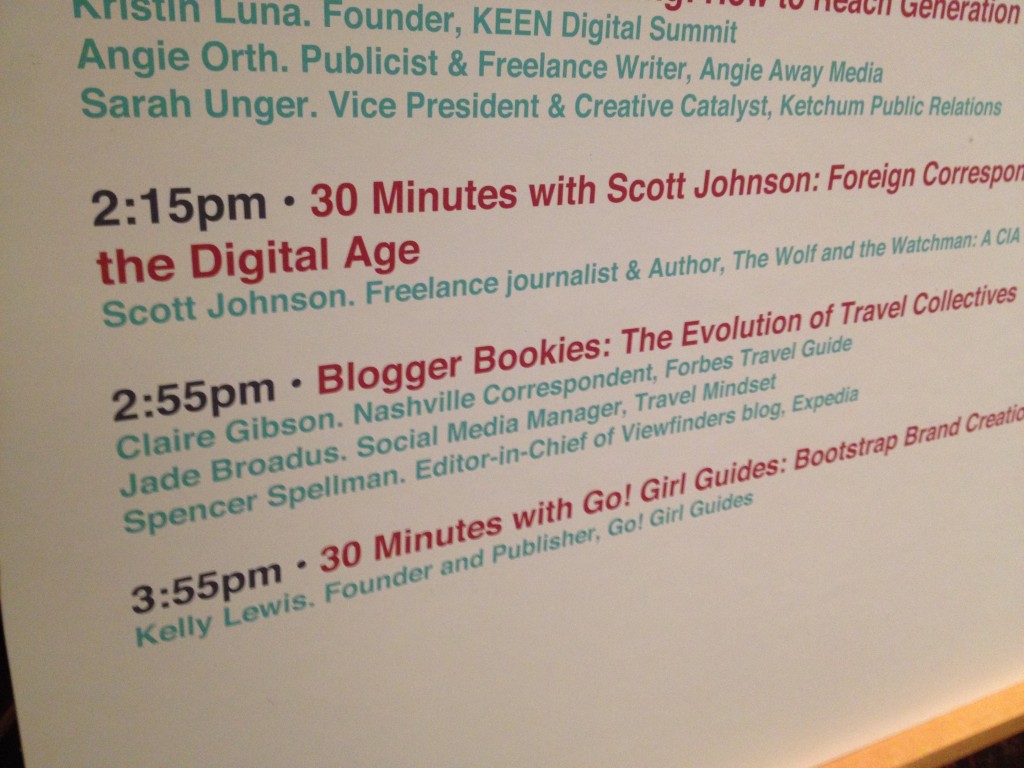 It's been a busy few weeks. I traveled from LA to Kentucky to Nashville to DC back to LA, all within a 10-day period. Two short weeks later, I boarded another flight to Nashville, this time to speak and attend the Inaugural KEEN Digital Summit at Omni Hotel right off Broadway in Downtown Nashville. Two weeks later, I boarded another flight, this time a 12-hour flight to Marrakech via a 21-hour layover in London.
whoa.
I knew I wanted to blog about the KEEN conference. As it was happening I kept taking notes on my phone, computer, old school pen and paper, and had conversations with long time blog friends, new peers and entrepreneurs who I wanted/ needed to learn from. When I returned I wrote up a few key notes for my boss at Travel Mindset (it was actually two pages!) and wanted to sit on it for a while before making my notes and thoughts on the conference public to the world.
First things first, I had the ultimate honor of being asked to speak at the conference by my good friend, long time mentor and blogging goddess, Kirstin Luna. Then to top it all off, I was speaking with my LA blogging bestie, drinking buddy and total social media rock-star, Spencer Spellman. These two right here are very much responsible for my success and drive in the travel blogging industry. They are two of the most driven individuals in this industry. They are also two of the most positive people I've had the pleasure of getting to know on a more intimate level. Bottom line: They rock and if you're looking to get more into the social media/blogging/freelance rock star world, you should follow in their footsteps.
But, back to the conference.
Why I liked KEEN
There were several notable differences from other conferences and KEEN. The biggest for me were the sessions, followed by the one on one conversations in the lobby, bathroom, diners and after parties. It was the ability to ask questions and give answers in a real way- where both people in the conversation were equal parts. The sessions were targeted to niches, but open enough that I learned so much from every session I attended. This wasn't a conference where only beginner bloggers would learn something- there were really great talks that I knew nothing about and some talks that I needed a swift kick in the butt reminder. (For example: I don't know anything about international foreign correspondent journalism, but that talk was one of my favorites. And while I have pitched PR's and editors' before, Kara's talk was great to reiterate what I am doing and what I should be doing for my freelance work.)
Aha Moments
I had several Aha moments while at the conference. It might have started from one little conversation, but I noticed that throughout the conference there was one continuous hum running through the Omni Center. It was this feeling of starting something new, putting yourself or your brand out there and getting some kind of response in return. It was this energy that you can work hard and thrive, and that these people around me are movers and shakers and I want to soak up every single minute that I can in hopes that some of it rubs off on me.
As a second time speaker at a conference, I felt more engaged and less nervous than the previous time. I felt confident at what I was talking about and really excited to tell people about my job and what I do with Travel Mindset and iExplore. Building a brand from the ground up, how we work with bloggers and brands and how to know when something is working (or not working) and when to adjust.
Here are my take-aways for aspiring and seasoned bloggers, freelance writers and social media entrepreneurs:
Figure out your niche, message or attitude that you want to convey to your audience and deliver on that in every outlet
Make sure that message or idea is one that real people want to get behind. Have a passion for you message and be authentic in the way you convey that to your audience
Try to find that emotional touching point that hooks people
Be consistent. (Whether that means what types of posts you write or what day you push them live. Hello- editor calendar, Vagabond3 needs to do this!)
Research, research, research. And Get it right the first time.
When reaching out to an editor, blogger or brand, research the company and include some type of personal message in your pitch.
Know your abilities and take calculated risks.
Be realistic with goals when talking with brands.
Create real relationships with people that go behind the surface. Create allies that will lead to future working relationships.
Figure out how much your time is worth and then make it worth it to the brand to pay you that amount.
Conference Attendee to do's:
–       Make sure to go to the dinners, the parties and the after parties. So many deals get made while talking about what each person does beyond just the conference. Meet people and mingle. Be yourself and be friendly. Write emails to people afterwards and follow them on social media. Send out #FF or tweets showing them that you remember them. That thoughtfulness goes a long way and really shows you care.
–       Go to KEEN 2014. (No, no, no. I don't work for KEEN, but this was the most thoughtful and organized conference I have ever been to and it was only the first year. I can't imagine what year 2 has in store, but I'm sure to sign up when the dates are released!)
Here's some highlights from my weekend in Nashville at KEEN: