10 Essential LA Travel Tips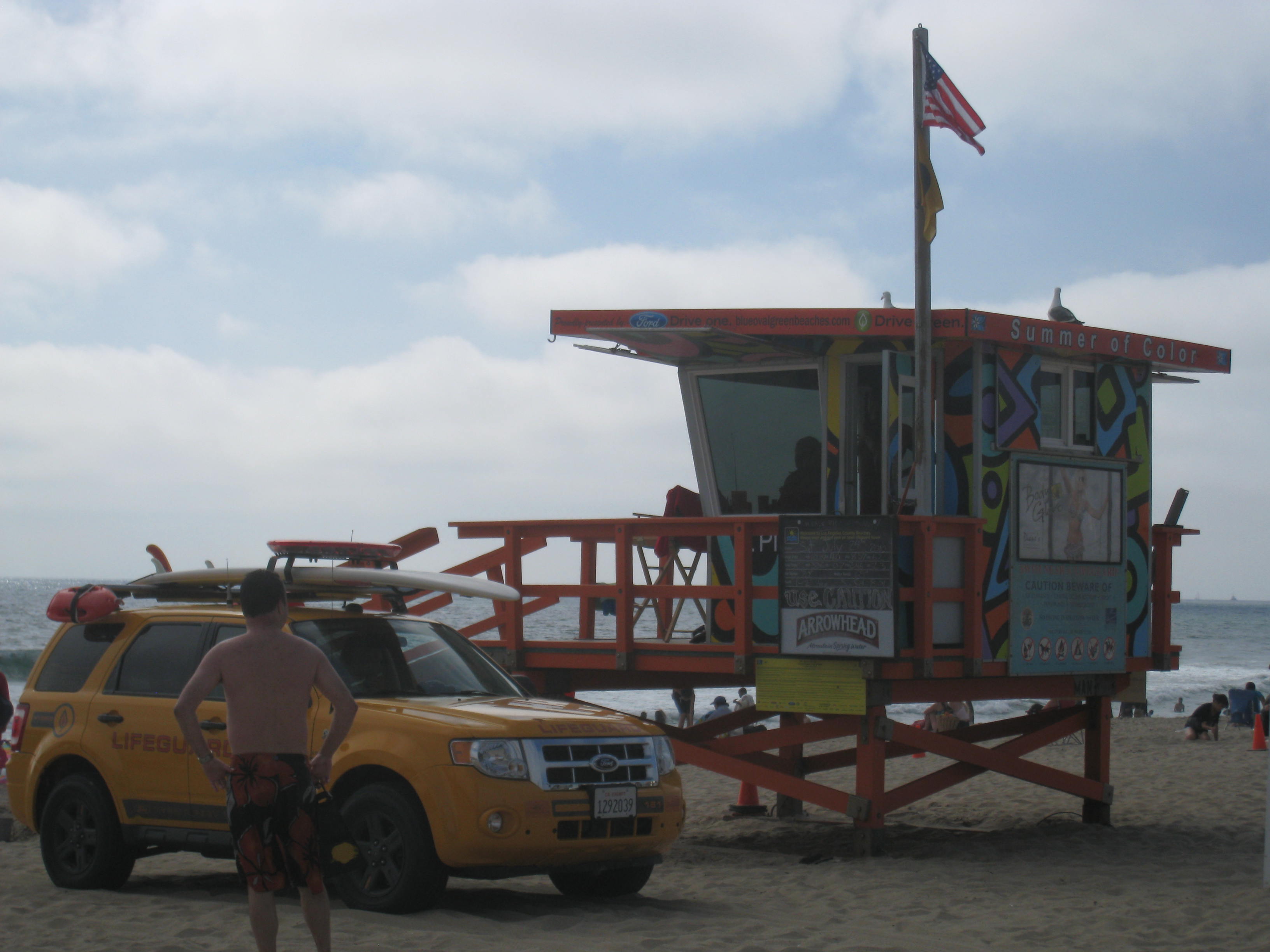 Every day the beautiful landscapes, beaches, and people of Los Angeles are splashed across TV screens in every country in the world.  So no matter where you are from, the look and feel of LA is probably very familiar.  However, to make Los Angeles look as awesome as the movies makers do, movies and television shows bend reality a bit; for instance, Hollywood is no where near the beach and very few people would ever go to Hollywood, Santa Monica, and Downtown in the same afternoon.
Since so many shows change the reality of  the layout of LA, it's hard to know exactly how to plan a trip and see all the sights.  As we've traveled, we've been asked the same questions about vacationing in LA over and over again, and have come up with a list of 10 things everybody visiting the city must know when planning their trip.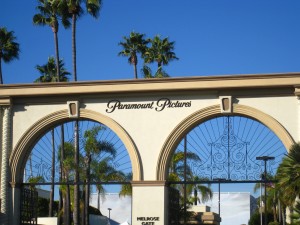 1.) LA is BIG– Now this might seem like a no brainer, but LA's sprawl is nearly unique in the world. (You can literally drive for hours and not leave the city).  Due to the size, some trip planning is suggested to make sure you get to see everything you want to see.  The three main sections for sightseeing LA are Hollywood, West Side, Downtown.
Hollywood is home to Paramount Studios, Sunset Strip, Hollywood & Highland, etc.
The West Side is Santa Monica, Venice, and the beach.
Downtown has Nokia Live, Staples Center, the Disney Concert Hall, etc.
Each of these areas are roughly 15 miles from each other but can take an hour to travel between, and,  since these three areas all have must see sights, there isn't really a central part of LA.  What we suggest is that you plot out your top must see attractions and see which ones are close to each other.  This way you can check off your can't miss sights in chunks and don't have to get across town too many times.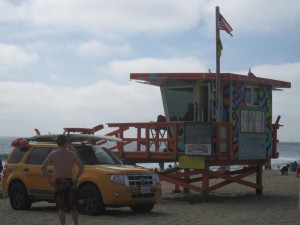 2.) The Weather is Awesome– No matter what time of year you come here, the weather is nearly always the same; Mid 70′s-80's, sunny, and dry. If you pack a t-shirt, a sweater/hoodie, and jeans, you'll be fine for the majority of your trip year-round.  It does get hot in July and August, so pack a pair of shorts if you plan on spending an extended amount of time outside (ie. if you're hiking).
Tip: It's hotter in the Valley and Cooler on the West Side and at the Beaches.
3.) Stay at the Beach– Since LA is so spread out, I always recommend visitors stay on the West Side; it's close to the LAX airport, one of the safer areas of town, home to many LA sights, and, if all else fails, the beach is never far away.
4.) Don't count on Public Transportation– Nearly every other major city in the world has convenient public transportation.  Not LA.
There is a descent subway connection between Hollywood and Downtown, but, if you plan on using this, make sure you plot out where the subway stop is in relation to where you want to go.  Also, the subway doesn't run all night so check the time of the last train.
Beyond that, there really isn't a super convient in-town transit system nor is there a subway that goes to the West Side. If you really want to put the time in, yes, there is an extensive bus system that will get you to nearly every part of LA, but I've lived here for years and have only attempted it twice.
Tip: One great part of LA is that there are low rates on car rentals, compared to many places in the world. I would highly recommend renting a car.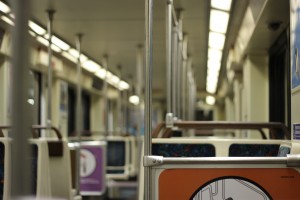 5.) Rent a GPS with your car– Don't rent a car in LA without renting a GPS.  I'm not joking around.  Don't attempt to drive in LA without a GPS.  Don't do it.  You will hate yourself and your life.  I can't say this enough.  Rent a GPS. An alternate option, especially if you plan on walking is to carry a smart phone with you, so you can map out things as you go.
Tip: Rent a GPS
6.) Add Extra time for Traffic– While on a map, Santa Monica and Downtown are not very far from each other, traffic can turn these fifteen miles into the worst hour of your life.  I usually add an hour to my schedule to account for traffic.  Doing this will let you better plan out your trip.  Also, traffic issues go back to my earlier point of making sure you plot out what you want to see before you head out so you spend as little time as possible criss-crossing the city.
7.) Hollywood & Highland is Hollywood– Just South of the 101 and just North of Sunset Blvd, Hollywood & Highland is a one-stop-shop for all of the Hollywood sights.  Home to Grauman's Chinese Theatre, the cement hand prints, part of the Hollywood Walk of Fame, the Kodak Theater (where the Oscars are held), and an observation deck devoted to the Hollywood sign, this entertainment complex holds just about every piece of iconic Hollywood.  It can be done in 15 Minutes, but take your time.  Short of a studio tour, this is as Hollywood as your trip can get.
Tip: Don't spend time in the trinket shops and odd museums (ie. Ripley's Believe it or Not).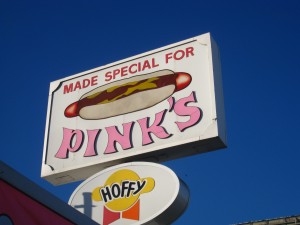 8.) The Warner Brother's Studio Tour is the best studio tour.  With museums, sets, prop houses, a working back lot, and regularly scheduled tours, the Warner Brother's Studio tour gives the best mix of tourist friendly sights among an actual working backlot tour.  While I really enjoyed the Paramount Studio tour, it can be difficult to book, and the Warner Brother's tour has more areas specifically laid out with memorable sets, props, and costumes.  When I left the Warner Brother tour, I felt I had seen a good section of what a movie studio has to offer. Reserve your tour ahead of time.
Tip: Younger children might enjoy Universal Studios Amusement Park more.  It also has a studio tour, and is accessible off the Red Subway Line which you can take from the Hollywood and Highland station.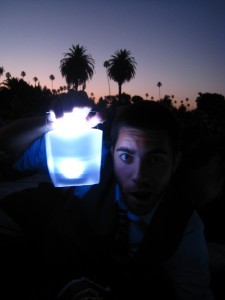 9.) Don't Do a 'Star Home Tour' – Plot out a Movie Sites Tour– Maps to the homes of Hollywood celebrities are sold all along the roads leading into Beverly Hills, and, if you buy a map, you will be able to drive by some of your favorite stars' homes.  However, most of these streets wind way up into the mountains and most of the homes are surrounded by large fences that prevent you from being able to see anything.  Instead of stalking down people in their homes, use a site like Box Office Quant, which has plotted the shooting locations of over 2000 movies, and create a tour showcasing your own Hollywood highlights.
10.) Sights are also there at Night and in the Morning– If you're working on a very tight timeline, consider the length of your day. Most sights will look the same after the traffic dies down at night.  There is also less traffic weekday mornings, which is the best time to see some in-town sights.  Especially if you are wanting to do something like saunter down Rodeo Drive or take a picture of the Beverly Hills sign, but have no interest in actually shopping, going on a weekend morning will make the trip as traffic free as possible.
Above all, my biggest tip for a trip to Los Angeles is utilize user review sites like Yelp! to find parts of the city that aren't just the tourist sights.  Especially if your trip is longer than a day or two, you are going to be looking for something else to fill your time; look into hikes (Griffith Park, Malibu Mountains), food trucks (Grilled Cheese Truck, Kogi Beef Truck), bars (The Abbey, Big Wangs), and unique attractions (Watts Towers, the Hollywood Bowl).  I'm the first person to tell people that LA can be a difficult city to visit, but with just a little preplanning and understanding that this city is a car-necessary city, a trip to visit the sights seen on TV can be great.