Alberta Bucket List: Hiking Maligne Canyon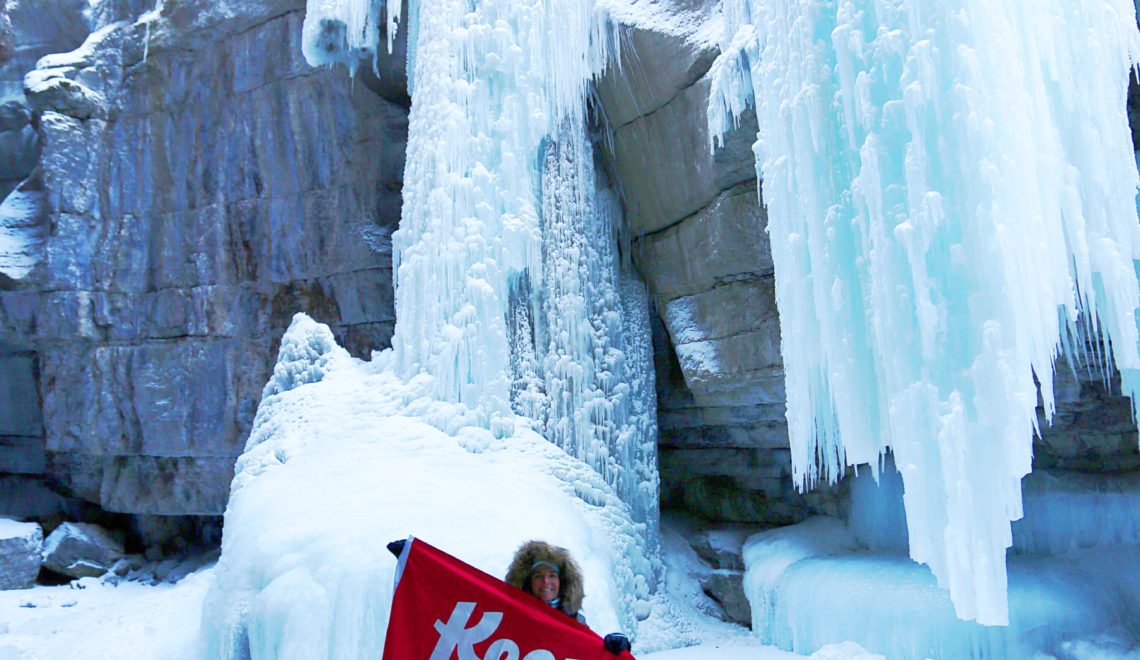 When I received our final itinerary for our Canada By Design trip, I was most excited about the ice hike to Maligne Canyon. It's one of those adventures that has been on my bucket list for years – basically from the moment I saw a photo of it, I knew I had to visit.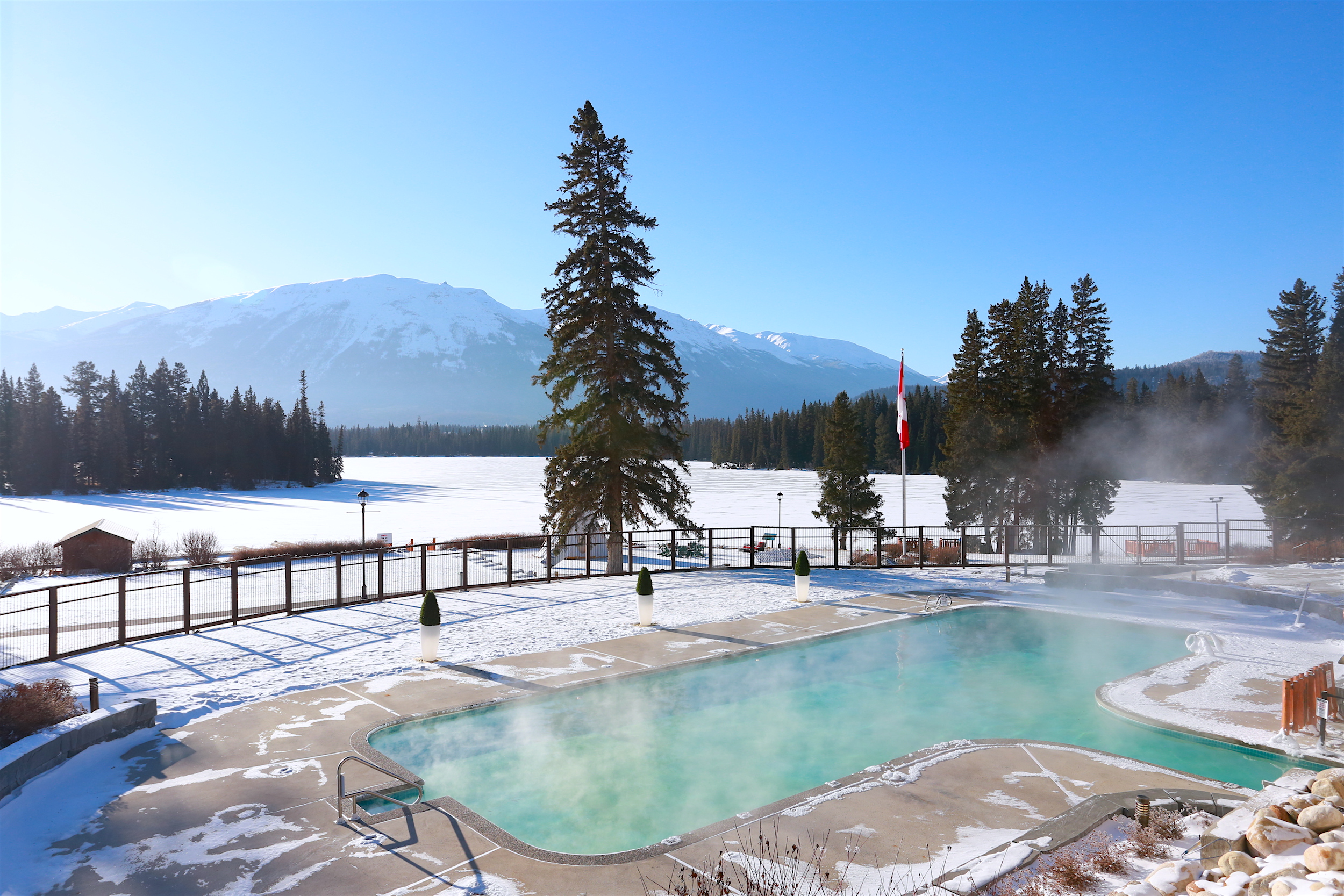 We arrived in Jasper, Alberta after a 22-hour train trip from Vancouver. The trip was smooth, easy and really relaxing. After a cozy meal and a couple hot toddies at the Fairmont Jasper Park Lodge, we settled into our suites with a wood burning fire blazing in the background and started dreaming of what our adventure day would be like.
For most people, winter adventures start and end with skiing, but what about all those people who aren't skiers? (ie, my Mom who has only seen snow a handful of times) I love that Canada by Design has a full list of winter activities for non-skiers all planned out- why should the skiers get to have all the fun?!
The Sundog Ice Walk tour included a helmet, waterproof boots with wool lining to keep your toes warm and dry, and crampons so you don't slip on the ice. I was so excited I could barely sleep that night.
Waking up, we lit another fire and started the long task of getting dressed for a day of adventures in -27 degrees. This includes but not limited to: 1 pair of fleece lined tights, 1 pair of thick leggings (preferably wool), wool socks, thin but warm trapping undergarments, long sleeved shirt, sweater or utility jacket, heavy, down-lined coat, scarf, gloves and hat. It took no less than half an hour to get dressed.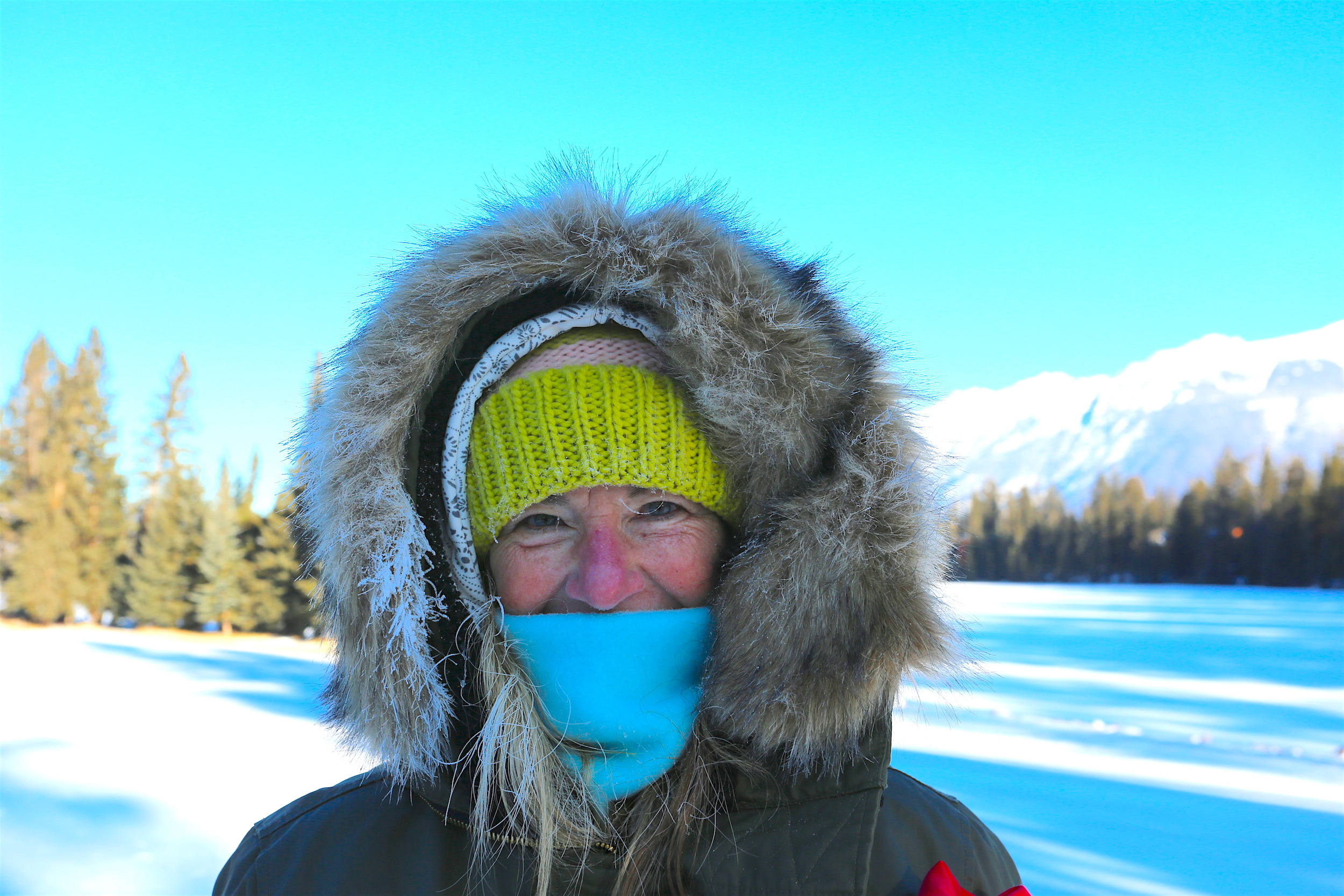 Luckily, while the temps were way below freezing, the sun was shining without a cloud in the sky. We waited in the lobby of the Fairmont for the tour bus to pick us up and then 18 of our new adventure buddies joined us in Jasper National Park.
Within minutes of leaving the Fairmont property, we drove up to a large herd of young elks on both sides of the road. As an animal lover, I was stoked to see wildlife, and so close up too.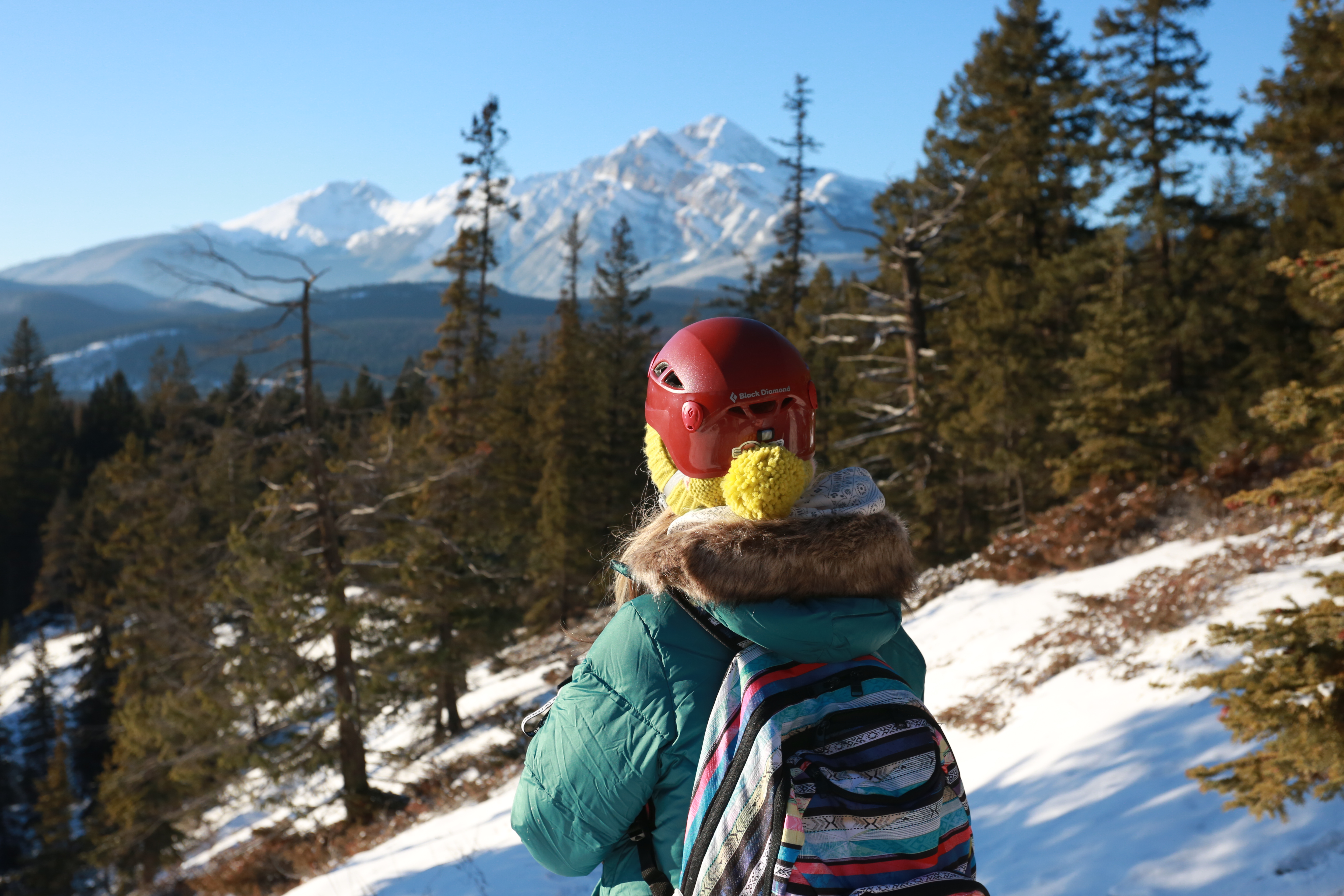 The drive to the starting point of the hike was about ten minutes and the hike in was another twenty or so up a snowy mountain, following the curve as we then descended into the canyon floor. Even though it was very sunny on the top of the mountain, it got dark and cold quickly as the canyon walls surrounded us.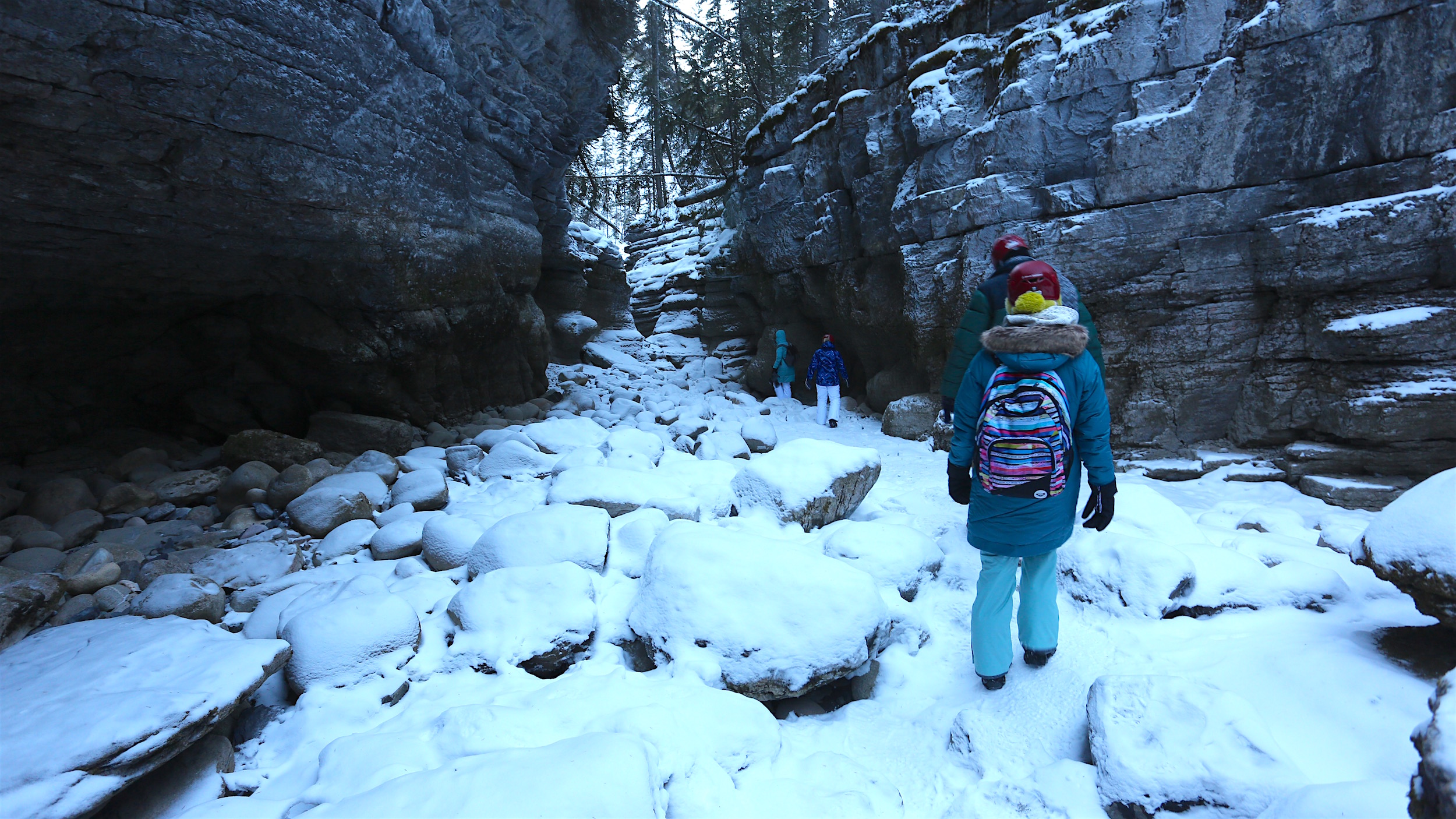 Our guide gathered us around in a circle and explained how to walk on ice. It was different than walking on snow and different than walking with skis on. While it may seem odd, she described how to plant your foot- firmly- on the ice before moving on to the next step. For some reason, I really thought I would want to be light footed but that is not the case. And you also don't want to walk down ice, the way you might with skis (sideways) because your cramptons will just dig in and slide down the ice. Instead, you walk down directly with one foot in front of another. This took a little getting used to but once I got the hang of it I felt completely safe walking on the frozen river.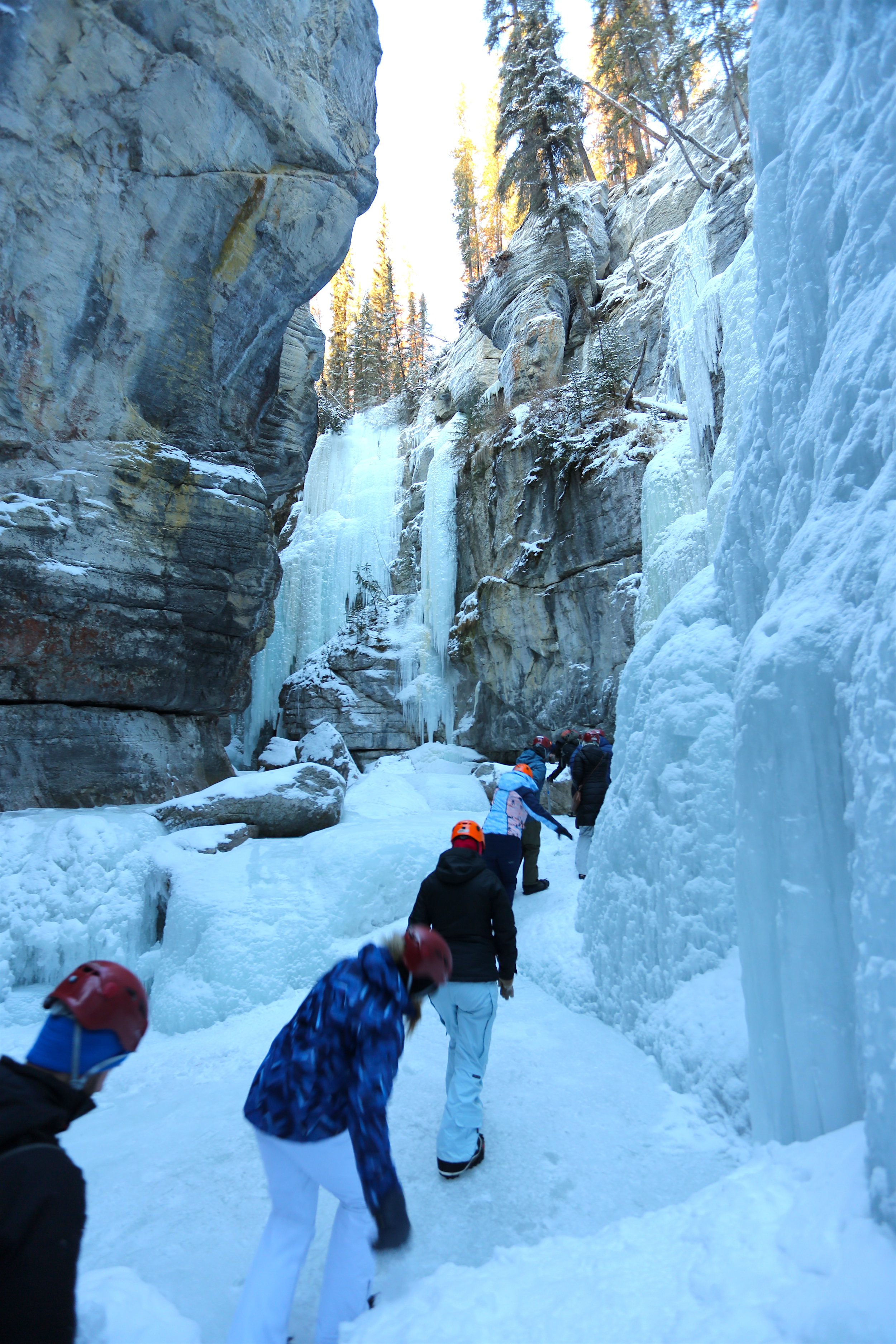 I could tell my mom was both excited and nervous. But her and Jeanie handled the adventure like adventure heros, blazing the trail for those of us in the back.
As we rounded a curve, we heard a big bang and everyone got really quiet. You can easily forget that since you're on a guided tour nothing could happen to you, but it's a living thing- ice falls, ice melts and ice shifts, and a huge chunk of an icicle had fallen down in front of us. Once I got over the fear of being hit by ice, it was actually really cool to see the landscape change before our eyes. Nature is one powerful beast.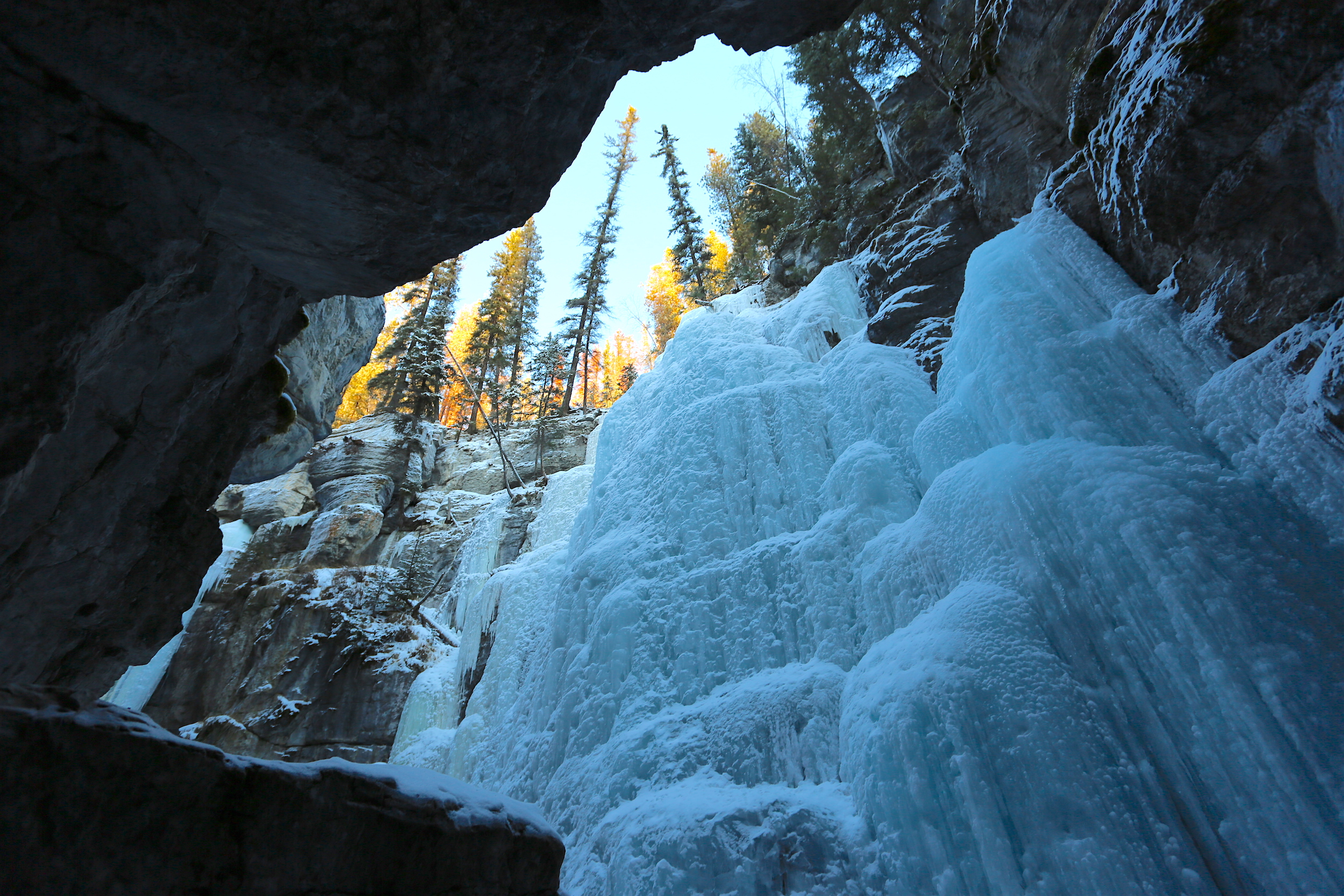 Finally, we arrived at the end, and hit our prime photo spot area. Everyone posed for their bucket list photo- throwing their arms up high as if they had just crossed the line after a marathon. I totally know the feeling though- crossing this hike off my bucket list and finally seeing this beautiful spot for myself was something I'll always remember.
I had my wide angle lens on my camera and it was awesome to be able to capture the bottom of the canyon and the tree tops above all in the same shot- around 160 feet deep. I'm sure Bob would have had a blast photographing the area.
Maligne Canyon looks completely different in summer and fall, when the river is flowing and the trees are bright green. Now that I've seen it covered in snow, I have to plan a trip back to see it from the top down (summertime brings class 5 rapids in the canyon, so unless you're an experienced kayaker, you wouldn't want to be in the canyon in summer).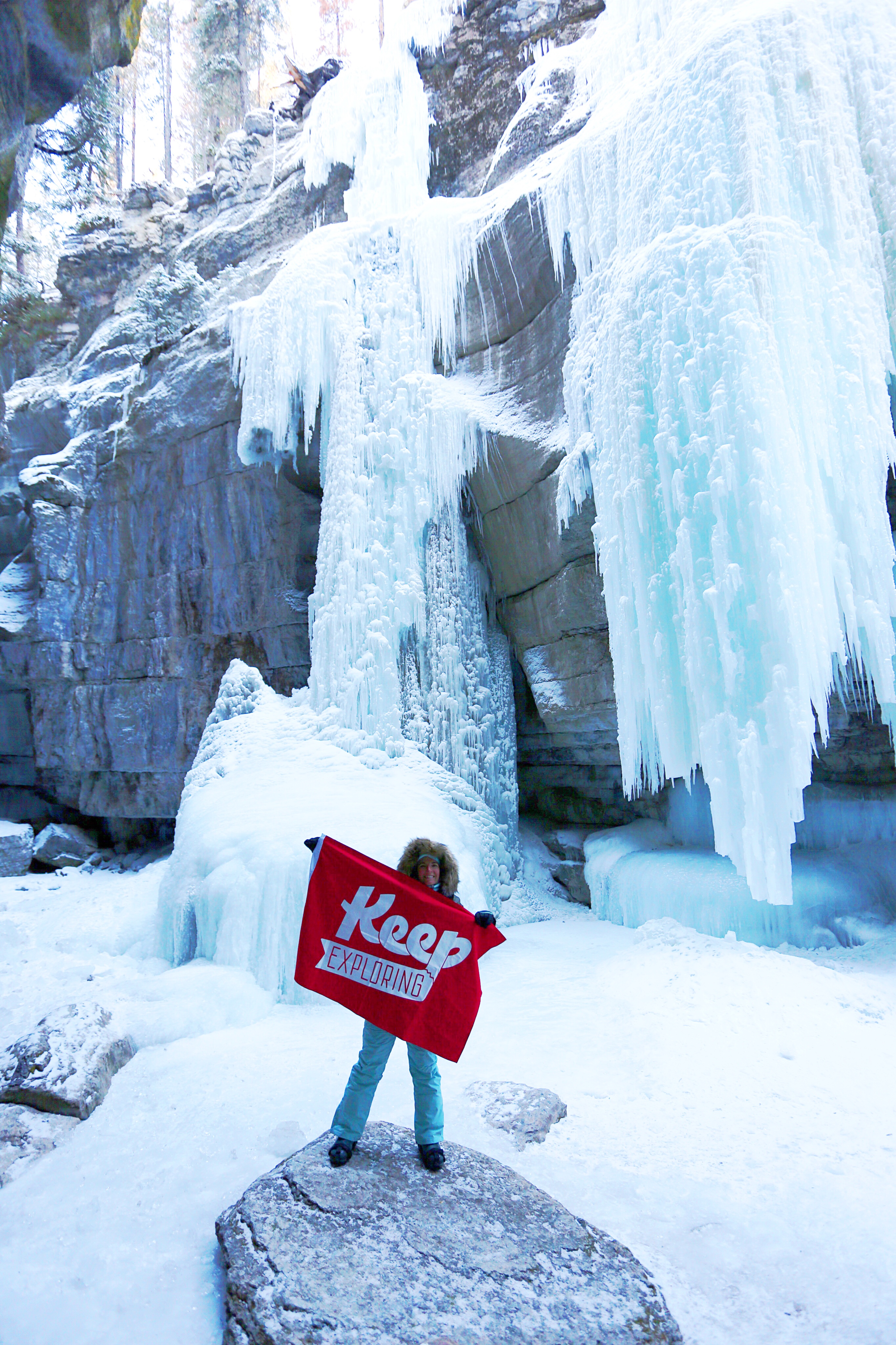 Resources:
Our friend, Christy, has even more winter adventures in Western Canada.
Looking to visit Jasper in the summer? Canada By Design can book your summer trip now and the earlier you book, the best chance you have for your preferred hotels and routes, as it gets extremely busy in Jasper in the summer. I'd tack on a trip to Banff and Waterton National Parks if you have the time.