Friday Favorites: Best Travel Blogs & Jet Setting Deals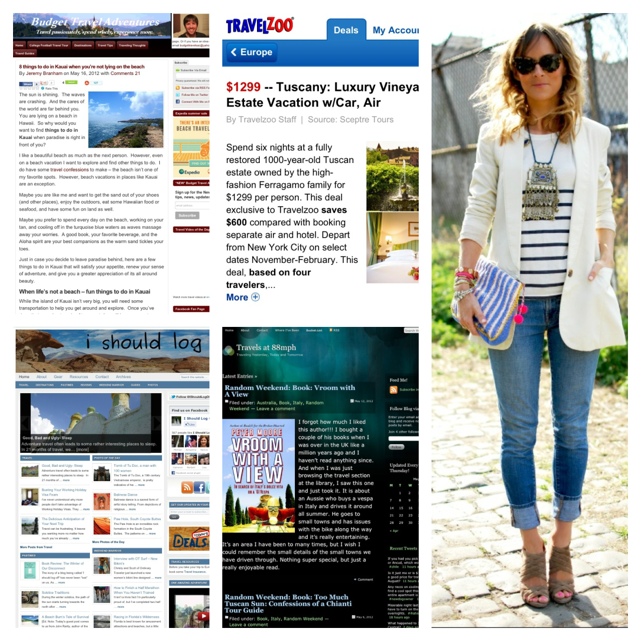 Happy Friday, Blog Friends! How has everyone's week been? We have been crazy lately. We are shooting new videos for about.com and the first one took way longer than I thought it would. But, it looks awesome. Bob truly amazes me with his video editing skills and what he can do behind the camera. We are also getting excited for a pretty busy weekend and week ahead. I am meeting up with a few blog friends today (yay!) and then prepping for Bob's parents to come into town tomorrow. I'm trying to figure out how to pack in all the great places in LA into just a few days, without running around too much. It is a vacation for them, after all! What weekend plans are you making?
About Friday Favorites: One thing that I've wanted to do for a while now was highlight some of my favorite blogs, bloggers and awesome trips that I find online and bring them to you. Some you might have already heard of, others might be newbies, either way I hope you enjoy and if you have a post or see a blog that inspires you- please send it my way!
Friday Favorites for May 18, 2012
Favorite Photo Post: Jeremy's post on 8 things to do in Kauai when you're not lying on the beach stole my heart yesterday. Hawaii is high on our list of places to visit (like super high) and I can't wait until we make it there in December. This post had me wishing we were going tomorrow!
Favorite New Road Trip: Busy planning our Utah and Colorado road trip, I stumbled upon Jillian's post about Paw Hole Rock formation near Zion National Park. This place looks awesome- and a great stop for a short hike with an incredible pay off view!
Favorite Travel Blogger: One of our longest travel blogging friends and now just friend in real life, is Rebecca from Travels at 88mph. She is always up for tweet-ups and meet-ups and dog park runs and meeting around town (even though she loves the Valley!). If you get a chance to come to LA or are in an area where she is traveling, make sure to look her up on Twitter.
Favorite Travel Deal: Travel Zoo has done it again. Seriously, are you not signed up for them yet?! This week I was set a deal for a Tuscany luxury vineyard estate vacation- including air and car rental for only $1299! I'm kind of thinking that Bob and I might just buy several Travel Zoo coupons for our honeymoon and do a couple different things- might be fun, right?
Favorite Travel Outfit: Last summer I bought a white blazer from H&M. It was a complete impulse buy but I wear that thing all the time. It is the perfect topper for living in LA and the fickle, ever-changing temperature. This week I was really drawn to Lucy's white blazer look on her blog. Easily paired with cuffed jeans, simple white striped shirt and really fun accessories. I think this is the perfect type of travel outfit- just add-on whatever accessories you pick up along your travels. Her necklace and bag look as if she found them at a street market from some far away place- isn't that how you want all your stuff to look? I know I do.
And, a few favorite blog posts from us, incase you missed them!
-Last week I wrote about Living your life as passionately and as purposefully as possible. We only have one life, live it right. I loved the comments on this post and what people had to say about following their dreams.
-I also stumbled upon some pretty uplifting mantras that, as crazy as that just sounded, I've been trying to incorporate into my life and writing. I wrote about finding courage in the strangest places, in Courage under Fire in London. What is a strange place you found courage?
Hope you have a great weekend!