California Weekends: Exploring Downtown Los Angeles
There are a lot of areas of Los Angeles that I have fully explored. Ask me questions about Malibu, I've got answers. West Hollywood to Studio City, I can help you find little known gems as well as highly sought after must sees. Quiz me on Santa Monica and Venice hot spots, and I'll send you so many top ten lists, you'd have to spend each weekend for the rest of the year in those areas to complete them all.
But one area that has gone unexplored is Downtown Los Angeles. As much as I've wanted to live in a stereotypical 'big city' and walk everywhere like NYC or London, I have actually spent very, very little time down town.
Luckily, Bob and I were included in the  #CaliforniaWeekends social media event for Starwood Preferred Guest to help travelers plan the Ultimate California Road Trip.
Over the course of the next several weeks, Starwood is introducing different incredible #CaliforniaWeekends that start with a stay at one of their properties. Other bloggers include Hip Travel Mama and Johnny Jet.(You can check out our page and the other weekend adventures on the Starwood landing page.)
Before we packed our bags, I researched great Downtown LA restaurants, shops and must-see attractions. Making a list of some of the things I've always wanted to see and do Downtown, I was also super excited to hear Starwood and Westin Bonaventure's suggestions for things to do around the hotel. In an effort to really explore the area, Bob and I decided to spend as little time in the car as possible, fully embracing a walking vacation. There are so many things to do near the Westin within walking distance- Angel's Flight, The Grand Central Market, The Bradbury Building, The Main Library, Disney Concert Hall, to name quite a few.
Friday afternoon we checked into the hotel and opened the door to our room on the 26th floor. We walked into a one bedroom suite- complete with a small kitchen area, huge living space, full bathroom and private bedroom. The room was big enough for a small family or couples like me and Bob- who like space to spread out, even in a hotel room.
After we relaxed a bit, we met a few friends for happy hour drinks at the Bonaventure Brewing Company. Located in the hotel, I was happy that there was an affordable (happy hour drink prices!!) place to grab drinks before heading out to a Dodgers game. Before we caught a cab to the game, I ran back upstairs to get a thin sweater. The ease of being able to jump back upstairs so quickly made me love the brewery even more.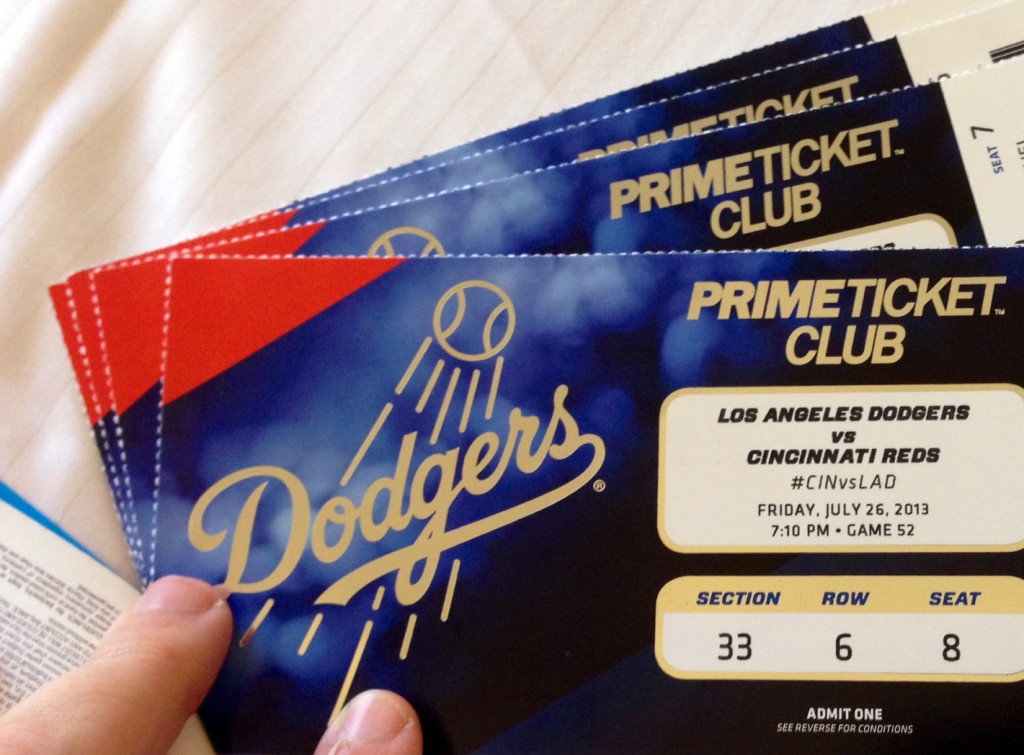 The Dodger game was unbelievable- like one of those once in a lifetime experiences that everyone really should do. And this is coming from a girl who is a diehard football fan and really only goes to baseball games for the hot dogs and peanuts. We had VIP seats (in the 6 row near 3rd base). As preferred guests, we were given special access to dinner before the game (prime rib, dozens of sides, endless Dodger dogs, ice cream and free sodas). Once we made it to our seats, we noticed that we also had the ability to order food directly from a server! It was like we were at the Oscars for Baseball games. We felt pretty cool.
After the game (the Dodgers won!), we were lucky enough to attend on a fireworks night, the field was cleared and fans were allowed to go onto the field to watch the fireworks show. Clearly some people have done this before, as there were full on blankets being laid down. We spread out on the field- dancing around during the music before the show. This was one of the best sporting events I've ever been to.
Because the hotel is so close to the stadium, we were back in our beds on the 26th floor by midnight. It was an absolutely lovely evening, from start to finish. As we laid in bed (a heavenly bed, I might add), we felt so lucky to be living this life. Bob took full advantage of the robe and slippers and wore them all around our one bedroom suite. We fell asleep with the blinds to our floor to ceiling windows open- looking out over the LA skyline and twinkling lights of the city below us.
Saturday:
Oh, Saturday. Even though the beds were oh, so comfy, my internal clock wakes up every morning around 7:30am. Long gone are the days were I can sleep until 10 or 11am. Bob made two cups of coffee (both for him) and jumped on the bed to tell me what he planned for our day of exploring.
First we would walk to Semi Sweet Bakery, that makes cronuts (crossiant and donut), then we would go to the library, Angel's Flight and Walt Disney Concert Hall. All this, mind you, before we would head back to the hotel and meet a few friends at the pool at noon.
Walking to the cronuts shop, it was brisk and foreign. Thinking that our house was actually only 15 miles away was so strange because it felt like we were in a completely different city. We passed by the Library and many older buildings with facides from a time gone by.
By the time we walked into the cronuts shop, it was only 8:45 am mind you, all the cronuts were already all gone. Apparently there would be another tray around noon. Starving, we quickly Yelped other restaurants nearby and discovered The Nickel Diner. After a 25 minute wait, we ordered a bacon maple glazed donut, pulled pork hash browns and baked apple pancakes.
The bacon maple donut lived up to the hype and the pulled pork hash browns were pretty delicious. The baked apple pancake, however, was disappointing. I imagined a baked pancake- a thick pancake with tons of apples baked inside. However, what came out was more like a thin crepe with half an apple on top. Maybe that was the donut gods telling me not to eat any more of that so that I could finish the bacon donut without much guilt. It worked, I only took about two bites of the fake baked apple pancake.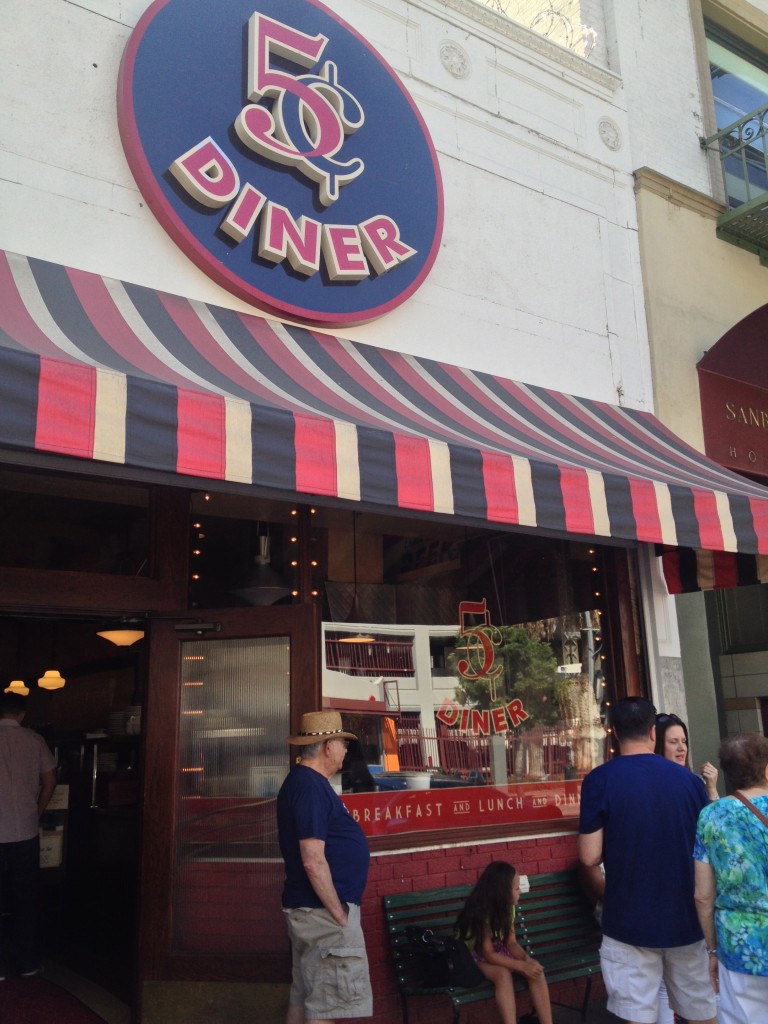 Afterwards we walked to Angel's Flight and the Grand Central Market (across the street from one another). We weren't hungry so we just walked around the market taking pictures and taking notes on places to return to when our appetites came back. Angel's Flight is the shortest railway in the world. It is a really cute experience. Pay .50 cents and you get a ride to the top. I even took my first Instagram video on Angel's Flight. (still trying to master that skill!)
Weaving back towards the hotel, we walked through the gardens near the Library and through a few of the galleries. Back at the hotel, we changed into our swimsuits and grabbed a drink at the hotel bar before getting a few pool deck chairs and lounged in the sun. While you can order drinks from the hotel, it is a little difficult to do. You have to order them from a phone at the end of the pool (no one walks around asking if you want something else). We ended up buying a few drinks from the hotel bar on our way out and bringing them with us. This wasn't a huge deal, as having a pool in the summer heat of Los Angeles is pretty amazing.
The pool is outside and the buildings of downtown look down on you. Even though we were downtown, I couldn't hear the sounds of the city streets below us. There was music playing, the sun shining and dozens of people lounging around having a great time. It was the perfect way to spend the afternoon.
Stay tuned for Saturday night and Sunday's activities. As I was writing, this post got to be so long because I enjoyed it so much. I'm pretty sure it was the first weekend in a long time (maybe before we got married) where I didn't work- and Bob mentioned how much it meant to him that we had the weekend to ourselves. When your husband says that, you have to take note of how much you work and take a little time to relax and enjoy each others company. Hopefully, I'll be able to do more of that now that Travel Mindset has launched and is feeling a little more normal!
————
If you want to book your own California Weekend, check out Starwood's Road Trip planner to help you book your own weekend!
————
*Disclosure: We were guests of Westin Bonaventure. While they did sponsor this post, they did not tell me what to write about, take photos of or share. It was easy to write a positive review after such an amazing weekend. Thank you for supporting our sponsors.