7 Off the Beaten Path Hollywood Spots
There are so many unique attractions and off the beaten path destinations in Hollywood that if you visit just a few, your view of Hollywood will totally change.  Here are some the best off the beaten path Hollywood spots that you should totally fit into your schedule.
This is one of the coolest themed bars in Hollywood and a total throwback to old Hollywood.  Located just off Hollywood Boulevard on Cherokee, this is a dimly lit bar with an authentic French/Burlesque feel. (No actual Burlesque Show takes place)  With a long wooden bar and tons of red fringe, this is one of those places that you'll visit and then tell other people to check out. (boardners.com)
Mountain Horseback Ride
Hollywood might be a city of concrete and fantasy, but there is a major organic, outdoors side that shouldn't be missed.  Taking a trail ride up the the top of the mountain ridge or even a sunset ride across the mountain into Burbank is a special way to experience what this city has to offer. (I suggest checking out Sunset Ranch Stables)
One of the true secret gardens of Hollywood.  This is a totally unique secret hidden in the Hollywood Hills.  It was built for the children of the neighborhood, and only the children in the neighborhood are given keys and allowed to enter.  You can see the entire patchwork landscape from the street – a DIY collection of McDonalds toys, antique oddities, and tile work.  This is the most unusual spot in Hollywood.  Click here to see what it's really like.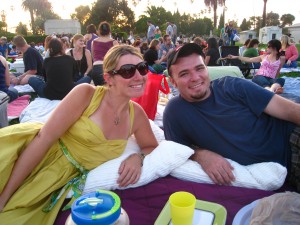 Where the great stars of Hollywood's Golden Era are laid to rest – that and a killer Ramones statue and the best place to catch a summer movie.  Hollywood Forever is located along Santa Monica Boulevard, a few blocks East of Vine, and, being a graveyard, it's a weird place to add to a itinerary – but don't let that stop you.  Visit here to check out the graves of iconic Hollywood celebrities like Cecil B DeMille or music idols like the Ramones (full list of names), also during the summer there are movie screenings in the park where you can bring your own food and wine.  This is one of those spots that most locals flock to when friend and family visit – just don't let the woman in black ghost story spook you too much.
Hollywood is home to the Golden Age of Improv, and the Clubhouse its new independent home.  Here, some of the best comedians can be found performing every night of the week, usually offering free beer and water and accepting donations instead of a cover charge.  Visiting here is the best way to see some of the up-and-coming comedy stars. (website)
The most unique coffee house in Hollywood.  With an entire back room designed like a forest, and the main room littered with couches, this is one of the true '90's coffee house left LA.  Serving up moderately priced food and drinks, come here to chill out for a little bit or as a stop off point to explore Franklin Village (which includes the UCB Theater and The Oaks Gourmet for sandwiches).
With the latest movie memorabilia and talkbacks with movie stars, this is the best place to catch a film in Los Angeles.  Home to many current movie premiers, Arclight has carved a name for itself by making a trip to the movies magical; in their lobby they display costumes and props from the movies they are currently screening (for example, when they screened the Dark Knight, they had the batmobile and bat-cycle on display along with the superhero suits) and they also have talkbacks with directors and actors such as Steven Spielberg and Leonardo DiCaprio.  I love visiting this theater.
Quick Tip: the view from their parking garage is one of the best sunset spots in the city.