Palladium Vallarta Resort Review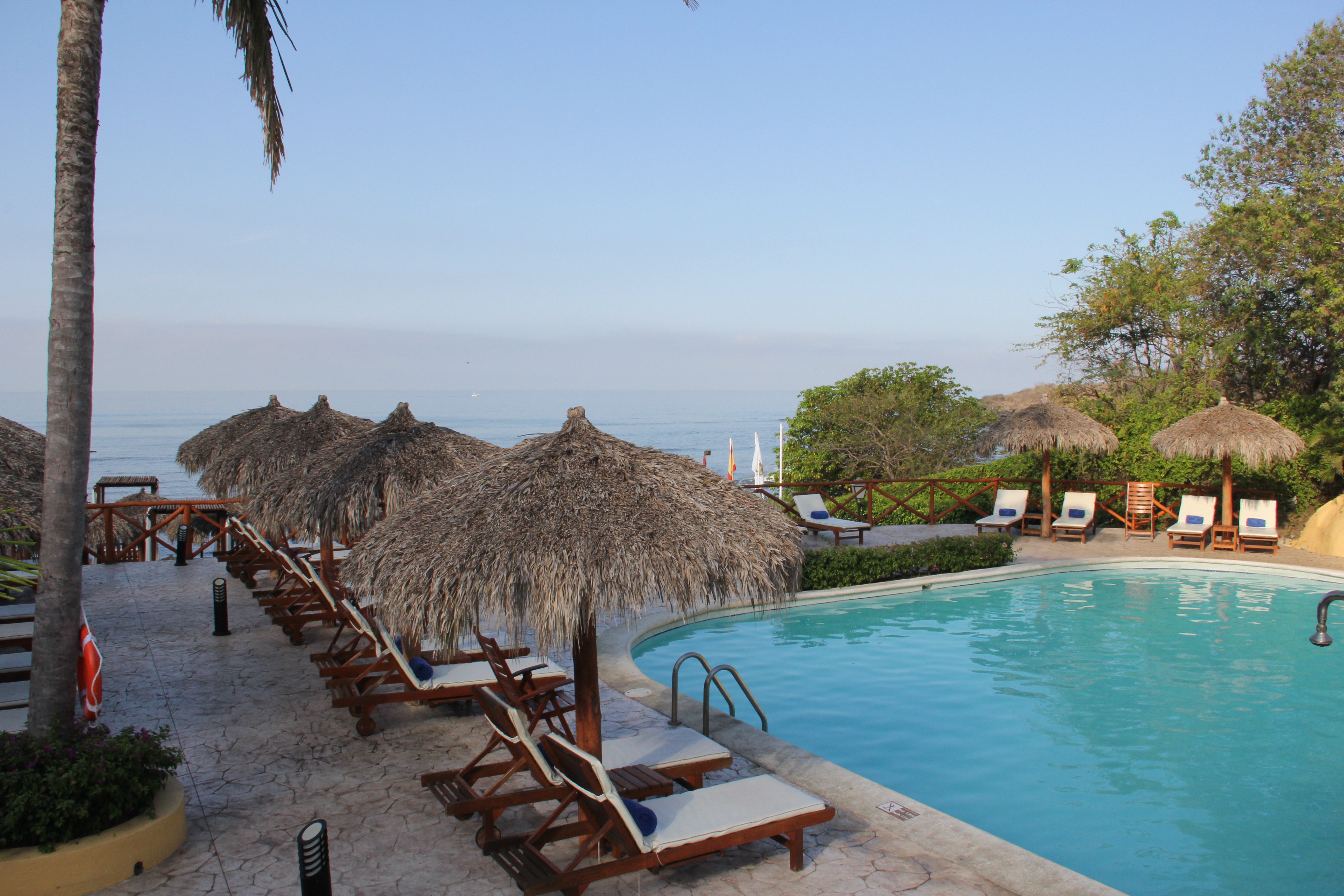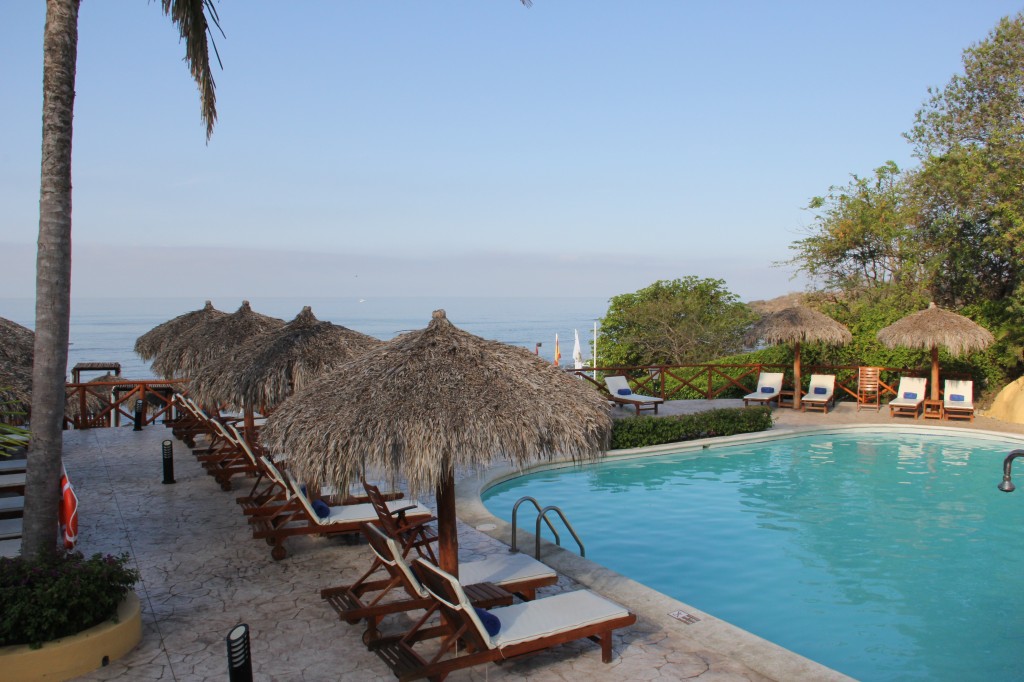 Was it like I dreamed? The deepest impression an all-inclusive resort leaves with its visitors is how well the reality matched up to their imagined, ideal vacation. Was the food first class? Did the public areas (pools, lounges) meet or exceed personal style and vacation expectations? Were there plenty of activities, and were the activities well managed or more of an after thought? The Palladium Resort and Spa offers a wide range of accommodations, activities, and large, well laid out public areas that make ample use the beach front views afforded by the resort's amazing location.  However, it's in the fine details of this resort that your vacation dreams will either be exceeded or disappointed, and it's important to know what is offered before you decide if vacationing here will come as close as you can get to your ideal vacation.
For a beach resort location, it would be hard to top The Palladium.  Unlike most hotels and resorts in Puerto Vallarta, The Palladium is not in the typical touristy downtown, but rather set in front of an almost exclusive beach near Punta Mita (about an hour taxi ride from the airport).  This distance from town means that the vast majority of a vacation at the resort is spent on the grounds, without simple alternative options should a traveler want to try another restaurant or bar. Whether you take this as a positive or negative is based upon your expectations of a vacation in Puerto Vallarta. However, the benefits to being so far from town is the proximity to nature.  There is plenty of relatively unspoiled nature to explore. Shoreline walks are nearly entirely private and aren't interrupted by either giant developments or beach-walking-salesmen.
What brought us here? Surfing.  The Palladium is situated right on top of a great surf break, literally directly in front of the resort.  The wave is not too crowded, and it is mainly resort guests in the water.  Additionally, if the wave in front of the hotel is going off, one or two other points a few hundred yards down the coast open up (as a point of reference, one is directly in front of the first house down the beach).  These waves aren't as specific in location, but, with no crowd what-so-ever, we were able to paddle from point to point, catching almost constant surf.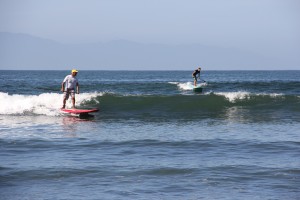 Two notes about staying and surfing at The Palladium:
1) The included rental boards available to guests are limited to a certain area of the ocean.  If you are planning on ripping it up, rent boards from in town and have them delivered out to the resort.  Also, this is a great place to try SUP.  There is a board rental shop in town that can outfit you (with resort delivery and pick-up), and the waves here can be ideal for paddling.
2) The beach is rocky and the water has large bolders buried under the swell.  Be cautions and I would totally recommend bringing booties.
Having traveled through Mexican villages sleeping without A/C and showering outside, it was a great break to be able to stay in luxury while not having to compromise the surf.  If surfing is of interest to you, but you also like a little pampering, The Palladium is a must visit.
Below is a deeper run down of what to expect from a stay at The Palladium.
(As a reference, The Palladium is divided into two parts, the standard resort and the Royal Suites. We stayed in the Royal Suites portion of the resort, which is only slightly more expensive than the basic hotel package. These accommodations gave us full access to the resort grounds, including both the standard public areas as well as those exclusive to Royal Suites guests. Throughout our week, we spent time exploring both parts of the resort.)
Attractions: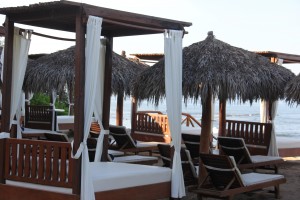 This resort has two unique features here that many all-inclusive resorts lack, a tropical forest walk and a private zoo. The tropical forest walkway is easy to miss, but if a guest finds it, they are completely surrounded by lush greenery, in only a few steps. The plants appear to grow wild, but are intricately trimmed off the path, giving the walk a managed yet natural feel. While this isn't a long, loping hike, it's enough to get into nature while going from one activity to the next. The zoo on the other hand received a mixed reception.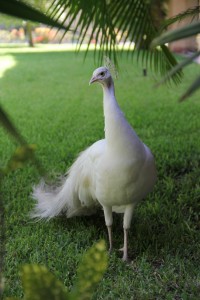 I'm not going to lie, I love monkeys, add in a albino peacock and I'm hooked. The Palladium's zoo area boasts nearly half a dozen different animals, and I'm not the only guy who stood for several minutes watching the monkeys. However, after seeing "The Cove", I'm not particularly comfortable with animals being presented in this way. While I applaude The Palladium's intentions to offer more experiences to the guests, ultimately I feel the lack of this attraction would be a stronger choice.
Pools:
There are three pools open to all resort guests, a the family/sports pool, an endless pool looking down on the surfbreak, and one pool built into the ocean itself. The family/sports pool offers a mix of water activities, including water basketball, and is mainly shallow, parents can feel comfortable with their kids playing unattended. This pool area, as can be expected, was crowded, and, while I never felt uncomfortable, my ideal vacation is a bit more secluded. This search for seclusion took us to the second open pool.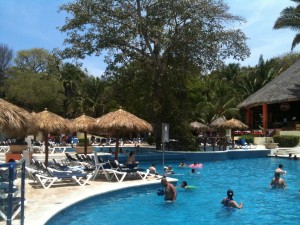 The endless pool overlooking the ocean is beautiful. It is way more low-key in feel, has a poolside bar, and attracted mainly young adults, giving it a bit of a "Jersey Shore" vibe. While the pool itself wasn't crowded, the deck does have a large turn out for the available space, pool side chairs are a precious commodity.
The third pool is literally built out of the ocean and filled with sea water. This is by far the coolest pool I have ever seen, providing all the benefits of swimming in the ocean, with a convenient ledge for resting a drink. This pool was rarely crowded (mainly empty) and even had sea creatures (like crabs) inside.
The Royal Suites offers guests an additional option, a two tiered pool surrounded by chairs. There were never too few chairs nor too many people. While this pool wasn't endless, it had a great view of the ocean (twenty yards away), and the poolside bar made sure the view only got more pleasant throughout the day.  Also, this pool has a raised secondary seating area, complete with beach-side beds, perched within feet of the water.
Accommodations: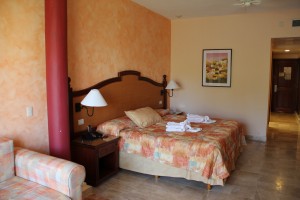 Being that we stayed in the Royal Suites, our rooms had more luxuries than the standard room. Each room had a queen sized bed, couch, jacuzzi bathtub, and large shower. Guests are provided with both a robe and slippers.
The biggest difference between the rooms of the Royal Suites is the location of the jacuzzi, either in the bedroom area or in the bathroom.  I, of course, loved the idea of having a sexy jacuzzi in the middle of the bedroom, but this option came with a problem, the toilet was sealed from the room by a half door not a full, close-able, smell blocking door. It's a trade off, and I should note that the jacuzzi in the bathroom has no door between it and the toilet but there is a full door between the bathroom and the bedroom, which I ultimately prefer.
Dining Options:
There are two dining options available to standard hotel guests and an additional option for Royal Suites guests. Being that this is an all-inclusive resort, there is a large buffet serving three meals a day. The buffet was clean, well stocked, and offered a wide variety of food options, from made to order omelets, spaghetti, steak, and sandwiches -to- salad, fruit, and bread bars -as well as a number of 'serve yourself' buffet trays. The food was well prepared, lacking the sometime bland taste of mass produced faire, and offered a mix of 'local' Mexican dishes as well as standard American staples. In addition to the all-you-can-eat food, the buffet had serve yourself beer taps all day long, which was a nice surprise and a great way for many resort guests to kick off the nooner drinking binge (if by noon I mean as soon as they woke up).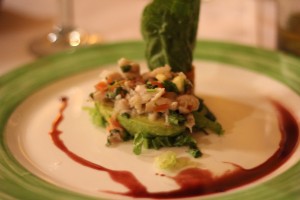 The second option open to all resort guests is an array of individualized restaurants, an Italian, a Japanese, and a Mexican. Here the upscale dress-code is strictly enforced, waiters attend to guests with table side service, and, although meals are ordered off menus, the food is still all-you-can-eat. We ate at both the Japanese and Mexican restaurants and found the food to be of the same high caliber which the buffet food was, with more specialized options tied into the theme of each particular restaurant; sushi at the Japanese restaurant and giant sides of guacamole at the Mexican restaurant. The biggest difference between the buffet and the individual restaurants was the sense of calm found in the ladder, imagine the difference between eating at a Chili's compared to eating at a Melting Pot. All guest are allowed to dine once at each of these restaurants during their stay.  However, not all the restaurants are open everyday, so it's important to note the schedule if planning to visit all three over a week's stay.
The third option available to Royal Suites guests is a private restaurant perched on the edge of the beach with table side service and an atmosphere matching that of the restaurants. Most of our meals were eaten here. The food was a mix of traditional and global, much of which was also being served in the individualized restaurants.
Activities:
With surfing lessons, board rentals, pool toys, and fitness equipment, The Palladium offers exactly what is to be expected of a high end all-inclusive.  The staff was happy to help when necessary, and, for the most part, did their best to accommodate us at every turn.  Two offered activities that stuck out to us as unique were archery and sailing.
Archery was a weird choice and more of a lark to pursue. However, as the planning necessary to achieve archery awesomeness spread into days, our interest turned more into fortitude. While we were slightly perturbed at the difficulty of arranging the activity, when we finally got to do it, it ended up being way more than we expected. First of all, the instructor was more of a fun guy than an archery guy, not totally able to tell us how to arch(?), but joking at all the right times. Secondly, unlike so many things at the resort, the equipment wasn't top notch, actually the archery range wasn't even super safe. Ultimately though, for a few people wanting to sling arrows around for a couple of minutes, the atmosphere created by the staff was relaxed and fun; there were even awards for the best two archers. I will put the disclaimer out that this is only for entertainment and if you are going be competitive or want descent equipment, this is not the place for you.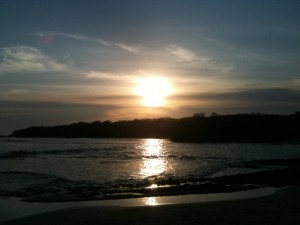 Sailing sounds like a great idea, but the only boat available had the regulations of having to be driven by a staff member, with only three sails daily, and a maximum of three people (to few for a family but too many for a romantic couple). I can reason out why the regulations are in place, especially since all boats head out through the surf break, but it came off as a tease. Like archery, I had only a fleeting interest in taking Jade out on a boat, one I wouldn't have though of had it not been presented to me, but since it was I was upset that I couldn't do it just the way I wanted to.
As I mentioned earlier, one drawback to most of the ocean specific rental equipment was the ridiculously small permitted area available for use with the equipment. Most of the gear had to be kept out of the places that someone renting it would want to go, which made much of it immediately worthless to us. To offset this, we rented surfboards from a local shop in town, had them delivered to the resort, and were able to travel where ever we felt drawn to go.
Ultimately, like the whimsical desire to do archery, none of these problem bothered me for longer than a few minutes.  The atmosphere of The Palladium and the other options open to vacationers quickly assuaged any frustration I had.
Whether you are a seasoned all-inclusive resort-er or not, there is always an imagined set of 'best-case-scenarios' that accompany the planning of booking of a vacation.  Some dreams are simple to fulfill and some maybe far to outlandish, but it's the balance of begin able to fulfill the widest range of hopes while still offering some more tailored experiences that can make a all-inclusive-resort great.  The Palladium Resort and Spa is ideal for vacationers who want to get away from the hustle and bussle of the city but not be secluded.  There is plenty of entertainment here to keep days and night interesting, but there is still space to get away and have some relaxing alone time.  For us, The Palladium Resort and Spa exceeded our expectations and we will definitely be returning.