Mother-Daughter Getaway to Tucson
November 20, 2017
by Jade Broadus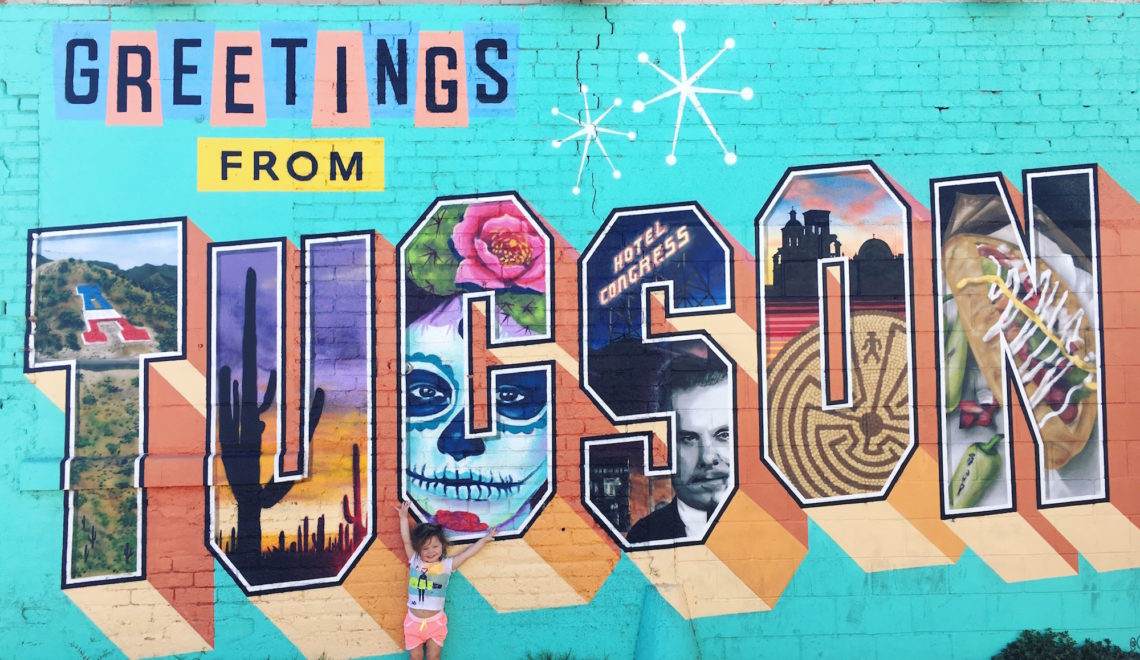 At 23 months old, Kid Augustine has been on more trips than most adults I know. She's traveled to Canada and the Caribbean, 20 plus states, tried Florida Gulf fried shrimp and Texas BBQ, sled the snowy mountains of California and hiked the sandy desert in Utah. She's an adventurer, through and through. So when I had the opportunity to take a family-friendly trip to Arizona last month, I jumped at the chance to have a fabulous mother-daughter trip in Tucson.
Now that she's a walking, talking, attitude-filled little toddler, traveling with her is so much fun. She gets into each attraction, has opinions on whether or not something is fun and really loves eating her way through a new city — much like her momma. Tucson's latest slogan is #FreeYourself, and that's just what we did on our four days in and around the sprawling city.
Planning for a trip with a toddler is easy in a destination like Tucson. In just an hour, we arrived from LAX to sunny Arizona. From a world-class children's museum, to an easy to navigate zoo, and a fun downtown area, Tucson might be our favorite family vacation yet. Here's our four- day itinerary so you can start planning your own trip now!

Day 1:
Think very spacious rooms (perfect for a toddler that loves to run around), a year-round heated pool for splashing around and cooling off in the desert heat, an on-site restaurant that offers a tasty breakfast each morning, and an adobe design that satisfies the adult's design love. Your Instagram feed better get ready because this place is Instagold.
What to do:
We like to pack in a lot of walking and outdoor attractions on the first day of any trip. This helps with any jet lag or tight muscles from sitting on an airplane.
First stop:
Head over to the Reid Park Zoo for an early morning giraffe feeding, where your donations help provide the best environment for all the animals. While you could easily take your time and spend half a day here, you can also visit the highlights reel (the lions and giraffes and zebras) for an hour trip and still feel like you got your money's worth.
The Tucson Botanical Gardens is kid friendly and a treat for adults. With hundreds of bright butterflies in all the colors of the rainbow, the butterfly exhibit is particularly fun. We stayed in there for half an hour counting all the butterflies. Augustine squealed each time one landed on her — it was pure delight. Highly suggest ending your visit with one of the homemade popsicles. They had really unique flavors chile and chocolate and mint pear, that you couldn't get anywhere else in the city and perhaps the state.
Where to eat:
Boca Tacos y Tequila should be your first stop. With really unique taco combinations plus the location on historic 4th Avenue, it's the perfect introduction to Tucson cuisine and culture. Augustine loved the Sonora taco (with a hot dog inside).
Afterward, the adults should grab a pint at Pueblo Vida Brewing Company, where the Bavarian Hefeweizen made it on Visit Tucson's list of Top Ten Beers.
Day 2:
One thing that a lot of people might not expect about Tucson is that the attractions are pretty spread out., so rise and shine early to get the most out of the day. From the Lodge on the Desert to your first attraction today, it's a solid 45-minute drive. Enjoy the drive though, as much of it is through the Tucson Mountain area, where you'll drive by cactus and Joshua Trees. Allow time to pull over and take photos too. Believe me, you don't want to feel rushed on this drive.
What to do:
Start early at the Arizona –Sonora Desert Museum, which opens at 8am so you can enjoy the mostly outdoor park during the coolest hours. One part museum, one part nature center and one part zoo, the Desert Museum is truly special. Little kids will love the wolves and black bear exhibits and parents will enjoy the different flowers and fauna — who knew there were so many different types of cactus?!
From there, you could venture out to the west side of Saguaro National Park or zip over to Old Tucson, an amusement park of the Old West. If you leave the vote up to the kids they'll probably go for Old Tucson forits old movie set attractions.
Travel Tip: Old Tucson has limited hours during the winter months, so make sure to double check if they're open before you head over there.
Back in downtown Tucson, spend the afternoon at the Children's Museum of Tucson. Filled with interactive displays and exhibits, kids of all ages will love to wander around and touch everything. Augustine especially loved the Vet Hospital, where she could learn about helping animals, and the train display, complete with a conductor hat. If we lived in Tucson we would be members because this place was just so cool. She could entertain herself for hours there.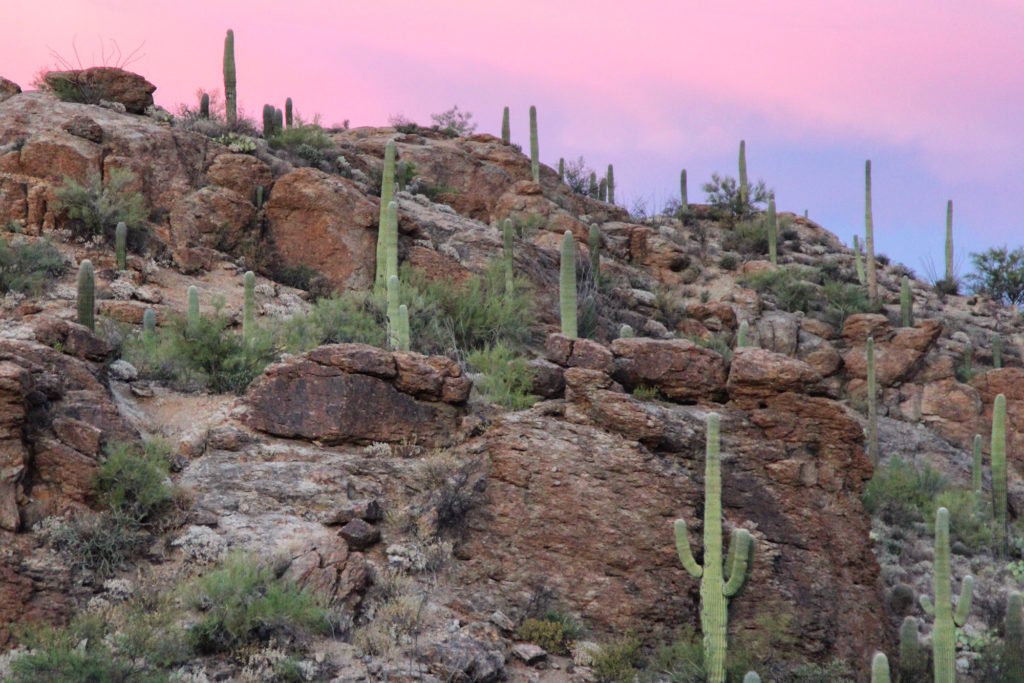 Where to eat:
Beyond Bread will be a great start to grab a pastry and iced coffee before heading out to the Desert Museum.
Once back in Tucson, head straight to Calle Tepa. Don't let the strip mall location deter you — these were some of my favorite tacos of the entire trip. I loved the laid-back atmosphere and the guacamole was Augustine's favorite; she devoured an entire plate before the tacos came out.
If you need a sweet treat, head over to HUB Ice Cream Factory for two scoops of one of their delicious combinations. We loved the pumpkin pie and the cinnamon chip.

Day 3:
Since day two was all about the west side of Tucson, day three will be centered around the east side and mountain life. Pack a layer of clothes in the car for your trip to Mt. Lemmon, as it can easily be 20-30 degrees colder up there.
What to do:
Start with an early morning tram ride at Sabino Canyon. The 9-mile ride takes you to the top of canyon, with spectacular 360-degree views from the open-air tram. The tram makes it easy for any fitness level or age of kids, plus you can ride the tram for free from stop to stop once you've paid. We rode all the way to the top, took some pictures and then rode down to the hiking path of our choice before catching the tram back down. There are so many areas to explore, especially if you're an avid hiker. I also loved watching the painters in the early morning, the way they captured the desert light was so beautiful. The trails were wide enough for Augustine to veture off on her own, but far enough away from the cactus that I wasn't worried she'd try to reach out and hug them. (Hugging is an adorable trait of almost 2 year-olds, however hugging a cactus might not be the best idea!)
Next, start your drive up to Mt. Lemmon. Curving around the mountain, this hour drive is absolutely stunning in the fall. Not only do the cactus fade away to stunning Aspen trees, but you can also watch the Aspens change from green to bright yellow as you drive farther up the mountain. At the top, you can stop at the southernmost ski area in the US to ride the gondola up for some epic views of the canyon below or stop in the Iron Door for a cup of hot chocolate and bowl of chili to warm up. They also have a selection of pies each day, which can be boxed up if you want something sweet on the go. Afterward, continue up toward the tiny town of Summerhaven to explore and snap some pictures before making your way back to Tucson.
Travel tip: Don't forget to snap a photo of the cactus around sunset. Sabino Canyon and Tucson Mountain area make for great vista points.
Where to eat:
Up at Mt. Lemmon, dine at the famous Cookie Cabin for lunch.
Dinner will be at El Charro Café, Tucson's original Mexican restaurant and perhaps the most famous in the city. We continued our Tucson taco tour and had the carnitas tacos, but I can't wait to return to try some of the other dishes. The margaritas were also top notch.
Day 4:
Now that you've explored what's on the ground, day four is all about what's up in the sky.
What to do:
Start your day on University of Arizona's campus at the Flandrau Planetarium. I'm obsessed with planetariums, so I was stoked to show this to Augustine. I tried to explain that all those stars and constellations were in the sky above us, which might have been lost on a two year old but I think she liked that they sparkled (and she appreciated my enthusiasm).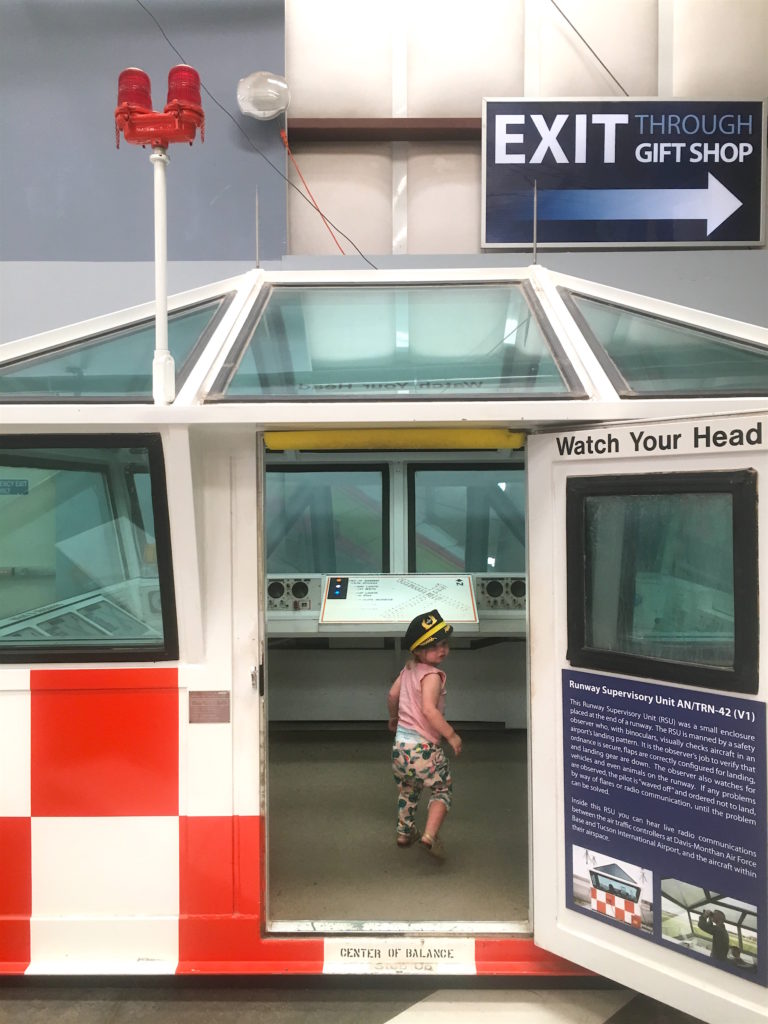 Next up was the Pima Air and Space Museum, where Augustine was able to actually get inside a space shuttle and observation control center. Pressing the big red button was obviously her favorite part and I found the wall dedicated to women space engineers especially empowering and inspiring. I loved showing my little girl that she could, quite literally, reach for the stars and be anything she wants when she grows up. The Air and Space Museum showed us that there have been many women explorers before us.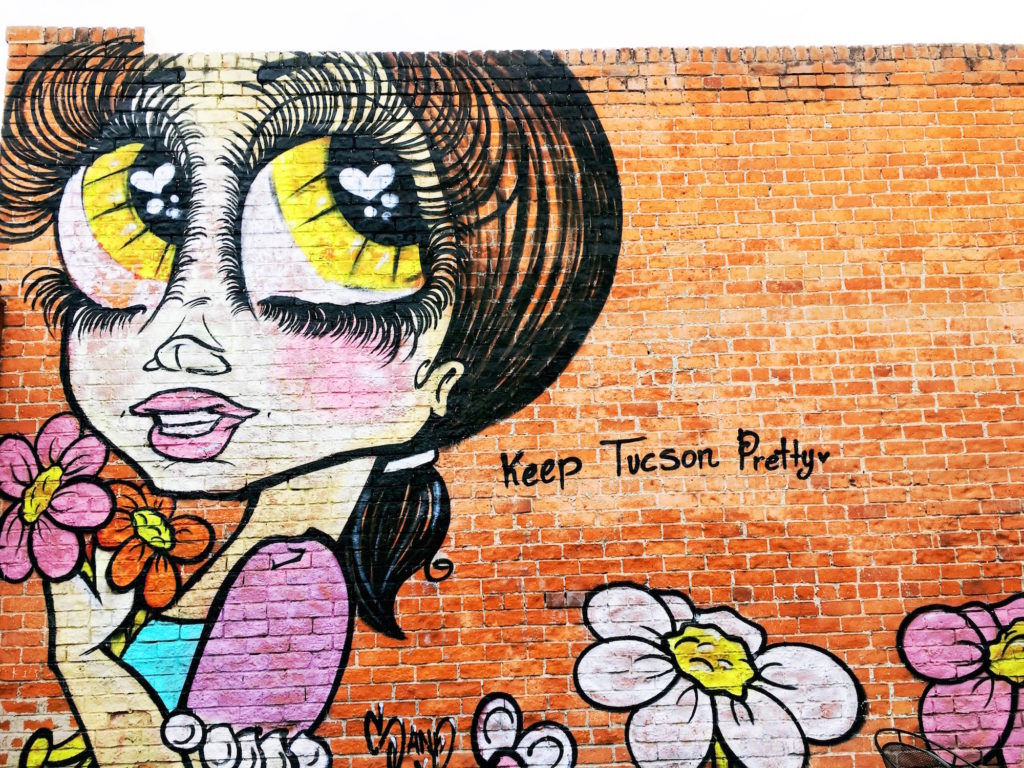 Where to eat:
We started the day with a big stack of Pancakes at Welcome Diner. Located in an old welcome center, the midcentury modern décor was super fun and kid friendly. (The vinyl seats helped make a syrup spill easy to clean up, too.)
Lunch was a toss up of Mercado San Agustin, which has a couple restaurant options and a coffee shop, and 5 Points Market. We decided to taste test both and highly recommend them — maybe just for separate meals, as you needed to butter the doors to get us out of there.
Our trip to Tucson was a mix of go, go, go and stop and explore. I tried to allow plenty of time to truly experience each stop and I think we did a good job at seeing a lot of things while having plenty of playtime for Augustine. Now, I must return for a parent's getaway- as there were several breweries and spas that I probably need to check out with Bob. See you soon, Tucson.
Sponsored by Visit Tucson.