From L.A. to Mexico on one street corner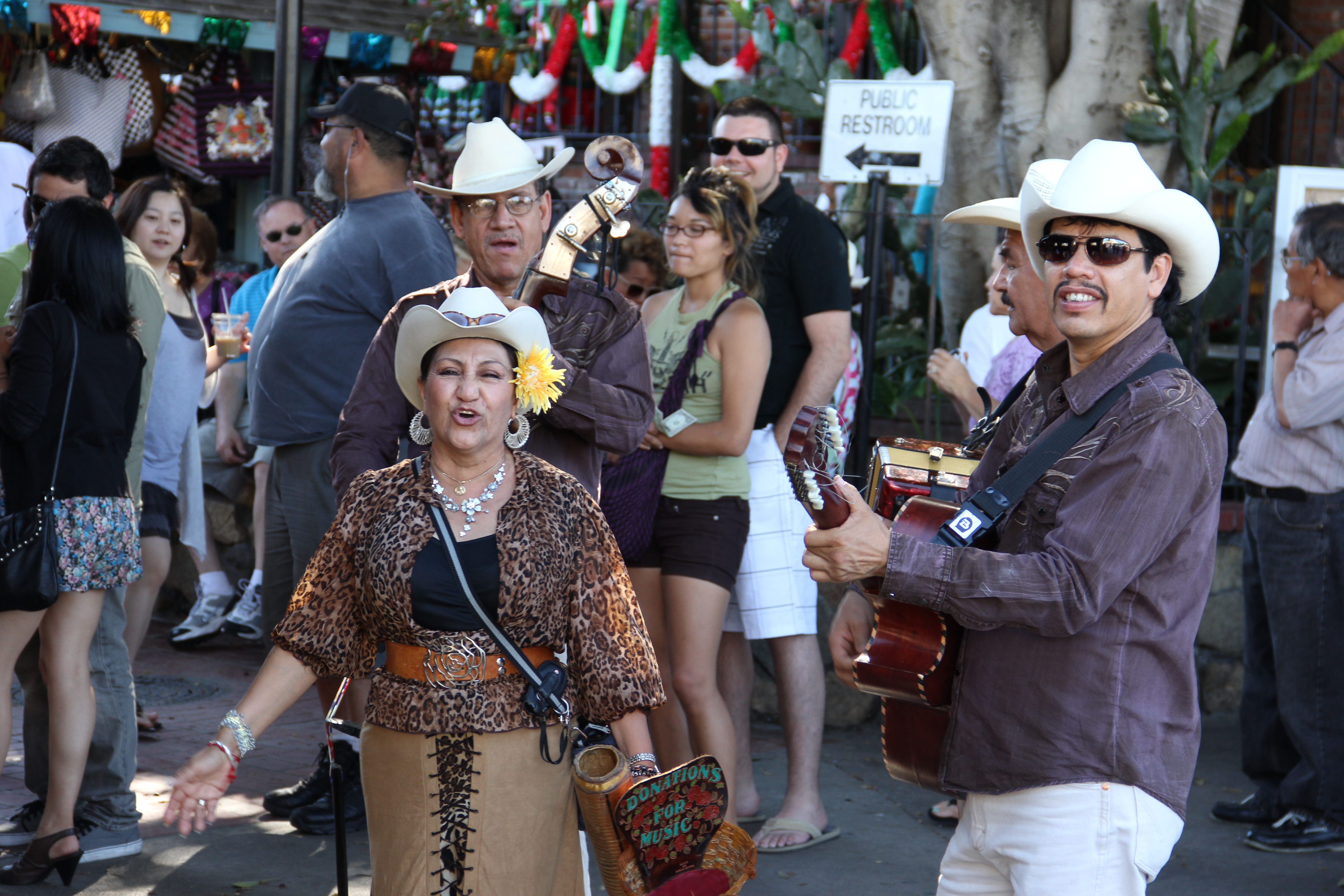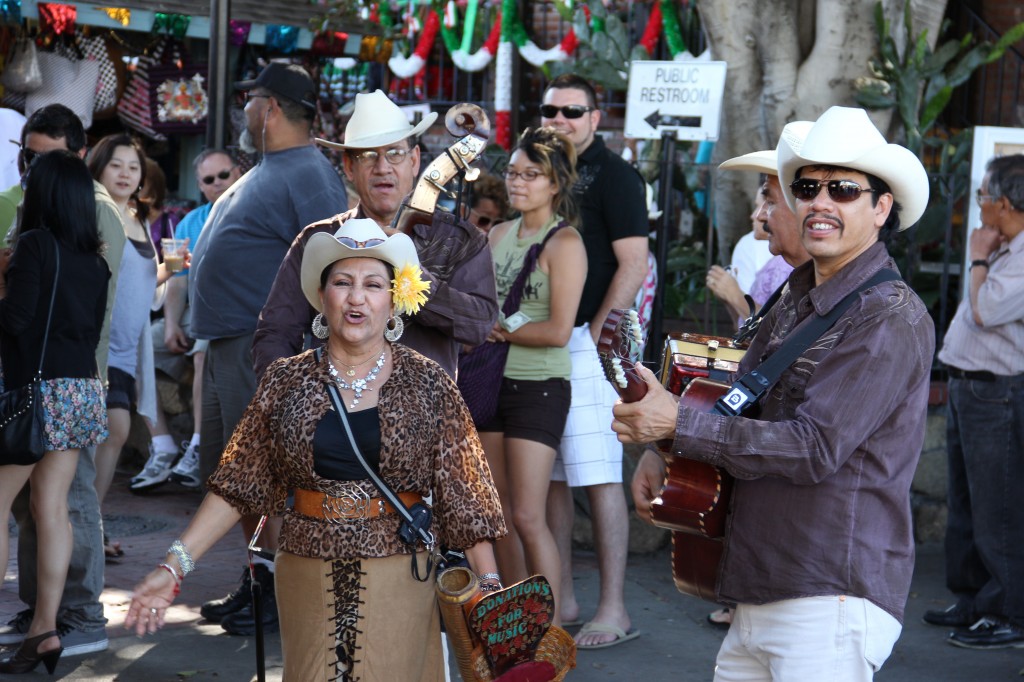 One great thing about the massive amount of people who live in L.A., are the awesome, small neighborhoods that have developed centered around different cultures. (There are almost as many of these neighborhoods as there are taco trucks- and that's a lot!) Some of them, like Little Ethopia or Koreatown, have a lot of restaurants and stores all in the same area, but not a separate dedicated street.
Olvera Street in downtown L.A. is one great exception. With easy subway transportation from the Red Line and parking all around, Olvera Street is perfect for an afternoon of tacos, stall shopping and churros.
As you know from the Travel your own City series, I love putting on my walking shoes (even if that means cute, green wedges) and discovering something new. This past Sunday, Bob and I drove downtown in search of culture and fun. It wasn't too long after parking our car that we realized we had found both.
Olvera Street is busy- between the crowds, a singing band, and all the decorative shops- it's a feast for all senses. We quickly made our way into one of the downstairs stores and I spotted more than a few things I'd love to take home. Gorgeous rugs, fun paper flower hats and pretty turquoise rings, kept me ooh-ing and ahh-ing for a good while.
After a few minutes though, I realized I had lost Bob.  It was easy to find him though, he was the tallest person in the shop, and when he saw me, his eyes lit up. He had found a pair of "pirate" pants that he had to have! (I put pirate in quotes because he often times finds ridiculously huge striped red or black pants and falls in love with them. Then he wears them- out- in public- and looks like a pirate. The only time this has come in handy was when we actually dressed up like pirates f0r Halloween.) He went as far as trying them on, but wisely decided against them.
With a close call on the pirate pants, we made our way out of the store and wandered some more around the outdoor stalls. Even though it was pretty shaded, we were both super hot and needed a refreshment. Bob got a shaved ice from a street cart and I ordered a churro. What? Churro's don't cool you off?! I ordered a diet coke with my churro, don't you worry about me!
All said, Olvera Street is a perfect escape from L.A. while still being in L.A.!
(a little) History: The street was actually named after the first county Judge in L.A., Agustin Olvera, who owned a home on the street. About 40 years later,  many members of the community, along with the L.A. Times, set up to revitalize the area and allowed Mexican vendors to sell goods. This was also around the same time that the first traditional Mexican restaurant, La Golondrina Cafe, was built.
Experience: Great for an easy afternoon.
Tip:Some of the shops have traditional Mexican souvenirs, others are kitschy "made in China", so I'd wander around a bit to get a feel of some of the shops before buying anything.  Same thing goes with the food: just because it's there doesn't mean it's traditional or cheap.
Price: Free
Additionally, there are Free Tours by Las Angelitas del Pueblo. Just sign up on their site for times and dates. They run about 50 minutes.
Difficulty: Easy.  Since the street isn't that long, you should be fine in any type of footwear to walk around and take the tour.
Don't miss:Make sure to stop by the churro cart on your way home!
Some photos from our afternoon: