A Magical Weekend in the North Carolina Smoky Mountains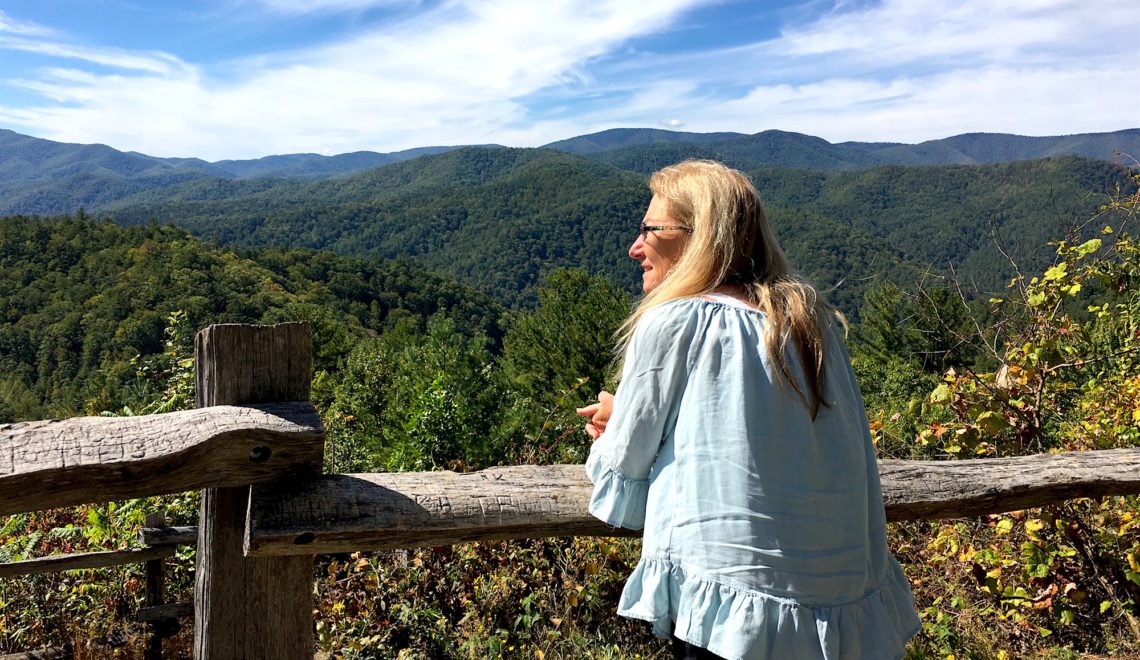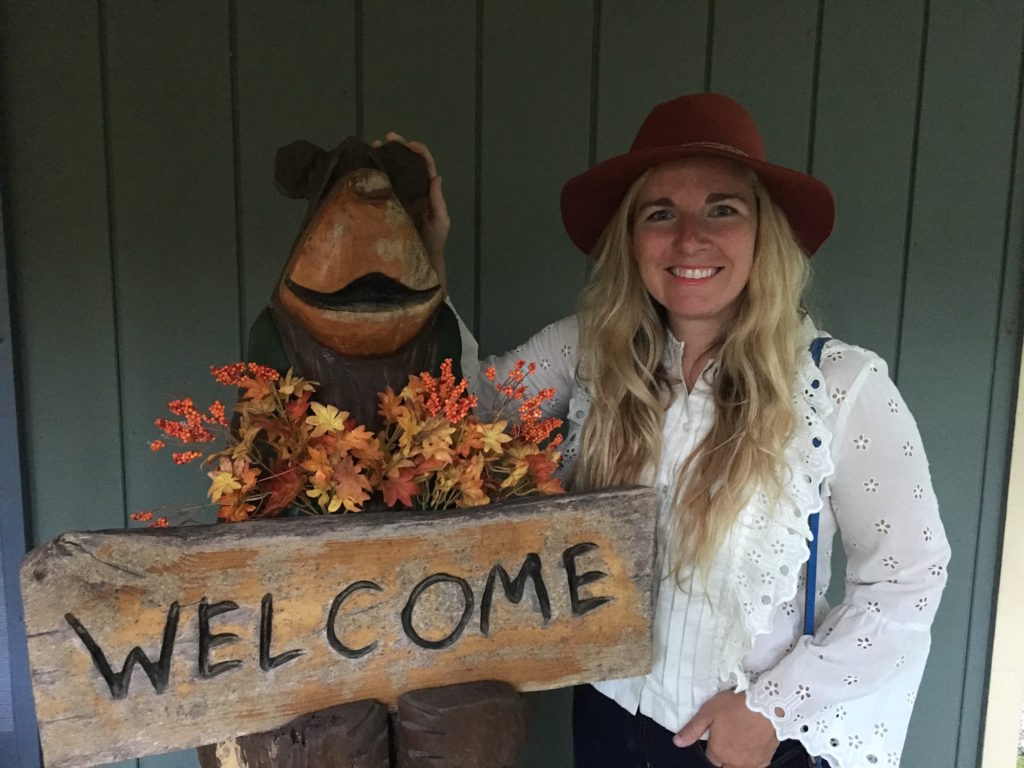 There are some vacations that you know are going to be trips you remember your whole life — even just hours into them. Haywood County, North Carolina's gateway into the Great Smoky Mountains National Park was just that type of trip.
With our toddler in the car seat and my parents on either side of her, we packed up the SUV and drove three short hours from Atlanta to our cabin in Maggie Valley.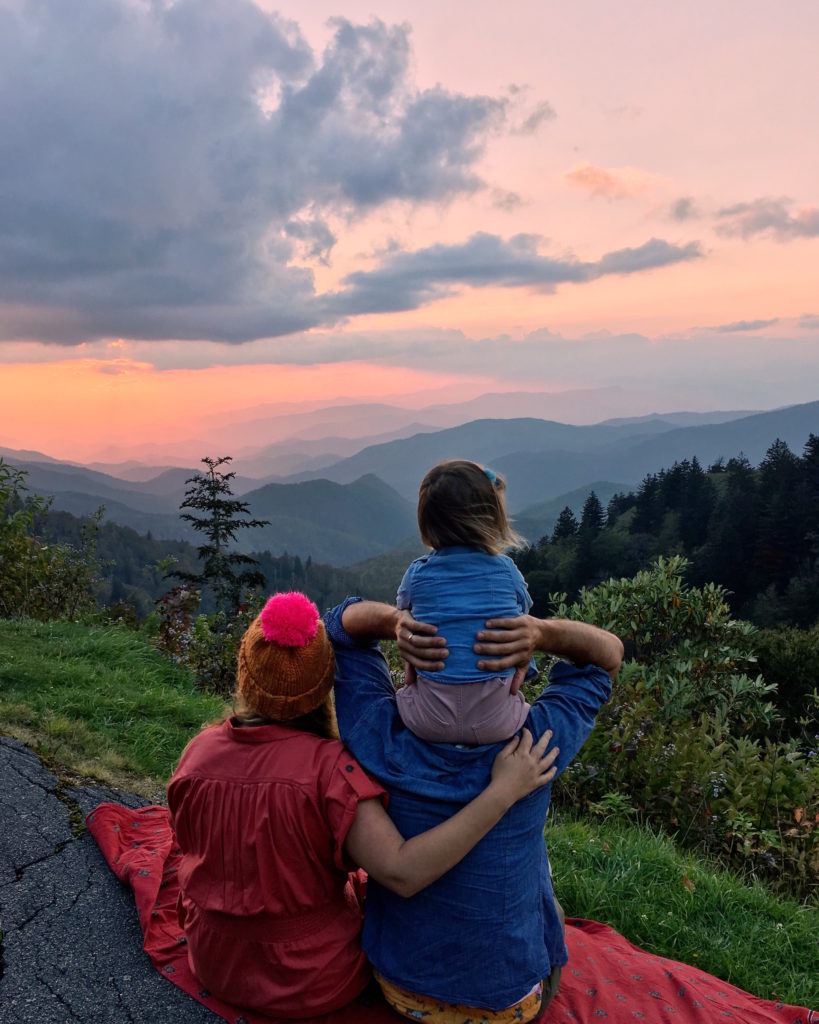 Haywood County is comprised of five towns nestled along the Blue Ridge Parkway and while it'd be easy to categorize them as typical mountain towns, we quickly realized there were dozens of hidden gems around every corner. This year-round destination (with a ski resort for winter sports, lakes for summer fun, and waterfalls and hiking trails from January – December) is perfect for a multigenerational trip.
It's usually a difficult feat to get everyone's travel wish list into one itinerary. But Haywood County had it all, and we managed to combine every person's wish list into the dream fall mountain trip with ease.
On my husband's wish list:
Waterfalls
Brewery
Fall foliage
Time to relax
On my parent's wish list:
Art and culture, unique shopping
Distillery or Brewery Tour
Hiking
Wildlife
On my toddler's wish list:
Rocks (she's obsessed right now)
Hiking (although she calls it walks!)
Biscuits
On my wish list:
Gorgeous overlooks for photography
All the BBQ
Cabin time
One date night out
Once I had each person's wish list, I filled out the itinerary, popping bullet points into each day, shifting here and there until it was perfect.
Here's our family-friendly, multigenerational itinerary for a long weekend in Haywood County:
Day 1: Travel Day, Elk Sightings and Brewery
Check into your lodging and change into hiking clothes.
Our first goal was to see wildlife and go on a hike to stretch our legs. Cataloochee Valley, famous for elk watching, is about 45 minutes from Maggie Valley on a winding dirt road into a remote section of the Great Smoky Mountains National Park. There is only one way in and one way out. Get there early to stake out the perfect spot to view the elk around dusk. Why such an enthusiasm about the elk? Well, after almost being extinct in the Eastern US from overhunting, the Great Smoky Mountains National Park and the Rocky Mountain Elk Foundation came together in 2001 to reintroduce elk to this private area. What started as only 52 elk in the initial year has now grown to over 150 and counting. The elk are free to roam around as they wish – no fences or cages – and visitors can see them interacting as they once did many years ago. Sometimes they're even spotted wandering through downtown Maggie Valley!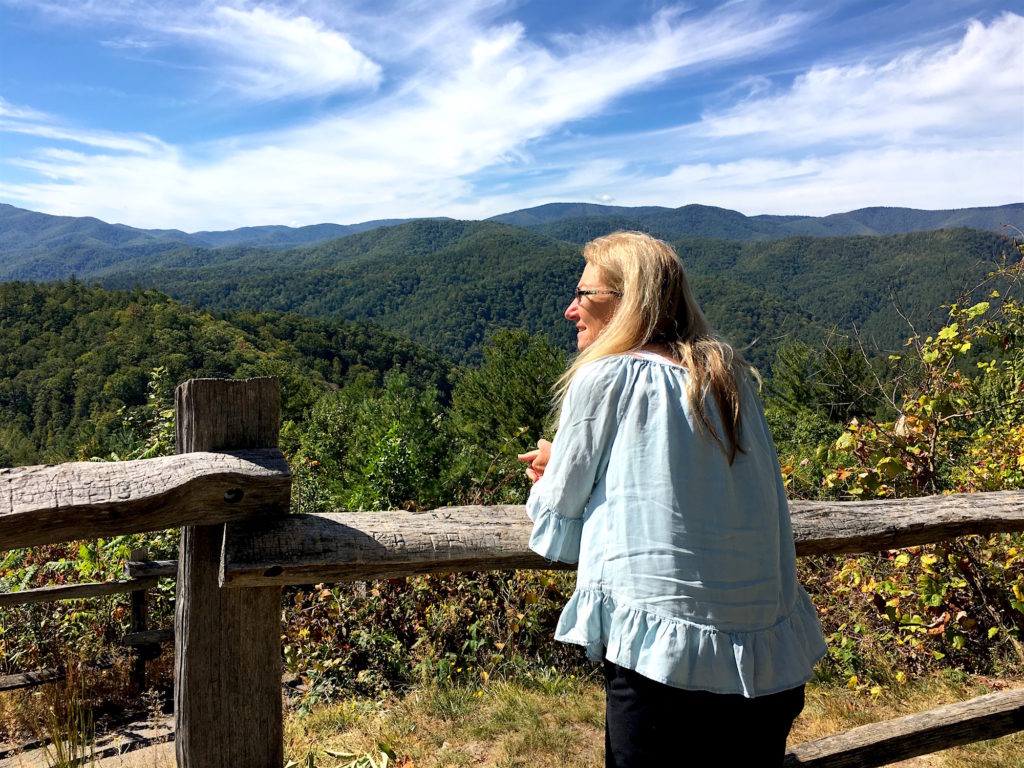 Afterwards, we slowly drove back to civilization, stopping by Bearwaters Brewing, a riverfront brewery in Canton, for dinner and a pint of "Smells like Money", a Belgian-Style Ale that was recently crowned Bronze at the Great American Beer Festival. The kid-friendly patio is perfect for parents to relax watching the sunset and for letting your kids run around playing games. If the weather is right, there is water access for fishing and kayak put ins, otherwise enjoy the chili or shrimp poboy while the sun sets around you.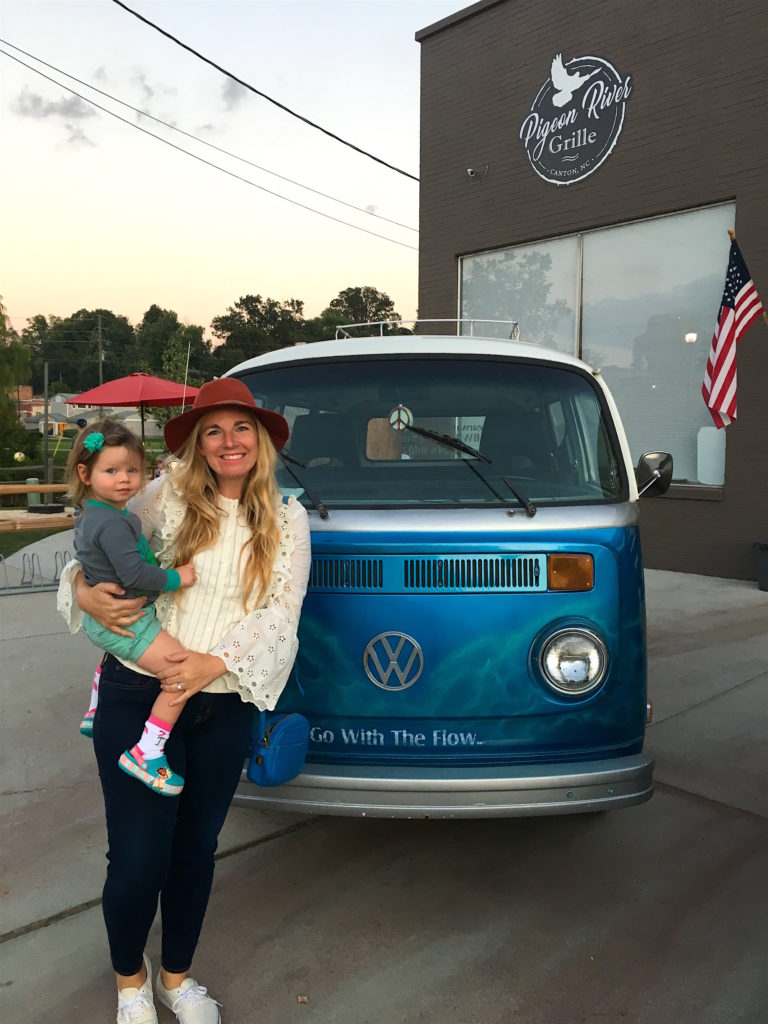 Where we stayed: Vacation Rental in Maggie Valley
Where we hiked: Cataloochee Valley to see the elk
Where we ate: Bearwaters Brewing Company, sipped a few local beers and dined on poboys and chili
When we got back to the cabin, we put our toddler down to sleep and we all watched a movie by the fire. It was the perfect end to our first day in Haywood County.
Day 2: Waterfalls, Golfing, Shopping and Overlooks
We woke up to the sounds of birds chirping and chipmunks scampering around, and we quickly packed our backpacks for a full day of adventure. After a huge serving of biscuits and gravy, we drove out to the Blue Ridge Parkway for our first big hike to see a waterfall. The hike actually wasn't that long, but we stayed near Soco Falls for almost an hour. Two falls come into one and the natural beauty was this photographers dream location. With the grandparents watching the toddler, my husband and I took about 2,000 photos. We then drove up to Waterrock Knob, one of the highest points of the Blue Ridge Parkway, where you get almost a 360 degree view of the mountains, to take some more photos of the endless mountain vista.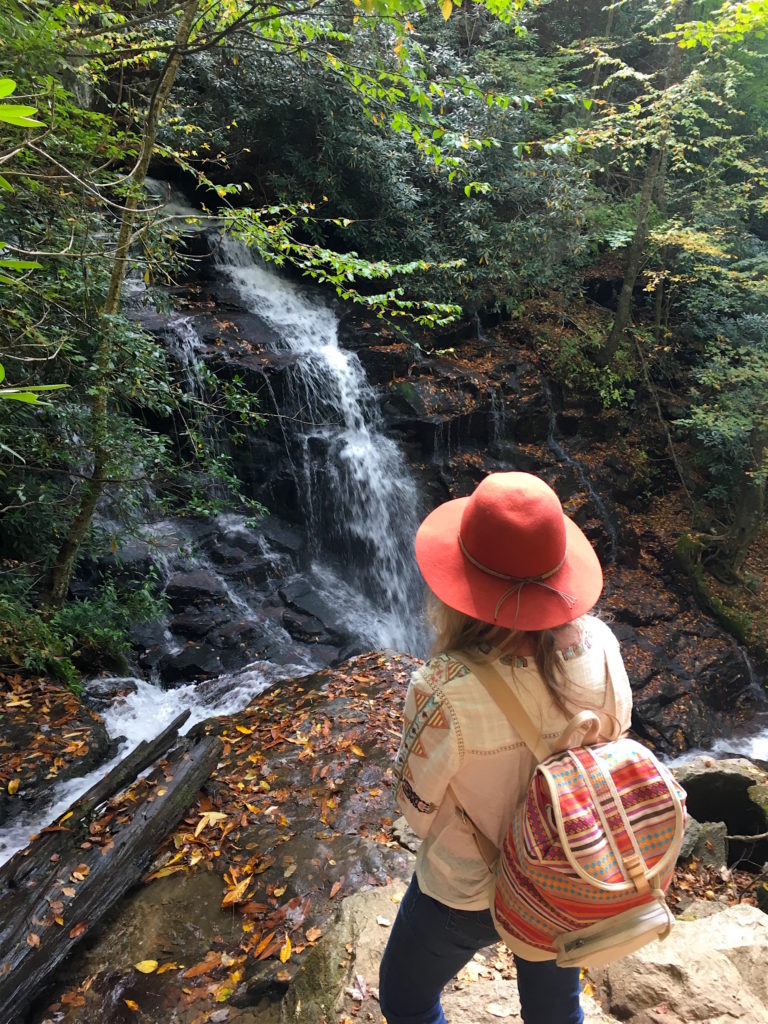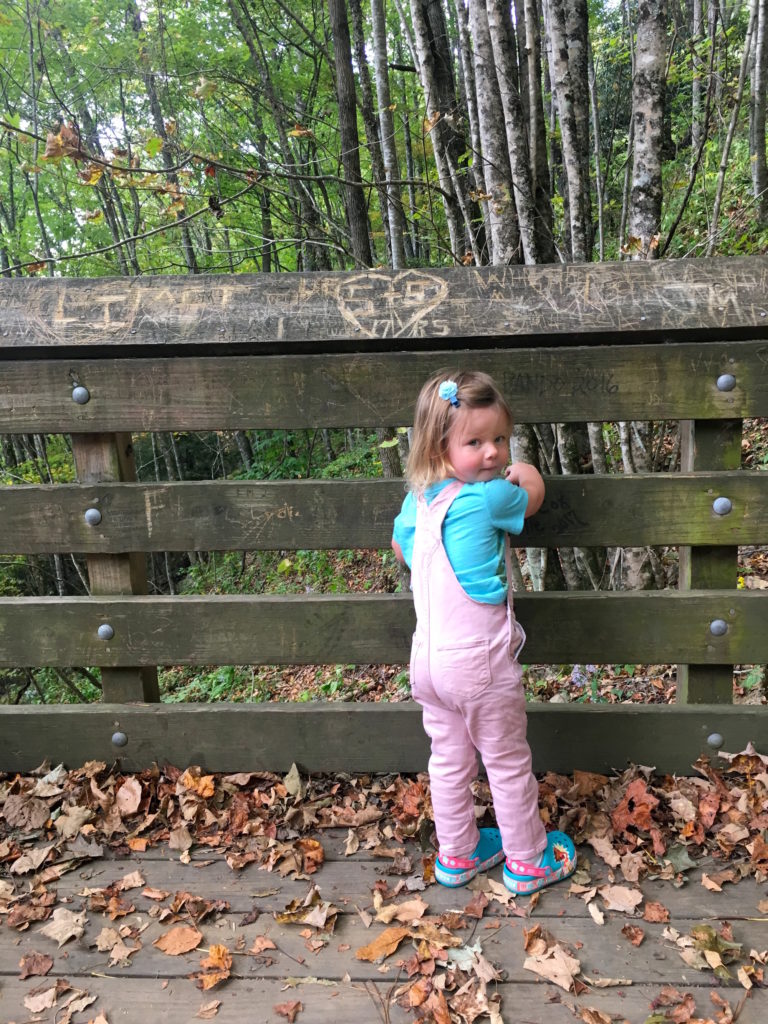 We grabbed sandwiches at the Pin High Grill at Maggie Valley Club before splitting off for the afternoon. The guys played a round of golf and the ladies shopped in Maggie Valley, stopping by Maggie Mountaineer Crafts and the Jelly Bellies store.
Mid-afternoon we all met back up for a whiskey tasting and tour at Elevated Mountain Distilling Company, the first legal distillery in Haywood County. Several local restaurants serve the locally-made whiskey at their bars, so if you really like it you can order it throughout your stay.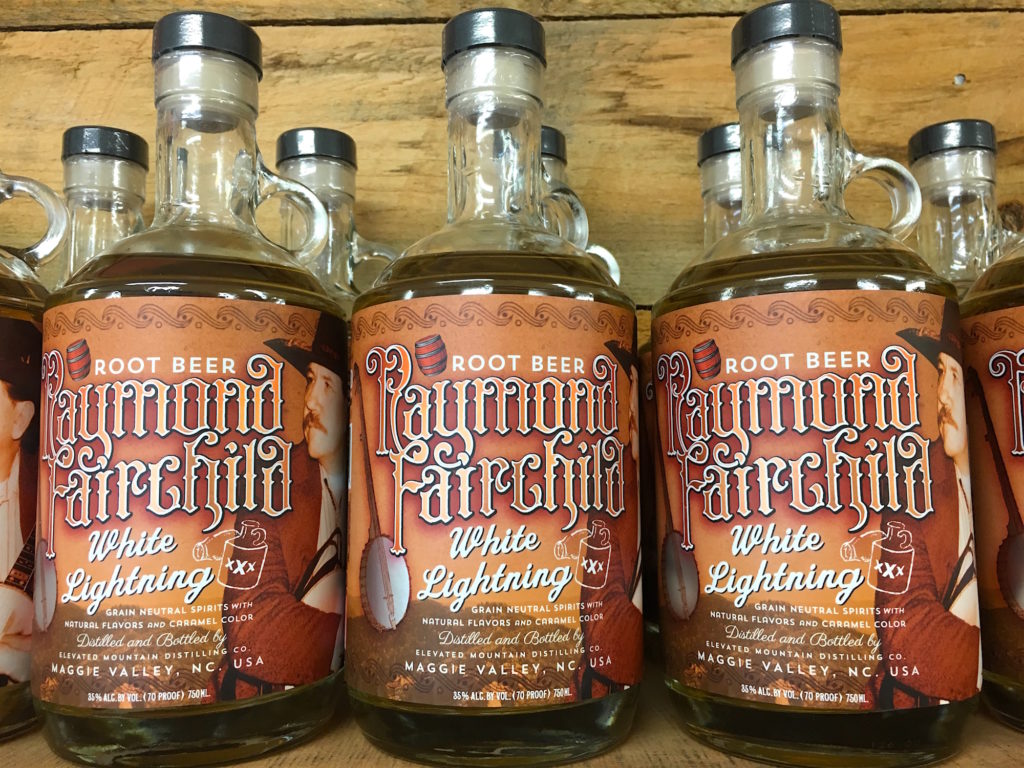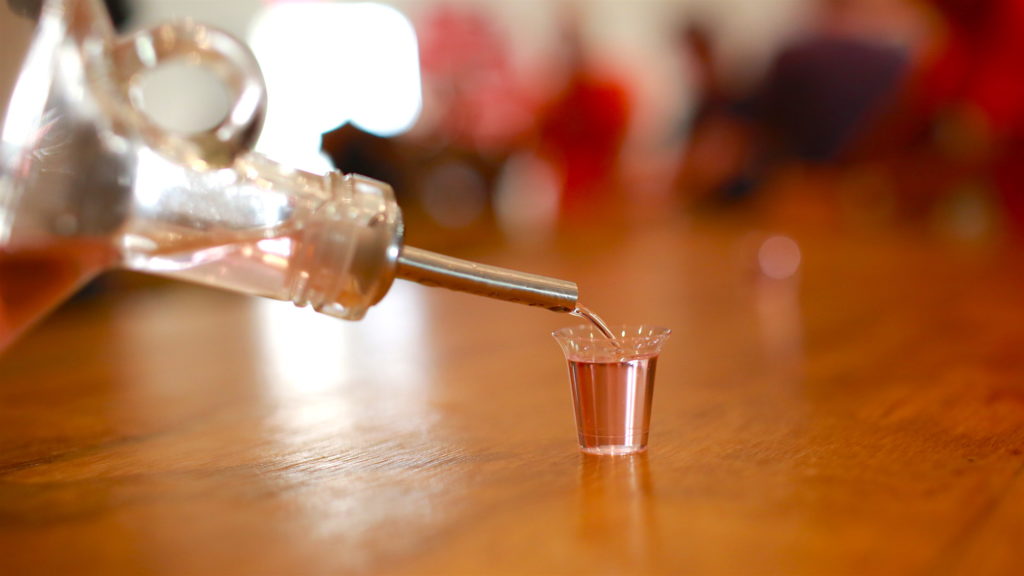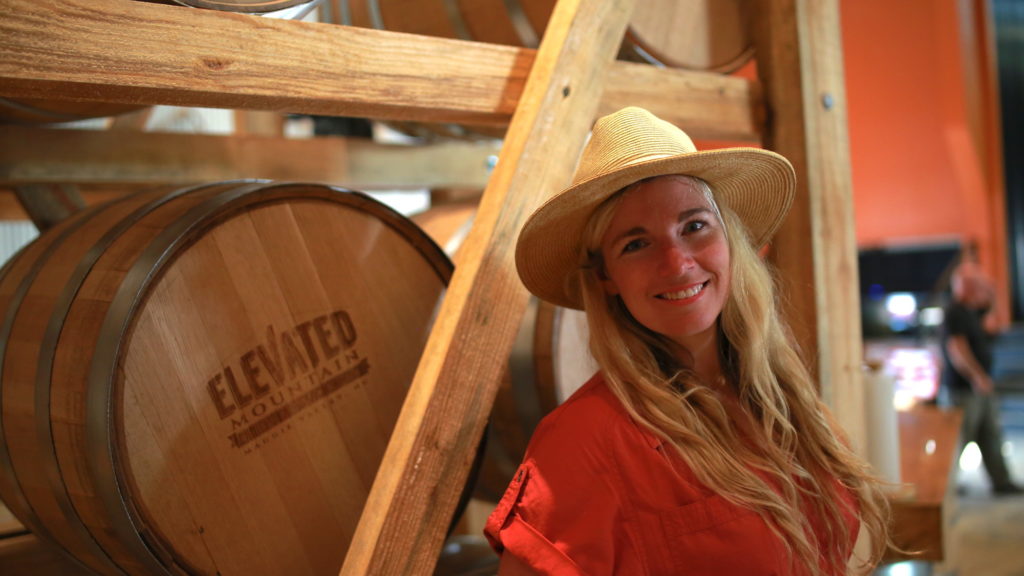 Driving just a bit down the road, we capped the day at Frankie's Italian Trattoria for two large pizzas. While pizza isn't a typical mountain town meal, after we tasted the first bite, we were really happy we stopped in. The crust was a buttery garlic goodness that has to be sampled. *Highly suggest getting a reservation and asking if you can sit on the outdoor patio.
Day 3: Hikes, Leaves Changing and Art & Culture (oh, and breweries and shopping, too!)
The morning started off with a hike to Purchase Knob, where we were able to see in-person how the Smoky Mountains got their name. The fog was thick and heavy and it looked like the mountains were simmering from smoke. This hike is normally a fantastic viewpoint of the surrounding mountains, but with the fog rolling in, we got to see them mysterious and covered. The photographer in me loved the difference since we already had tons of gorgeous mountain photos from the previous two days. The hike took you over a hill and back down through the trees. In the early fall or late summer the trail would be lined with hundreds of flowers, yellow, purple, white and red. We saw only the white and yellow flowers still in bloom but I imagine it's beautiful all lit up.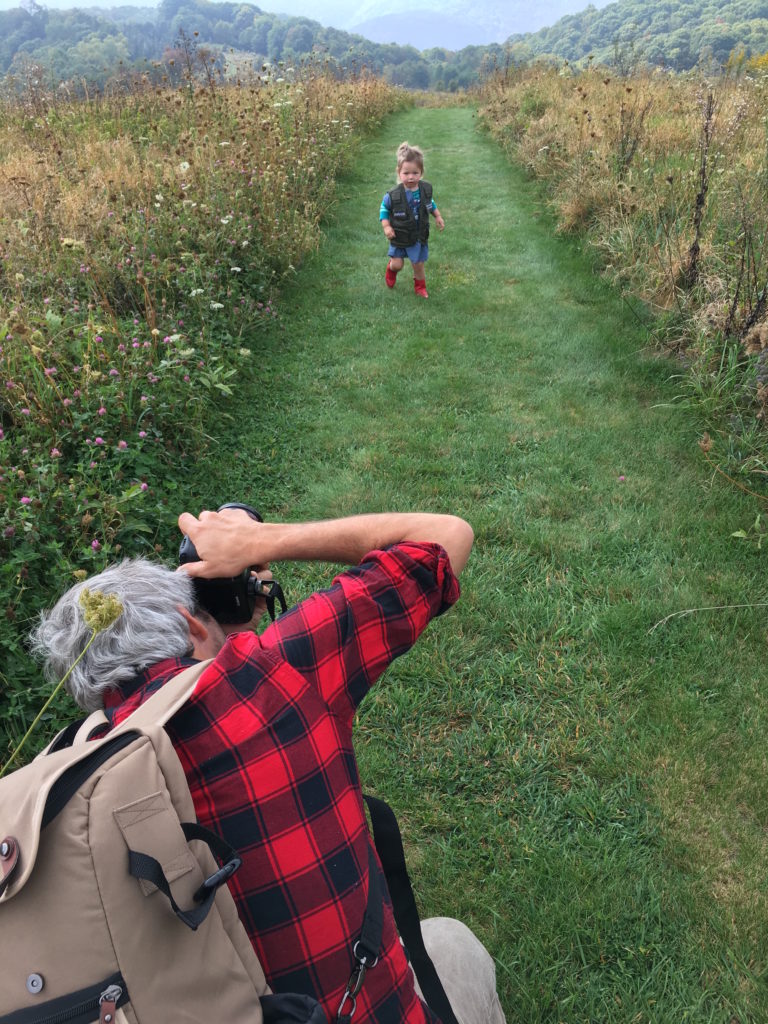 For lunch we drove into Waynesville to sample more local beers — this time from Boojum Brewing. The outdoor patio was perfect for this early fall day, not too cold but not hot either. The meatloaf was a crowd favorite and the jalapeno IPA was the perfect mix of hops and spice.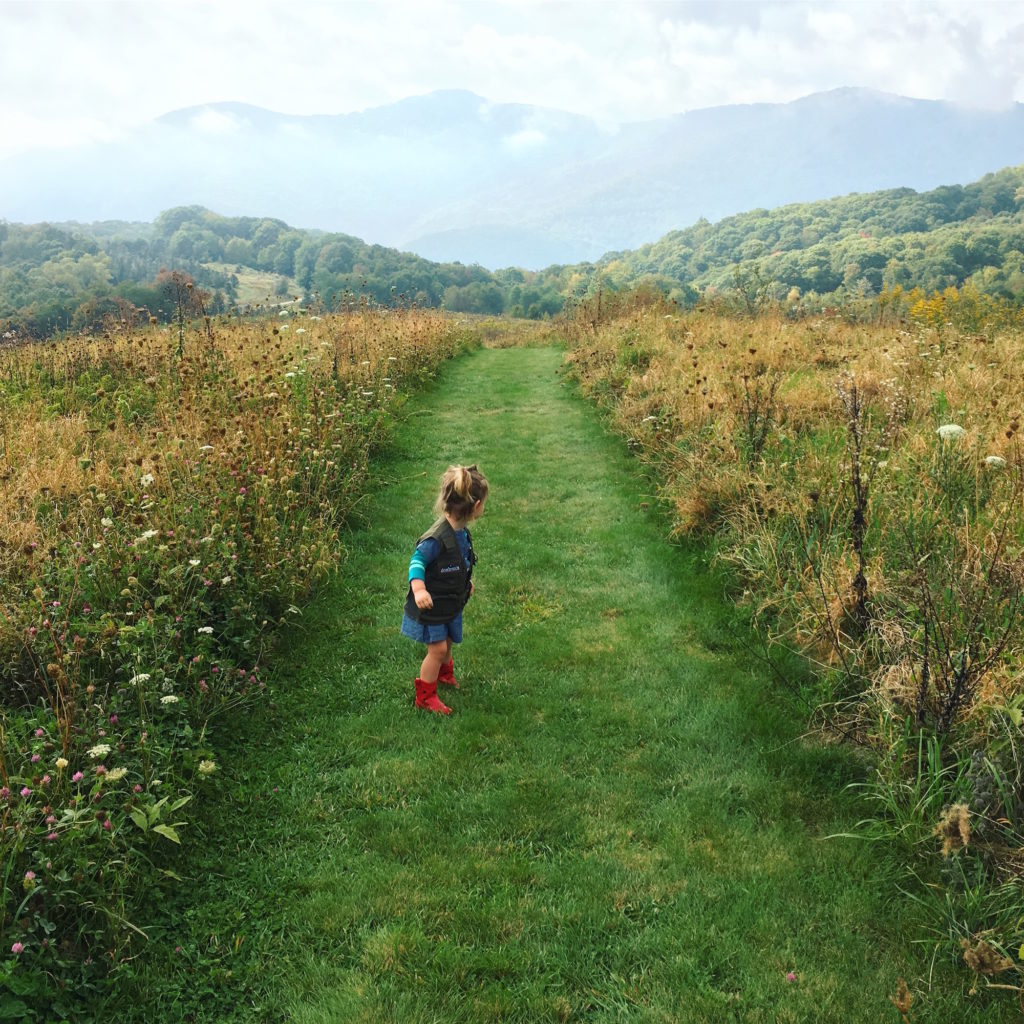 We spent the rest of the afternoon wandering around downtown Waynesville, shopping in all the arts and crafts stores, picking up a few local jams and honeys and picking out a few new books for Augustine. That night, we wandered down the street to the Waynesville Courthouse, where traditional bluegrass, cloggers and dancers were all practicing in the lawn before the Mountain Street Dance Festival began. In the street, the stage crew was throwing out cornmeal to coat the street for the dancing. The band was tuning their instruments and all the kids were running around with excitement.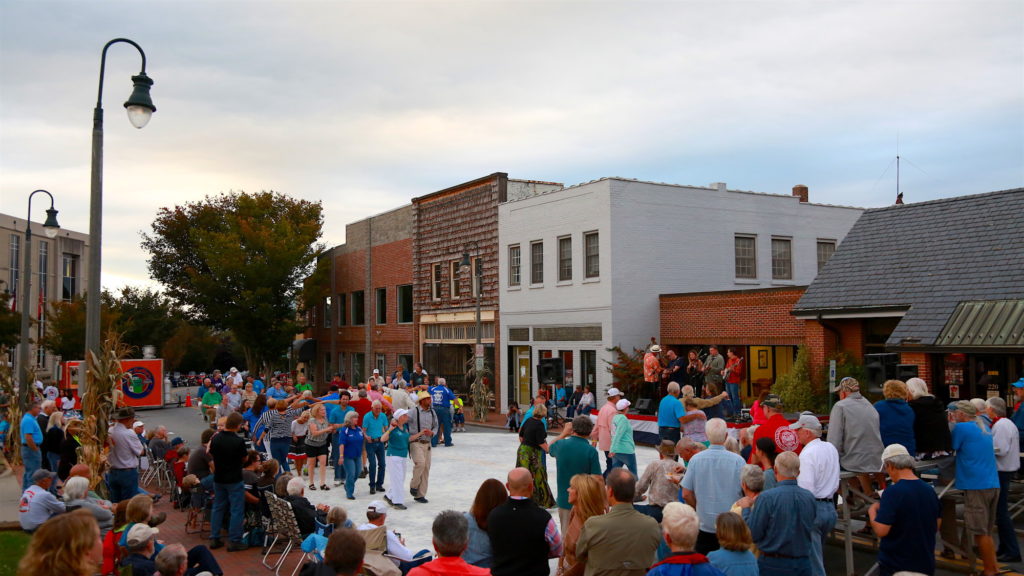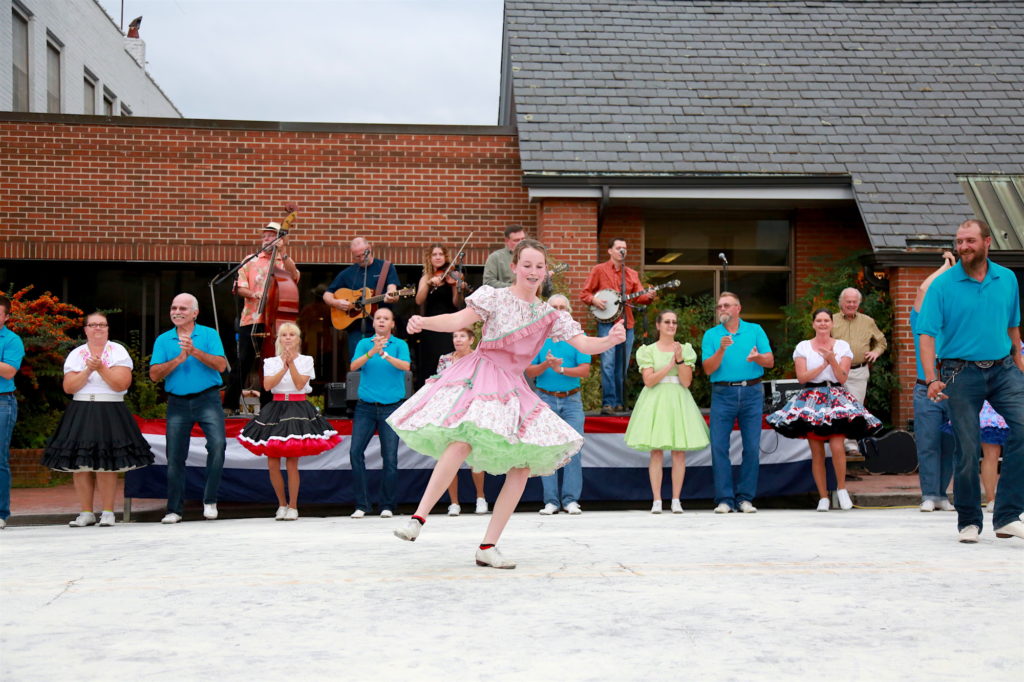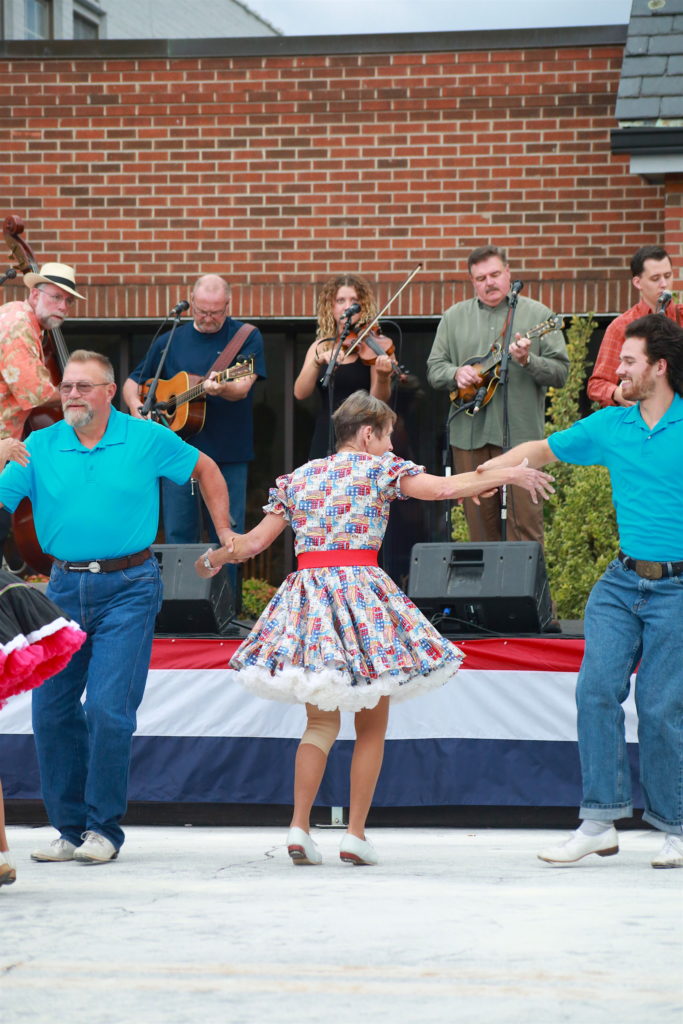 This was our first introduction into North Carolina Appalachian dancing and music, and we all watched with wonder. This particular festival has been going on for nearly a century! There were several clogging teams from around the area that all had costumes and came prepared to share their local dance moves with the crowd. The energy was high and it was super fun to join in on some of the dances, meeting the locals in such a fun and friendly way. (Not here during a Street Festival? Bluegrass music and clogging is featured in Maggie Valley every Saturday night at the Stompin' Ground.)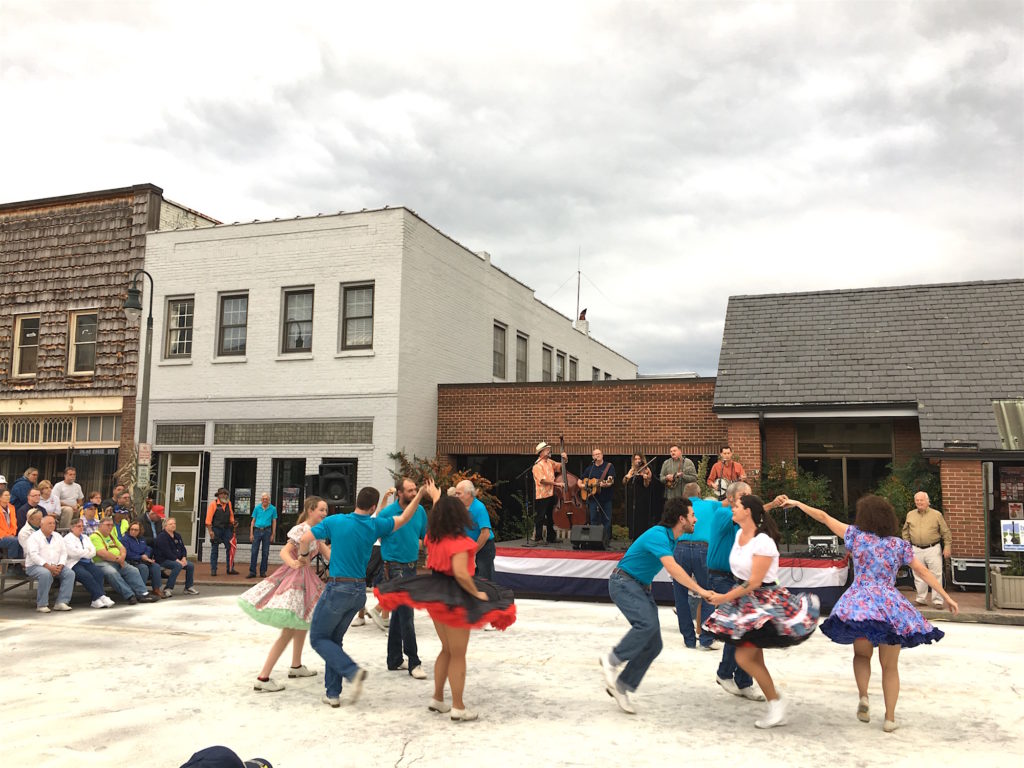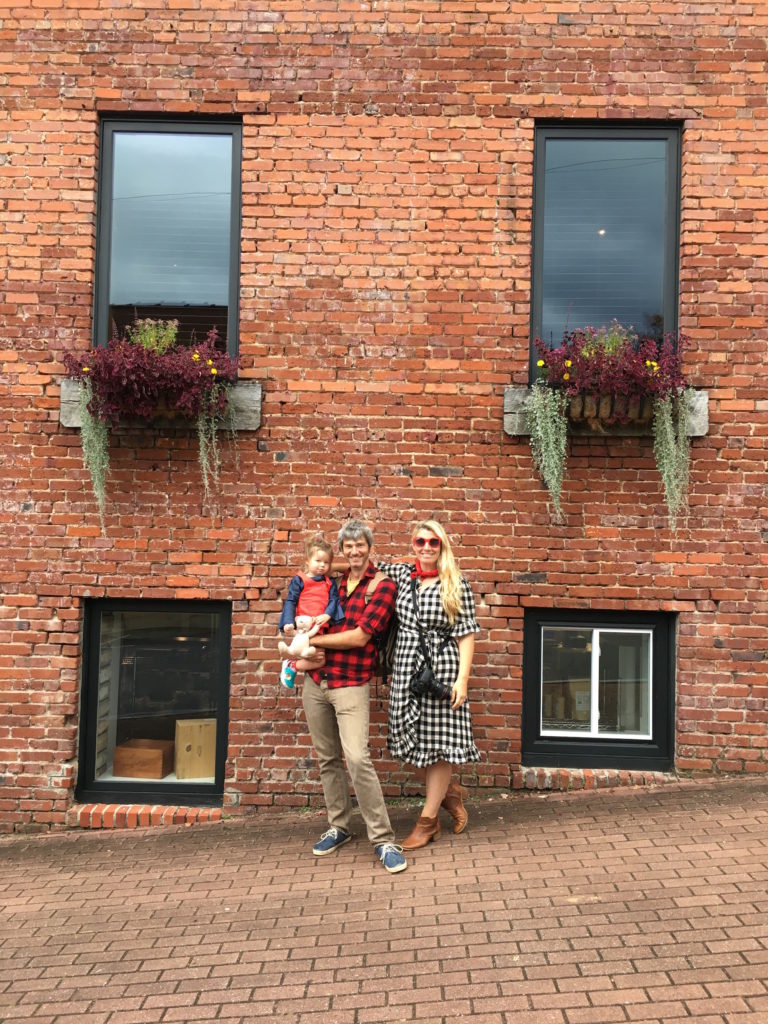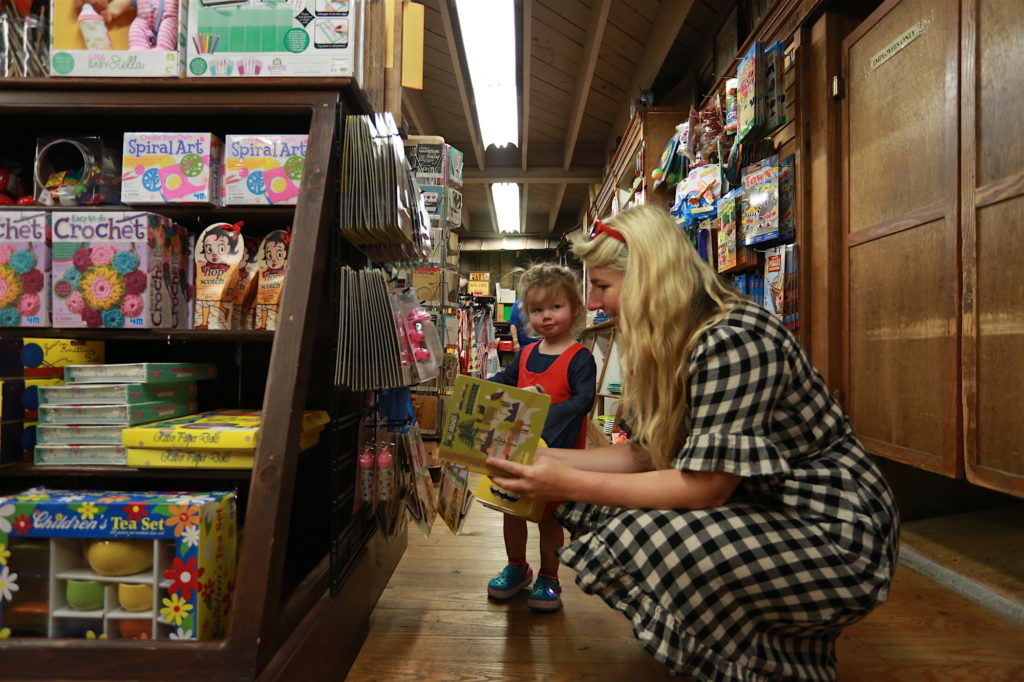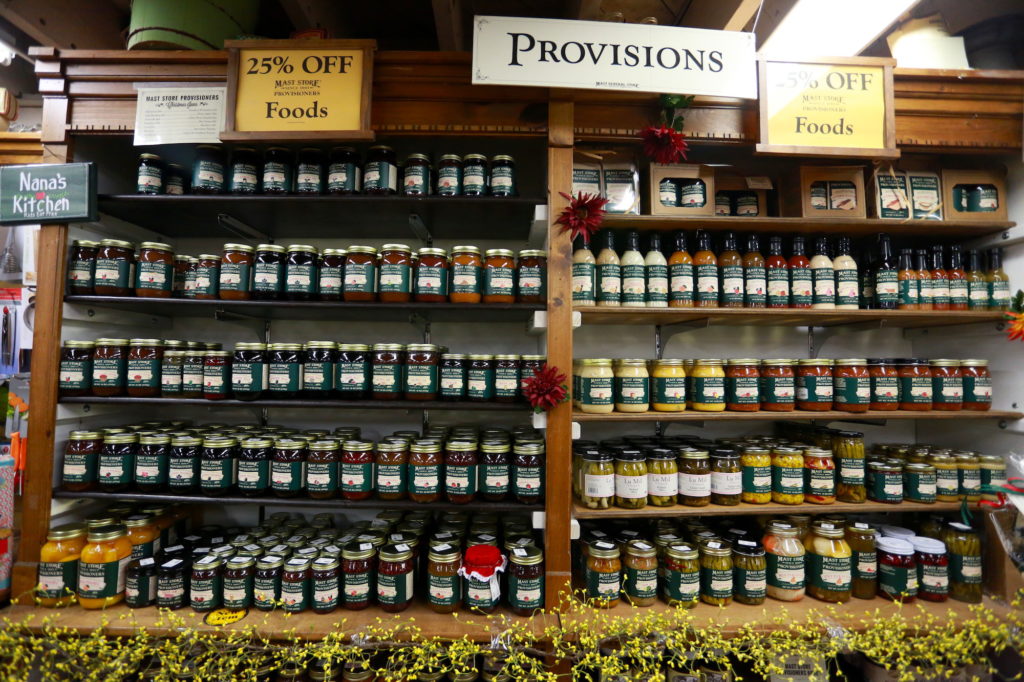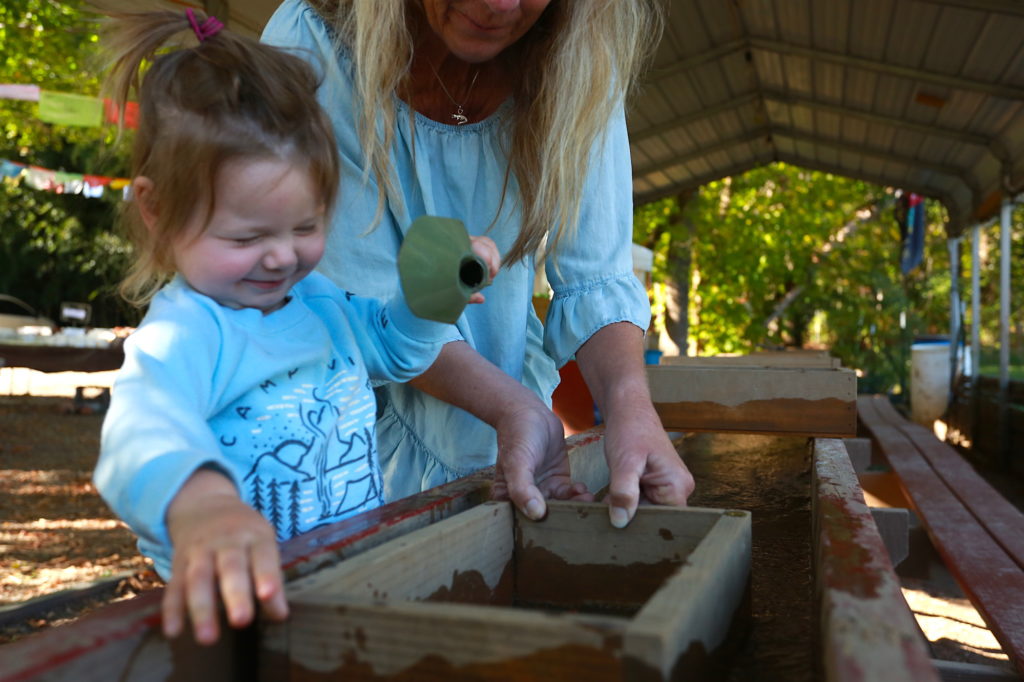 Dinner was just down the street at Sweet Onion, where the short ribs won the winning dish from our group.
Where we ate: Breakfast at Moo Mountain Bakery in Maggie Valley (we picked up a pumpkin cinnamon roll). Lunch at Boojum Brewery and dinner at Sweet Onion.
Where we hiked: Purchase Knob in the Great Smoky Mountains National Park
Where we cultured: Explored downtown Waynesville
Day 4: Rocks, Horses & Date Night
This day was all about Augustine, with stops at the Maggie Valley Rock Shop for gem mining and a visit to Cataloochee Guest Ranch. The gem mining was a huge hit. Augustine loved sifting through the dirt to find gems and when she found out she could take all her loot, she was even happier. Later, while Augustine pet the farm animals at the ranch, we embarked on an hour-long horseback riding trip through the mountains. The ranch also serves lunch and dinner is has beautiful mountain views from the patio.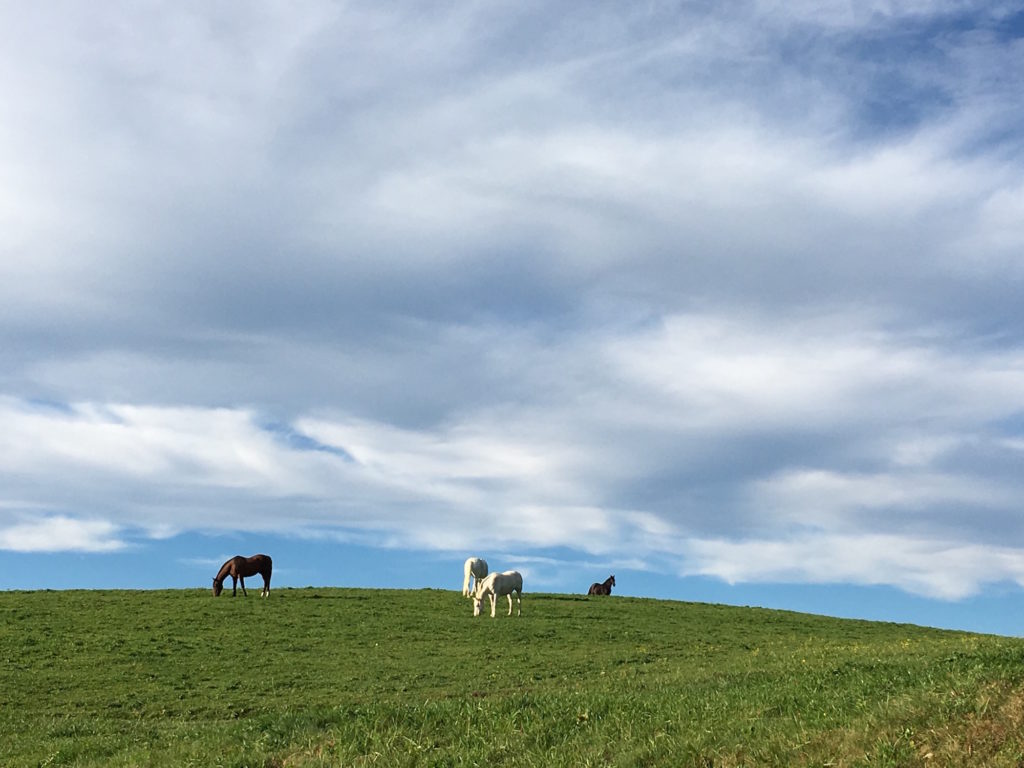 That afternoon, we relaxed at the cabin, taking turns in the hot tub and playing with Augustine outside. It was really nice to just soak in the mountain air and just enjoy the peaceful views from the cabin's balcony.
Bob and I got dressed up and headed out for a date night around town, stopping into Haywood Smokehouse for their Saturday night prime rib special. *Tip: arrive early (around 6pm) to get a rare piece of meat, if that's your thing. This special does sell out each week. Haywood Smokehouse is probably one of the best BBQ restaurants we've ever been to and that's saying a lot, as BBQ is in our blood. It was such a treat to embark on this trip with my parents, for many reasons, but one huge plus was having a loving and giddy set of babysitters with us. They are always wanting more time with their granddaughter- and to have time to spend alone with my husband was a great way to reconnect.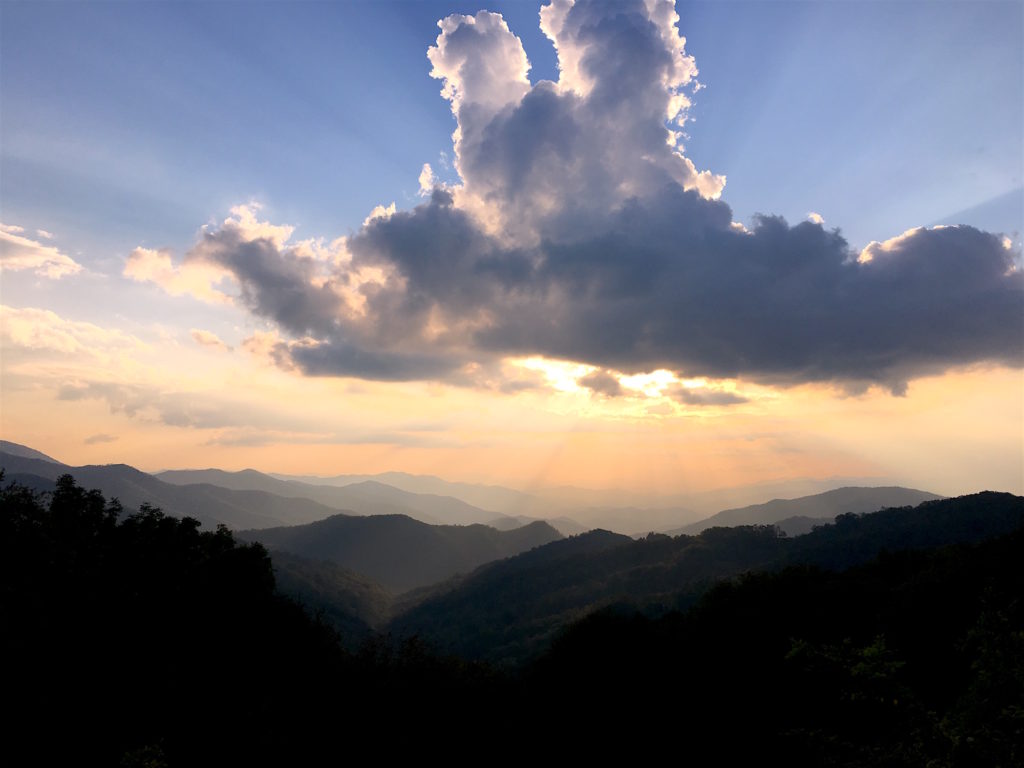 We returned to the cabin and watched the sunset from the hot tub, with an Elevated Mountain whiskey cocktail in our hands. The trip was the perfect mix of all our must dos and wish list stops. Can't wait to plan a return trip to Haywood County, and bring our extended family along too.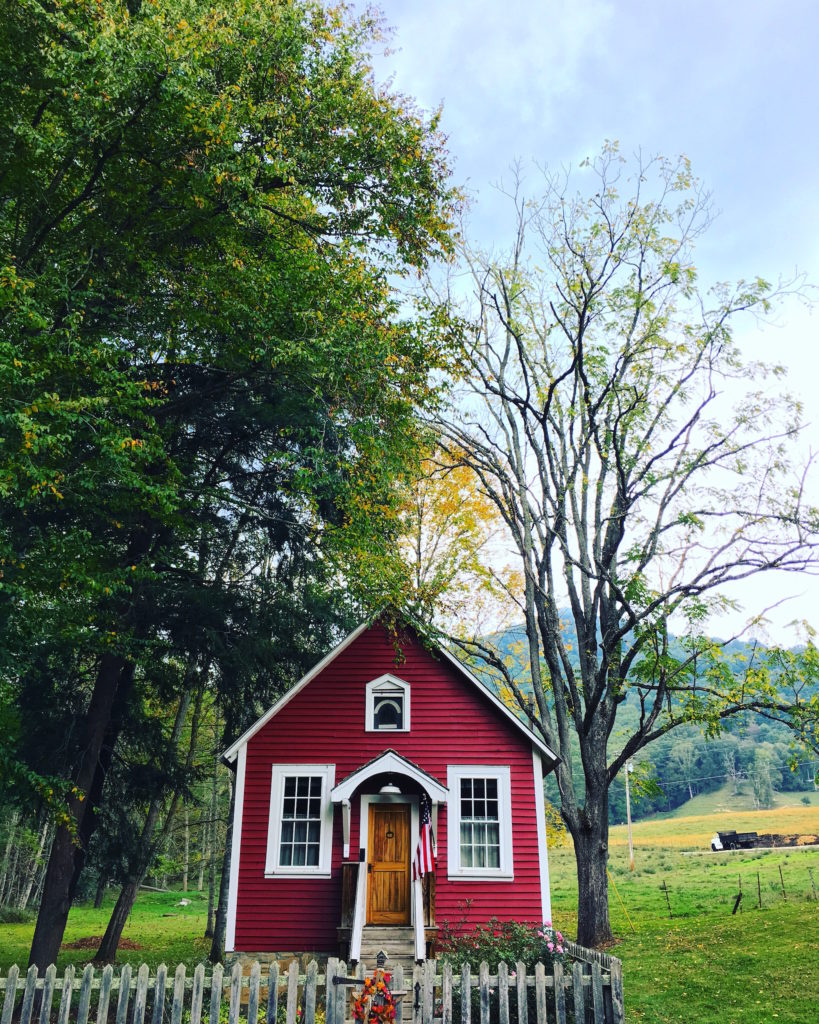 —-
Travel Tips:
Haywood County is located about 25 minutes from Asheville, the closest city with an airport. If you're driving in, it's pretty centrally located in the Smoky Mountains for people coming from Tennessee, South Carolina, Georgia or Florida. We actually drove the three hours from Atlanta to Haywood County, along state roads and highways and had the best time.
We stayed in a cabin in Maggie Valley, close to a golf course (for grandpa) and the entrance to the Blue Ridge Parkway and Smoky Mountains.
You can drive about 20 minutes around the county and find something new and exciting to explore. It's worth it to venture out each day.
Most restaurants close around 9pm, and some require a reservation, so make sure to think about dinner before you start your mid-afternoon hike.
While the county is a mountain town, all the conveniences like grocery stores are nearby, so you don't have to buy all your food before arriving to town.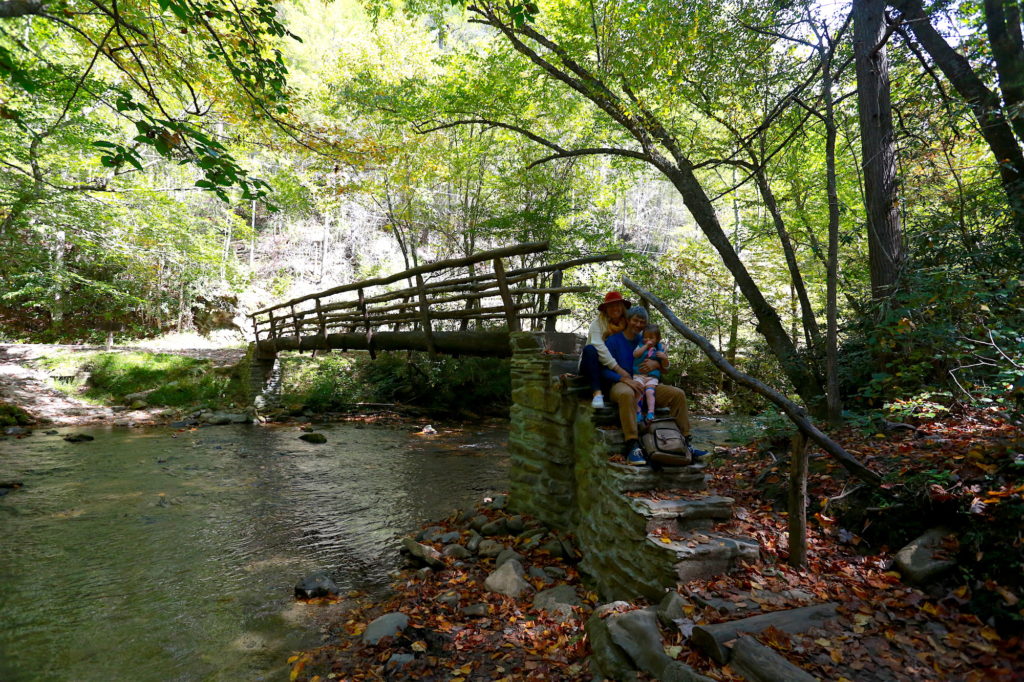 #WinterLove:
Haywood County is a great year around vacation spot. Here's a few ways you can enjoy it in Winter too!
Cataloochee Ski Resort: Whether you want to tube or ski, you'll find that the winter fun starts here. In the Fall, the overlook of the mountains from the road leading to the ski resort is one of the most underrated viewing spots of the changing of the leaves.
Sam's Summits Loop Trail, located in Shining Rock Wilderness, is one local trail that is open year round- rain, sunshine or snow. Bring your waterproof hiking boots to explore the mountain trail covered in snow.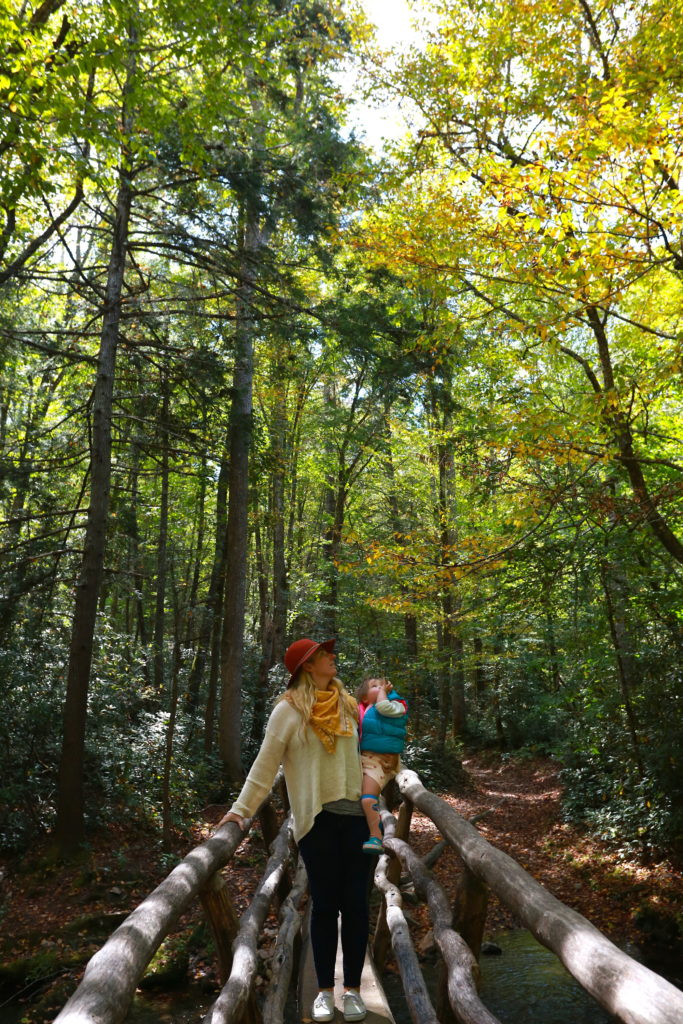 This post was sponsored by Visit North Carolina Smokies and Travel Mindset.