Winter Road Trip Around West Sweden: Itinerary Guide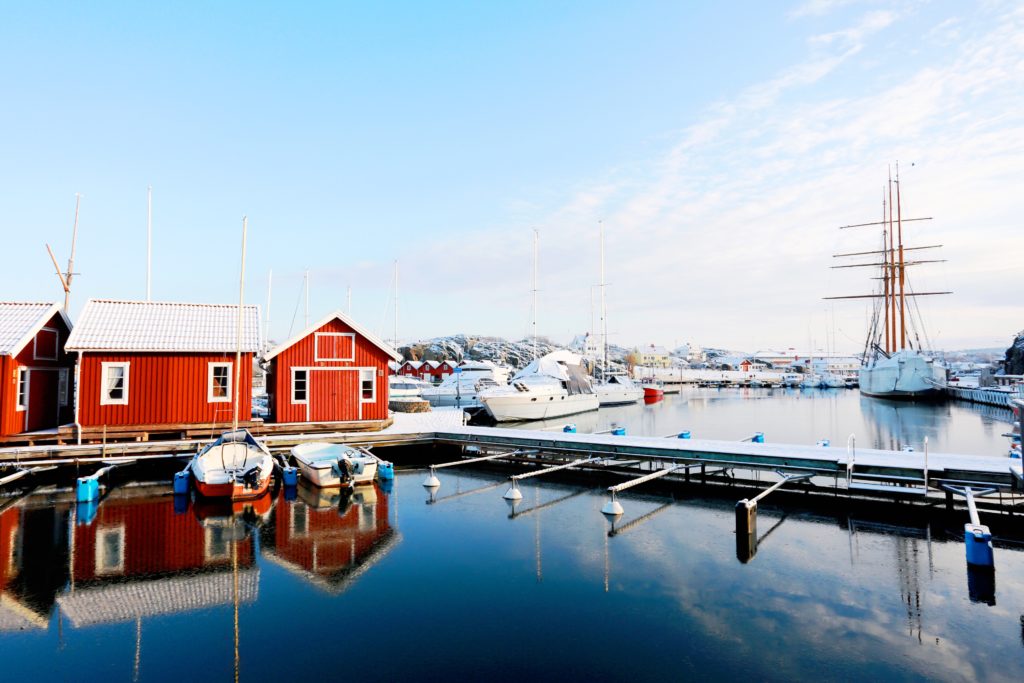 Bob and I just got back from a world wind road trip around West Sweden, from the city centre of Gothenburg to several islands in the Archipelago, and man, was it an awesome trip. It was the perfect sampler of all things West Sweden and I already can't wait to return in the late spring/early summer.
Since I now think everyone should plan a trip to West Sweden, here's our exact itinerary so you can recreate it.
A fair warning: this is detailed! And sometimes I go back and forth between travel guide voice and being Jade 🙂 giving personal accounts. I hope you like it and let me know if you have any questions about any particular island or part of our trip. We had the best time and would love if everyone who visited had a similar magical experience. xo.
The Flight:
We flew to Gothenburg on Scandinavia Airlines through Miami, but they also offer flights out of San Francisco, Chicago, Newark and Atlanta. We upgraded ourselves to Plus so we had more leg room, access to airport lounges, and were able to board early so we could organize our things before departing on the 9+ hour flight across the pond. The movie selection, dinner menu and choice of champagne mid-flight made the whole experience so enjoyable that we actually couldn't sleep!
Day 1:
Book an airport transfer to your hotel for the first two days, Clarion Hotel Post, right in the middle of the city. Clarion Hotel is perfect for walking or taking a tram around the city centre. The main train station is right across the street and it's only a 30 minute walk or so from Clarion Hotel to our favorite part of the city, Haga. We dropped our stuff off at the hotel, changed into some new clothes so we felt fresh and awake, and headed out to explore Gothenburg. Take your first day pretty easy and rest up when you need to. We plowed through the first day and didn't lay down until 10pm, but we were almost over tired and had major jet lag wake us both up around 2am, not sleeping again until 6am. The nice thing about winter months is that the sun doesn't really come up until 9am, so you don't feel back about sleeping in. 🙂
We started out by walking through the train station and taking a few photos before heading down to Saluhallen, a food market with over 40 stalls to taste test Gothenburg local favorite treats, spices, cheeses and beers.
Window shopping near Saluhallen proved to be a great way to get to know the area and discover Swedish brands- I wanted to buy all the kids clothes for Kid Augustine and a few little items here and there for me and Bob.
Dinner:
We took an Uber to Spisa Matbar, for a casual night out, dining on a menu comprised of dishes from France, Spain and Italy. The duck ragu was delicious and the pizza was light and airy. Starting with the meat and cheese platter and a glass of prosecco, we indulged until we were utterly stuffed. Even though the sweets menu sounded appetizing, there wasn't any room for it! When we return, I'd love to have dinner or at least cocktails at the totally fabulous, Dorsia Hotel and Restaurant. The decor alone is reason enough to plan a visit.
Day 2:
Have breakfast at the hotel, the Sweds totally know how to do a breakfast buffet. This isn't anything like a breakfast buffet in America. There are dozens of cheeses and meats, pancakes and crepes, eggs, bacon, sausage, meatballs, yogurt and granola, and all the fixins.
Today's the day to tour the Volvo Factory, located just a 15-minute drive from the hotel. The tour is about an hour long, where you get to ride a tram that takes you into the factory and see all the robots working together. It's pretty incredible how fast and smart the entire process is- it definitely had Bob and I talking about getting a new car, and made us appreciate all the safety checks that go into the actual making process.
The last part of our tour included getting keys to test drive our own Volvo over the course of three days. With the Freedom to Roam from island to island in West Sweden's Archipelago.
*If you're in the market for a new car, and are considering Volvo, let us sweeten the deal. With Volvo's 'Purchase a Volvo, Get a Vacation' package, you get two round trip tickets, hotel stay and your very own loaner Volvo to jaunt around Sweden (or all of Europe) before returning home and picking up your new car. How cool is that?!
Before we headed off, we spent the afternoon seeing more Christmas lights and shops around Gothenburg, even visiting the University's Art and Design program's craft market. It was super fun to see what the local university art students had created- including a really cute wooden narwhal mobile that I would have LOVED when Augustine was a little baby.
Dinner:
Skip going out, and head to the Clarion Hotel Post's restaurant Norda. This gorgeous restaurant should definitely also we visited during the day to see the decor all lit up by the natural light from the huge windows. The menu has seafood favorites like oysters and lobster plus fun unique offerings like a chickpea burger and a crayfish creamy noodle dish. *Book a reservation when you check-in.
Day 3: Markets and Island time!
We started the day by visiting two markets before hitting the open road and exploring some of the islands. Our favorite market was in Haga, even if you don't get anything from the market, the shops along the main street are too cute and perfect for gifts. Oh, and there's a traditional Swedish clog shop that has clogs in every color of the rainbow plus patterns and polka dots too. A Swedish souvenir to cherish forever.
Packing up our Volvo, we drove about an hour to Fiskebäckskil, a picturesque fishing village that dates back to the 16th century, when the waters were rich with herring. Later, the village became a popular resort town, and now the upscale and relaxing Gullmarsstrand Hotel sits on the water with a open air, seafront spa that is available for private bookings. Just you, your partner and the sea. It was such an amazing welcome and nice way to relax after driving around.
An afternoon hike around Fiskebäckskil and the hotel prove for some stunning photographs and a chance to see the local sea life. A few seals definitely followed us around as we walked along the shore. You know how we feel about animals- it was such a fun experience.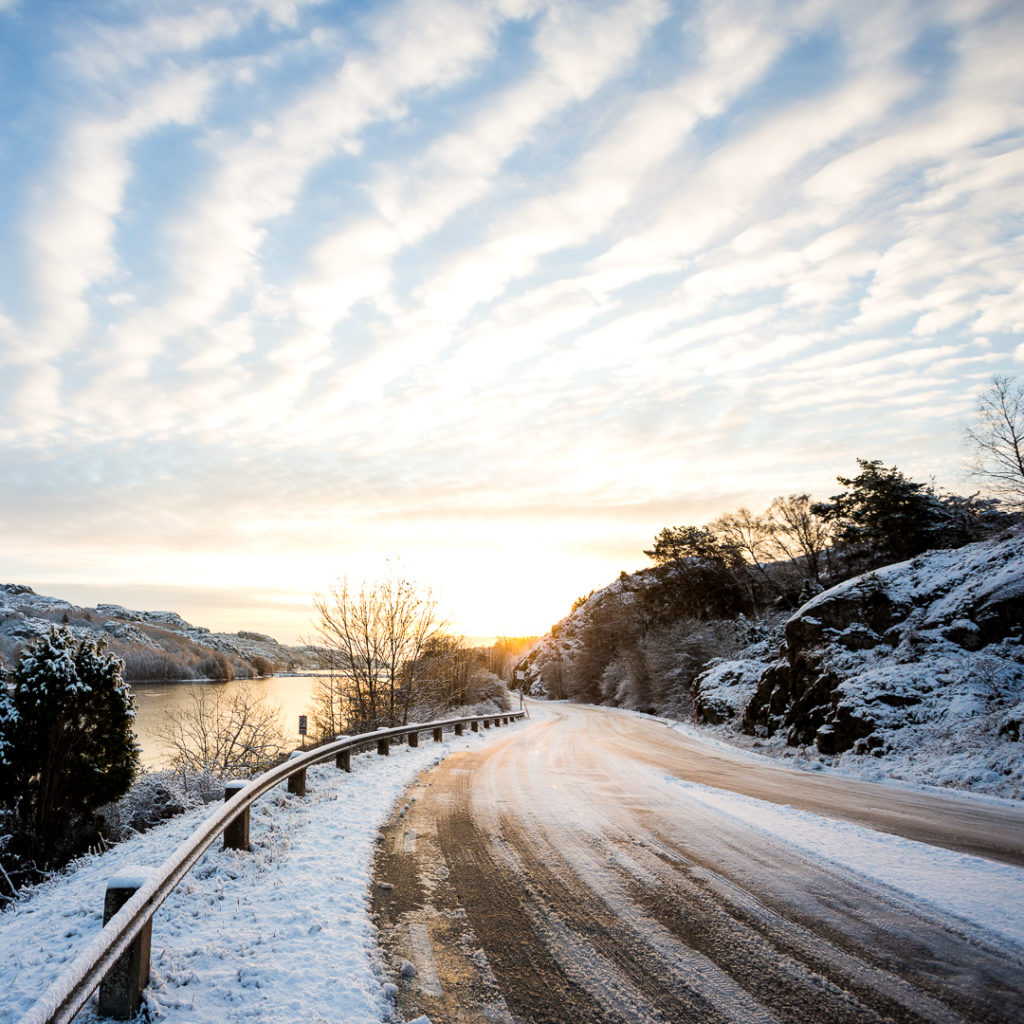 The hotel offers a nightly dinner service, which allowed us to mingle with some other visitors and get to know the island a bit more. Off in the distance you could see other islands, lit up with lights, a sight that was even more impressive from our room- which was perched on the rocks high above the restaurant below. The windows opened so you could have floor to ceiling views of the horizon. Super romantic!
Day 4:
An early morning wake-up call allowed us to have breakfast as the sun lit up the sky as it rose above the rocks behind the hotel. And then we were off to a morning guided sea kayaking trip with Christina Ingemarsdotter, the owner and main kayak instructor of Kajak i Grundsund. We paddled from Grundsund around the Bohuslän Islands (over 8000 to explore along the coastline up to Norway) and then ended with Fika out on the water. These channels are known as a paradise for kayaking adventurers, with the ability to just coast from island to island or test your strength and paddle through the rough currents out in the open ocean. Christina told us that in the summer there are so many people who will kayak to an island and then sunbathe on the rocks. But sea kayaking isn't just a summer activity, as we learned. Add a few wool layers and a dry suit and you're more than warm to spend a few hours paddling around. I think my dad would really love to experience the whole day.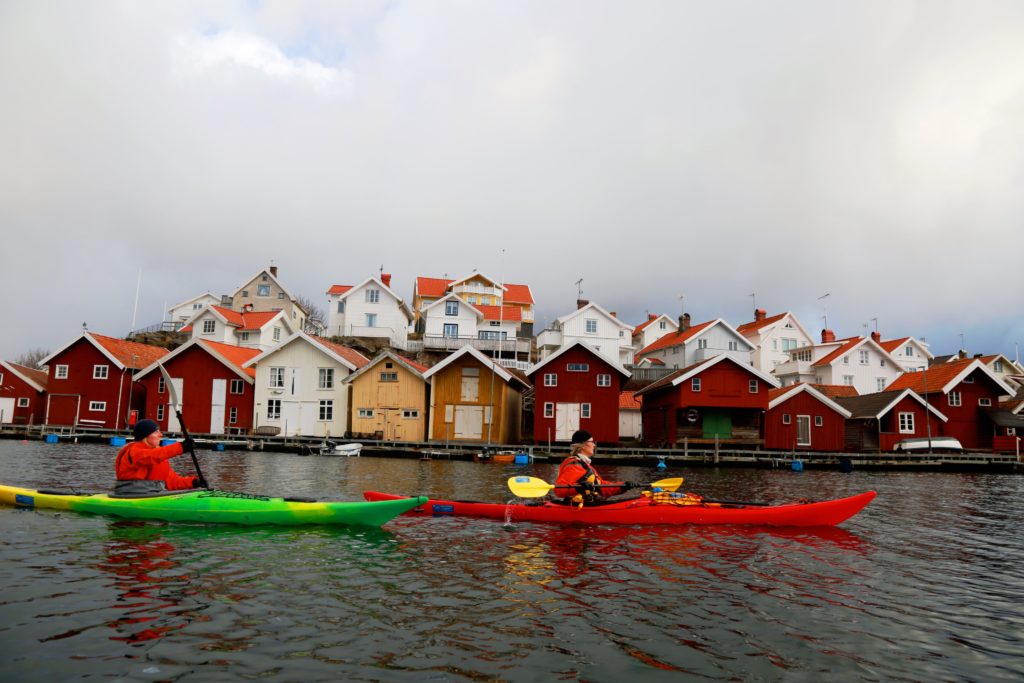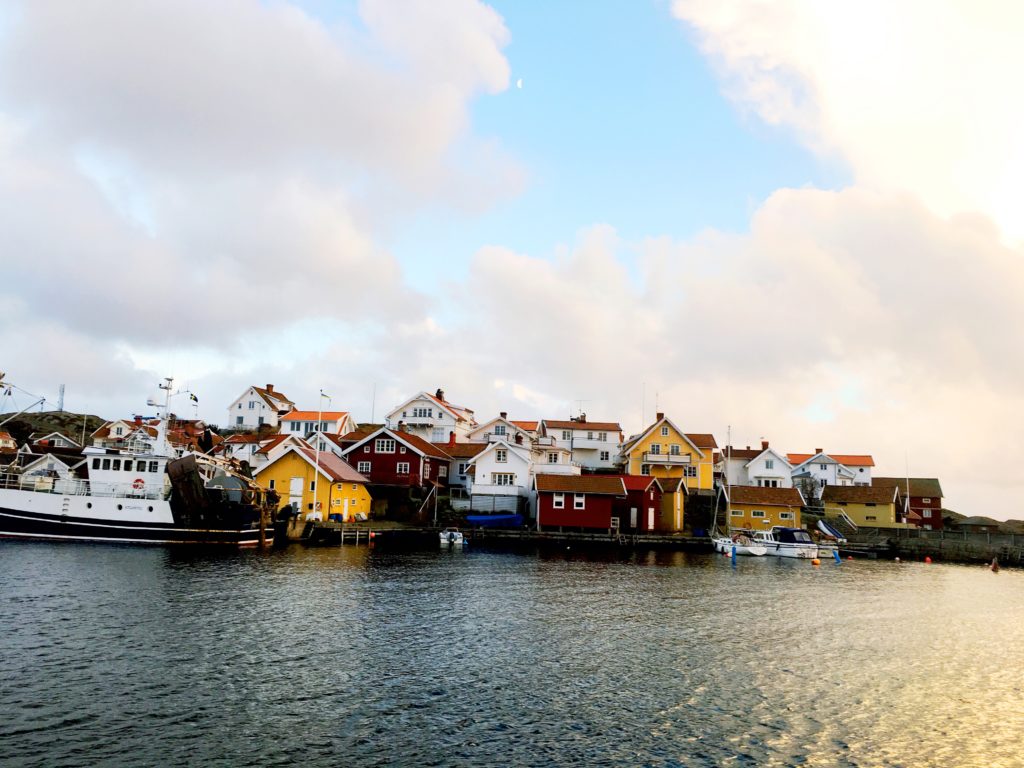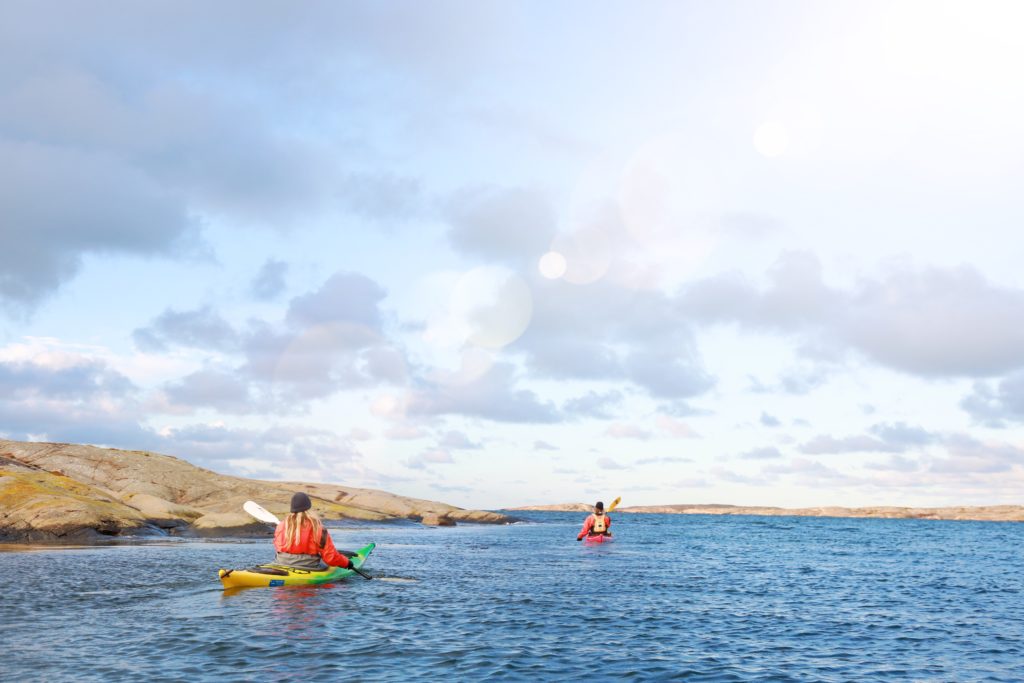 After working up quite an appetite we headed over to the laid-back marina restaurant Brygghuset. Despite the casual atmosphere, Brygghuset has been certified by Taste of West Sweden, a trademark that guarantees the freshest and highest quality ingredients, and guarantees that you'll have an amazing dining experience. And they were not wrong. We had a Christmas lunch buffet and the seafood was so fresh and tasty. I wish we had had time to experience the full normal menu as well, as I'm sure it's also super delicious.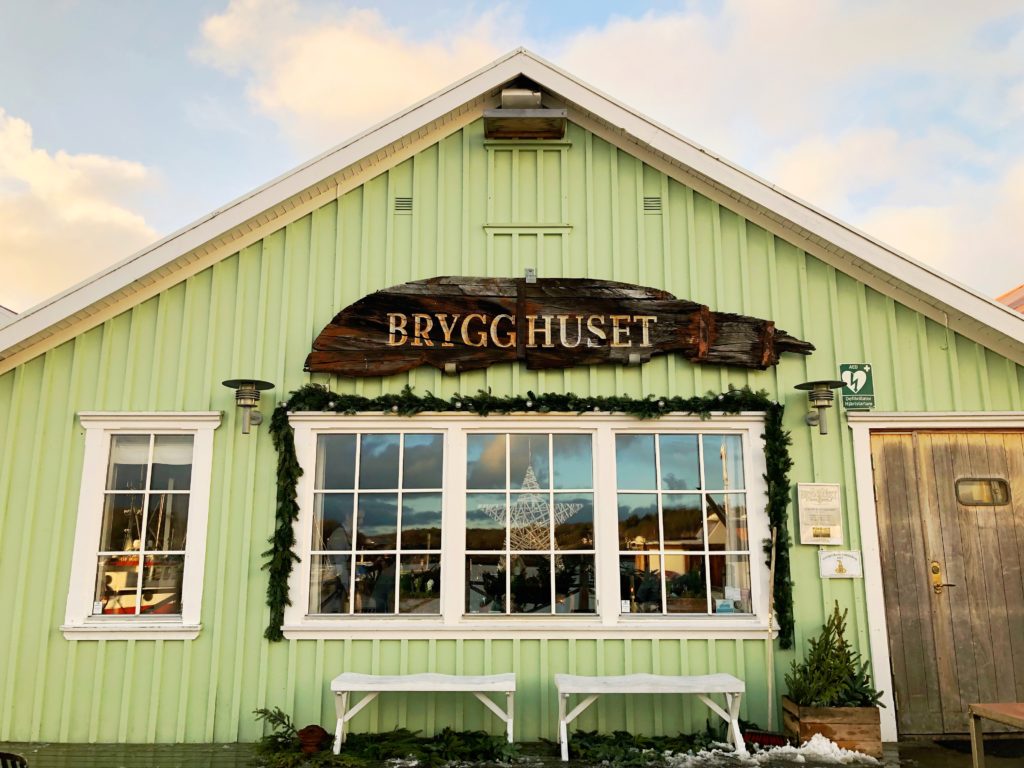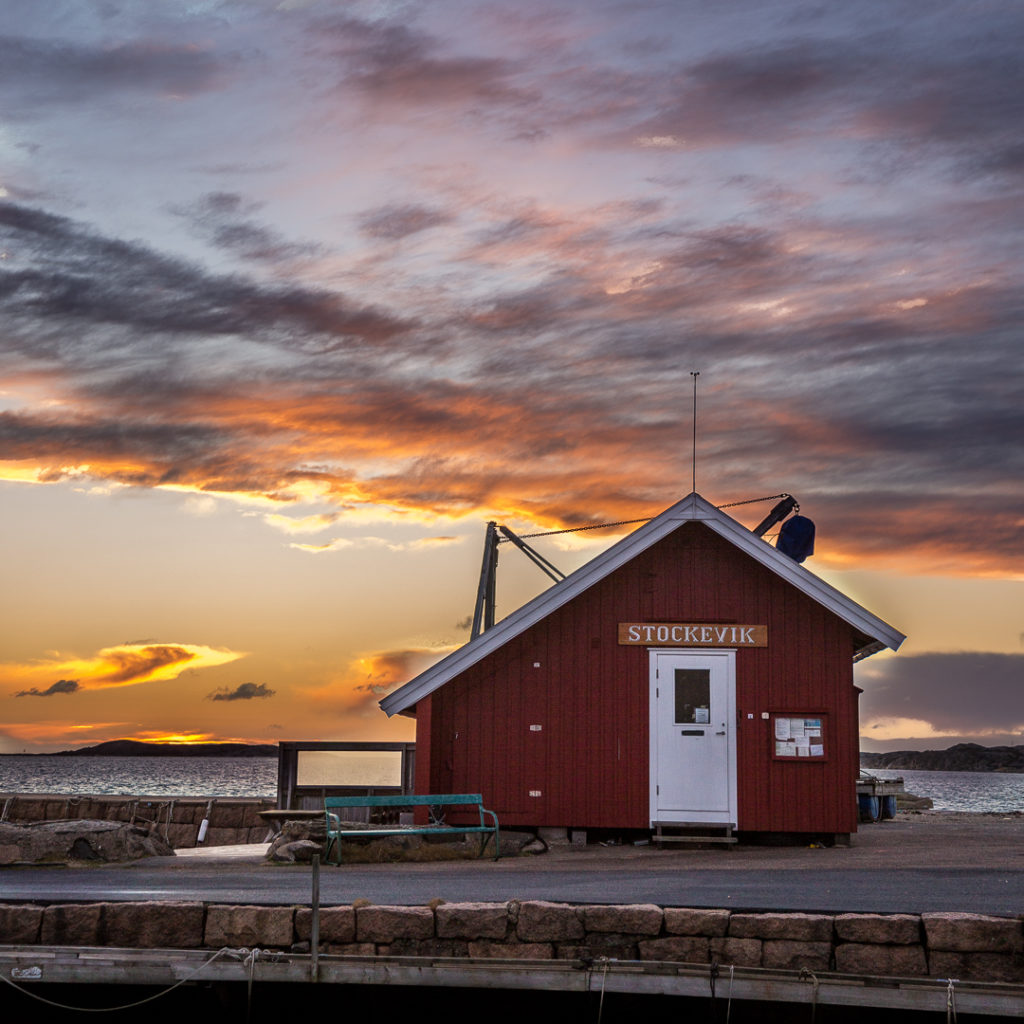 Afternoon: Drive to Orust island
Back in your Volvo, drive about an hour to Orust island, where you'll be spending the night in the totally one-of-a-kind B&B Lådfabriken. Despite being only steps from the Skagerrak Sea, the B&B is anything but a traditional seaside villa. It's funky, with personal design touches in every single item in the entire house. Think marquee signs next to flowery couches next to a bright pink cowboy stool.
The owners, Johan and Marcel are equally unique and spunky, with feisty personalities that will make you laugh for hours. This was one spot where I really wished we had multiple days to explore and would highly suggest you put this on your radar for a May visit, when the weather is absolutely lovely and very few other tourists are around. The town has around 23 permanent residents but there are tons of hiking trails, lakes, and quite a few kayaking opportunities. And, in the fall you can go mushroom picking. Oh, and of course there is wifi, so you can have that digital detox or check in on Instagram.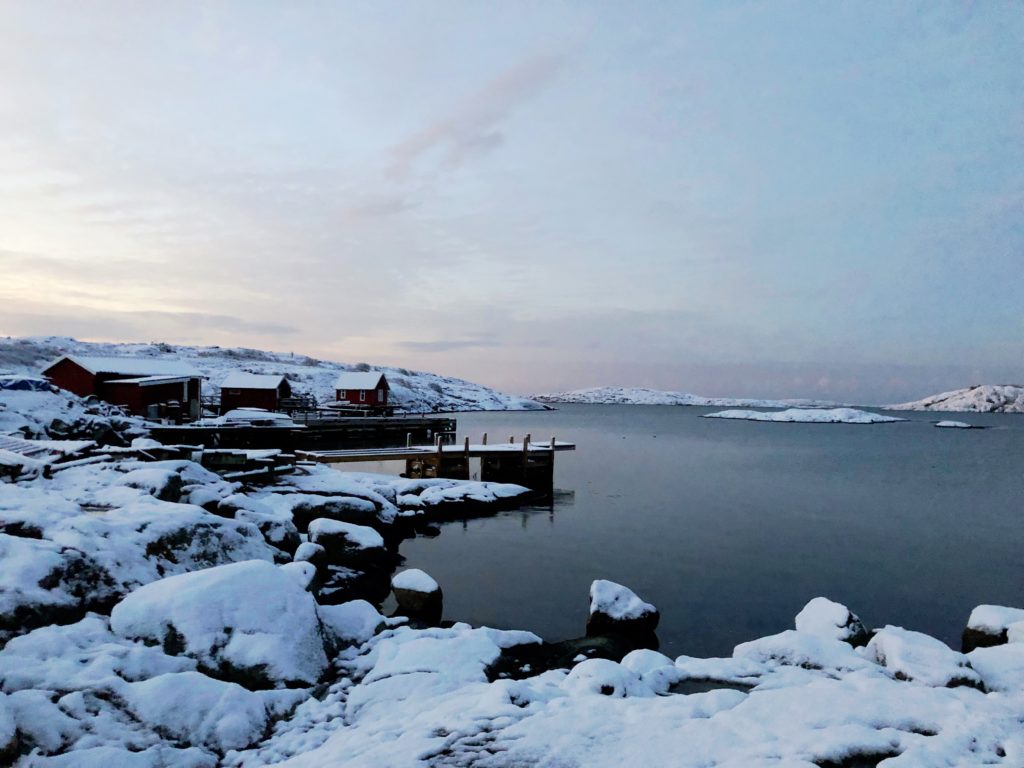 Marcel and Johan cooked a seafood feast for us, with lobster, crayfish, shrimp, crab, oysters and mussels. It was out of this world yummy. Even Bob, who isn't that adventurous with his seafood eating was really impressed.
We stayed up until almost mid-night chatting and they became instant friends. And I'm pretty sure they are just like this and anyone would feel the same way after a visit with them.
Day 5:
After a sad goodbye, and another hour drive and we were at the Nordic Watercolor Museum, a building that connects nature, the sea and art all in one beautiful place on the Bohuslän archipelago. 
"Since opening in 2000, world-class exhibitions at the Nordic Watercolour Museum have included works by Salvador Dali, Bill Viola and Louise Bourgeois as well as Swedish favourites such as Elsa Beskow, Anders Zorn and Lars Lerin."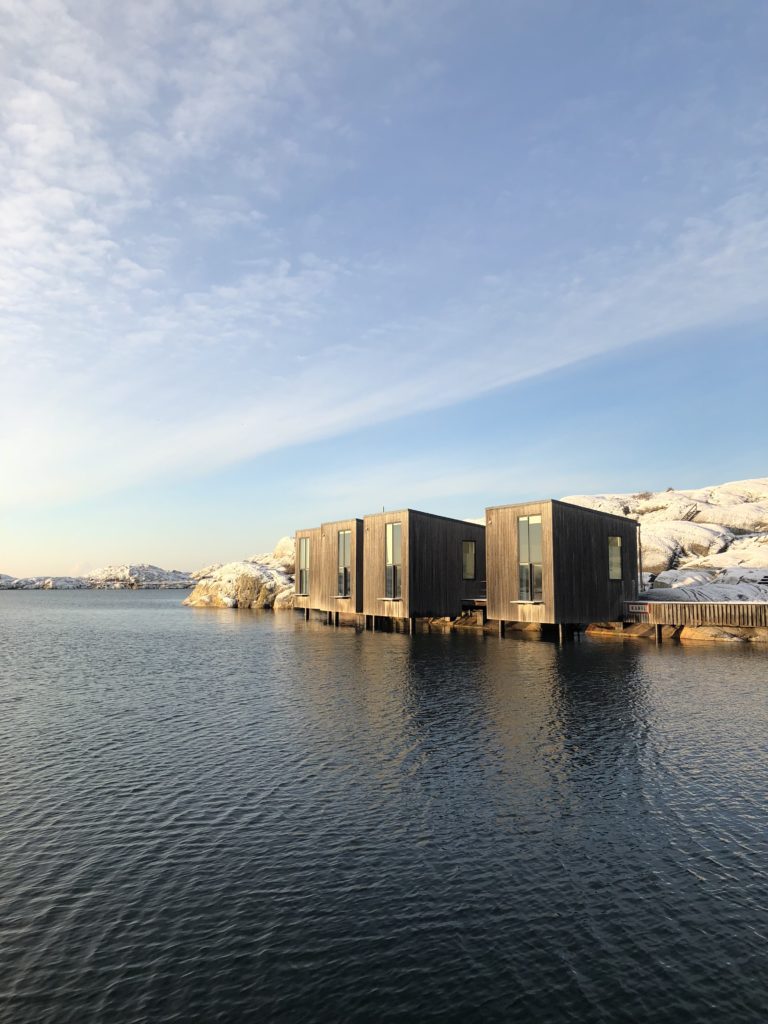 If you're an artist, I would highly suggest to look into the artists studios that you can rent and stay overnight in. With views of the sea and hiking trails outside the back, there is no way not to feel inspired every direction you look. I'm not even an artist and it made me want to pick up a paint brush and try watercolor seriously.
Lunch: Ten minutes down the road on the Island Klädesholmen sits Salt & Sill, a floating hotel, where we had a pickled herring cooking class and lunch. Another spot to remember when we plan a return visit, the floating hotel is unlike anything I've ever experienced (kind of like half cruise, half hotel) and they are quite popular in the summer.
(Read the full post and see the video here!)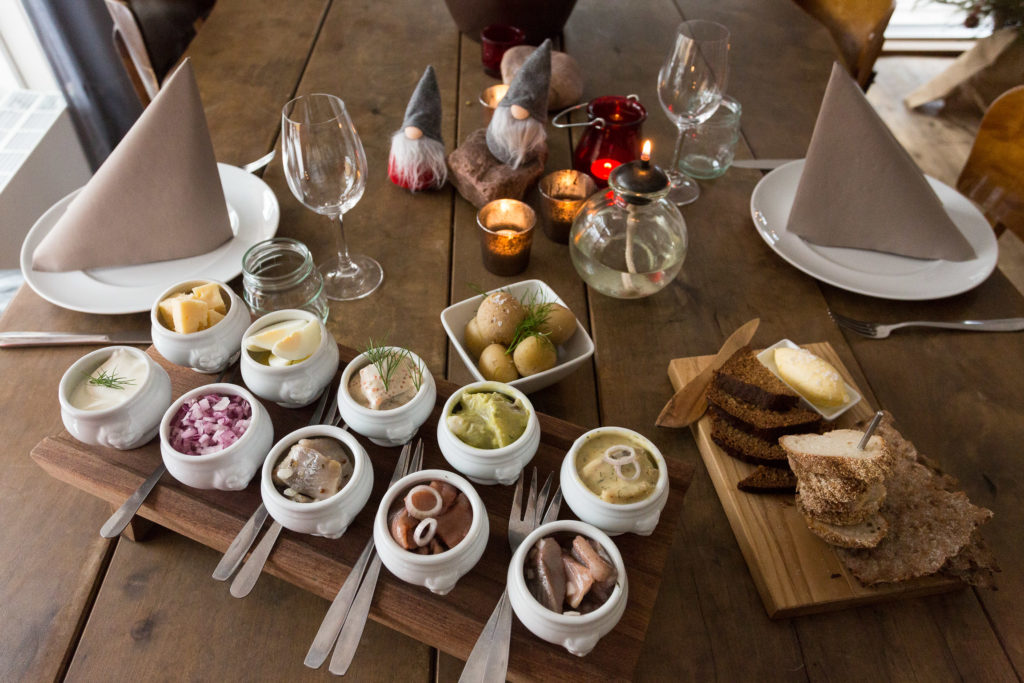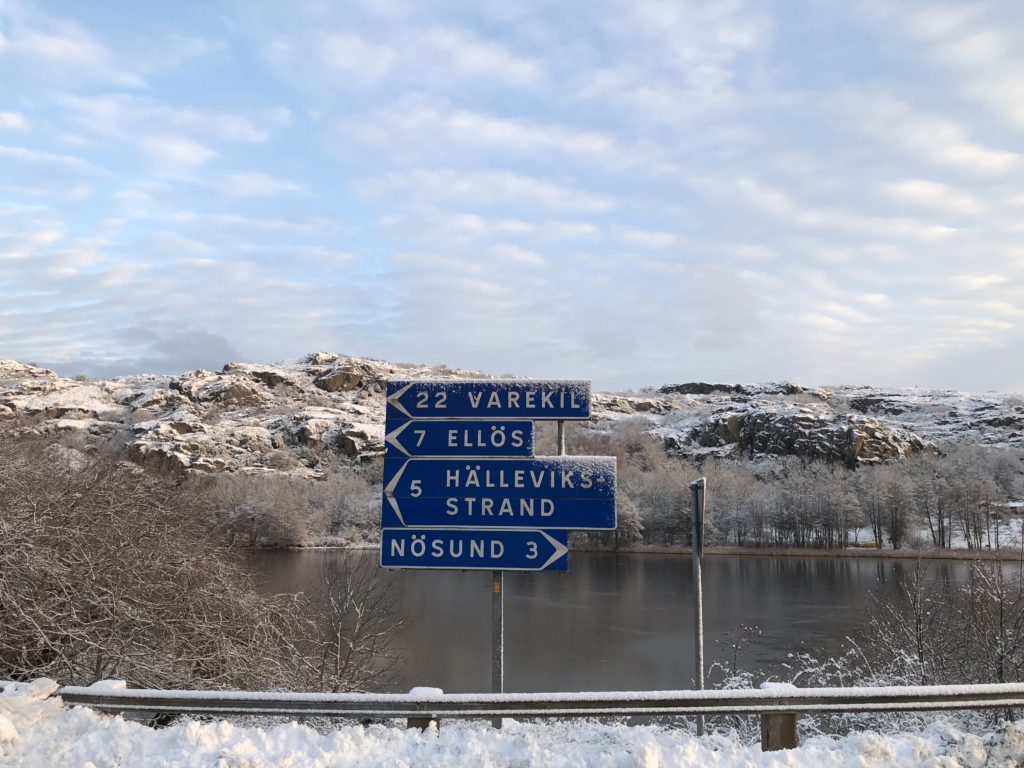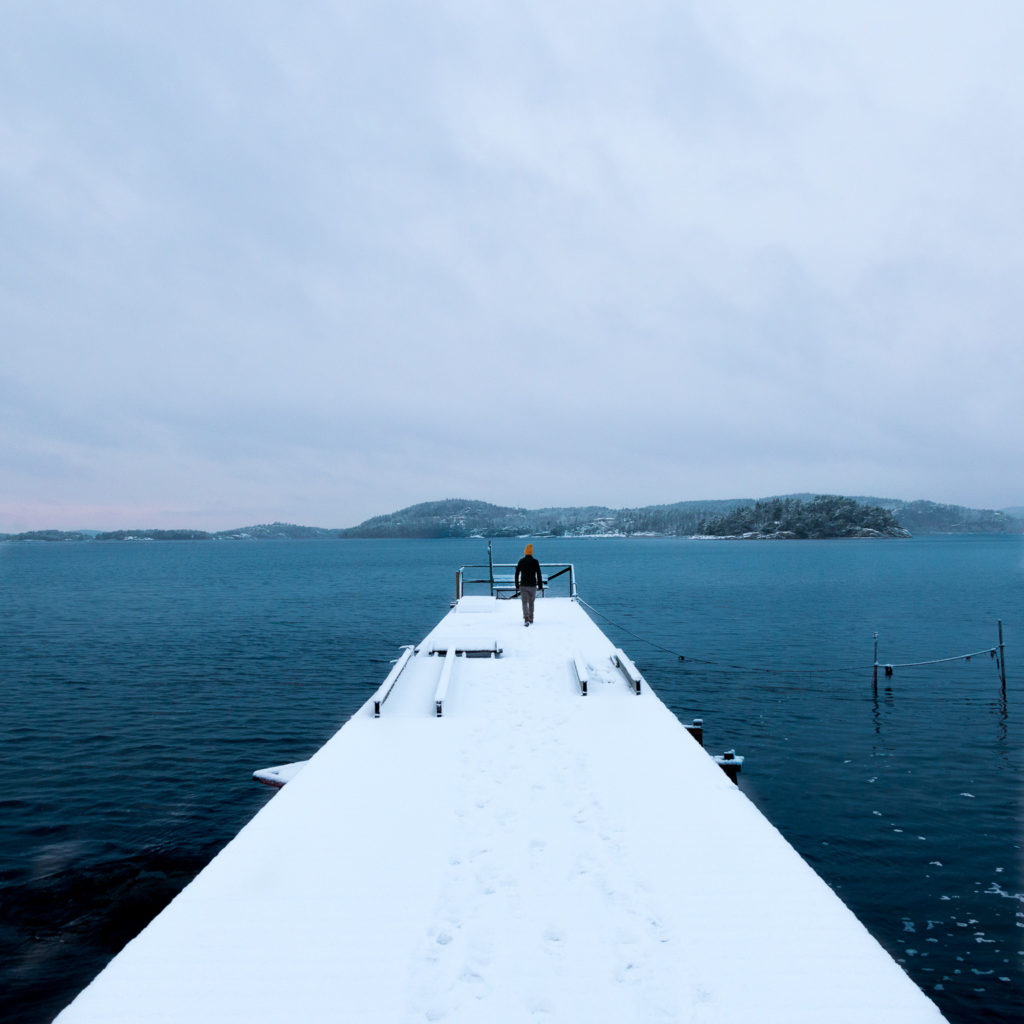 Our last hour drive took us to Villa Sjötorp, a gothic villa on the sea. Once we got settled in, we played in the snow as the sun set and then took a hot bath in the claw foot tub. This felt like the most like a traditional B&B experience, with a fine-dining experience that night. Harold walked us through each dish of our 7-course dinner, and how the selected wine paired with each one. This was probably one of the most extravagant dining experiences we've ever had. We felt so special. 
Day 6: Back to Gothenburg
For our final two days, we were back in Gothenburg to explore areas we didn't get to the first two days. We explored the fish market, the armory fort and more little alleyways and shopping we had missed before.
Lunch: Restaurant Gabriel in Feskekörka fish market hall
Afternoon: We explore Liseberg, Sweden's #1 tourist attraction, across the street from our hotel for the night, Gothia Towers. Dressed up for Christmas, Liseberg was decked out with over a million lights and the ice skating rank had a performance of The Nutcracker on Ice, which was so fun to watch with a cup of mulled wine to share. We rode a few rides and walked around the christmas market stalls before heading out to eat dinner at the Michelin starred restaurant, SK Mat & Människor.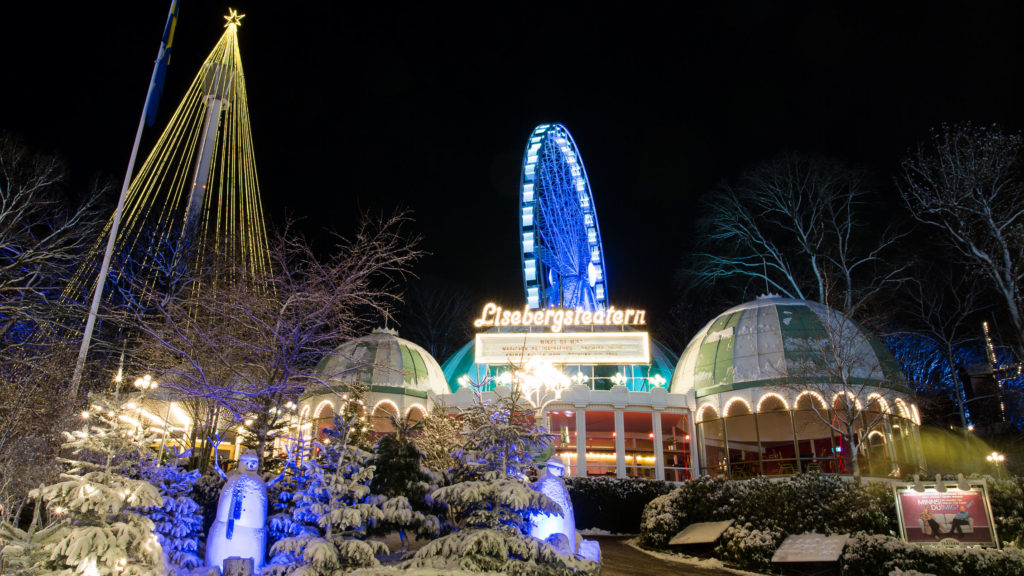 Dinner: SK Mat & Människor. Gothenburg is actually home to more than 7 Michelin Starred restaurants, and SK Mat did not disappoint. The casual, open kitchen restaurant specializes in traditional Swedish dishes all with a twist. Think: seafoods with fun sauces or spices, meats with unique vegetables, etc. We had a 4-course dinner and it was the best meal of the entire trip.
Day 7: The last hurrah
Our last day started leisurely with breakfast before taking the elevator up to the 18th floor for a three hour spa treatment and stone wash at Upper House Spa. It was divine. The view from the outdoor soaking pool was too fun- with views of the entire city below and the Liseberg Ferris Wheel the main photographic moment. (There were several outdoor, rooftop pools in Gothernburg and people loved them even in the winter.)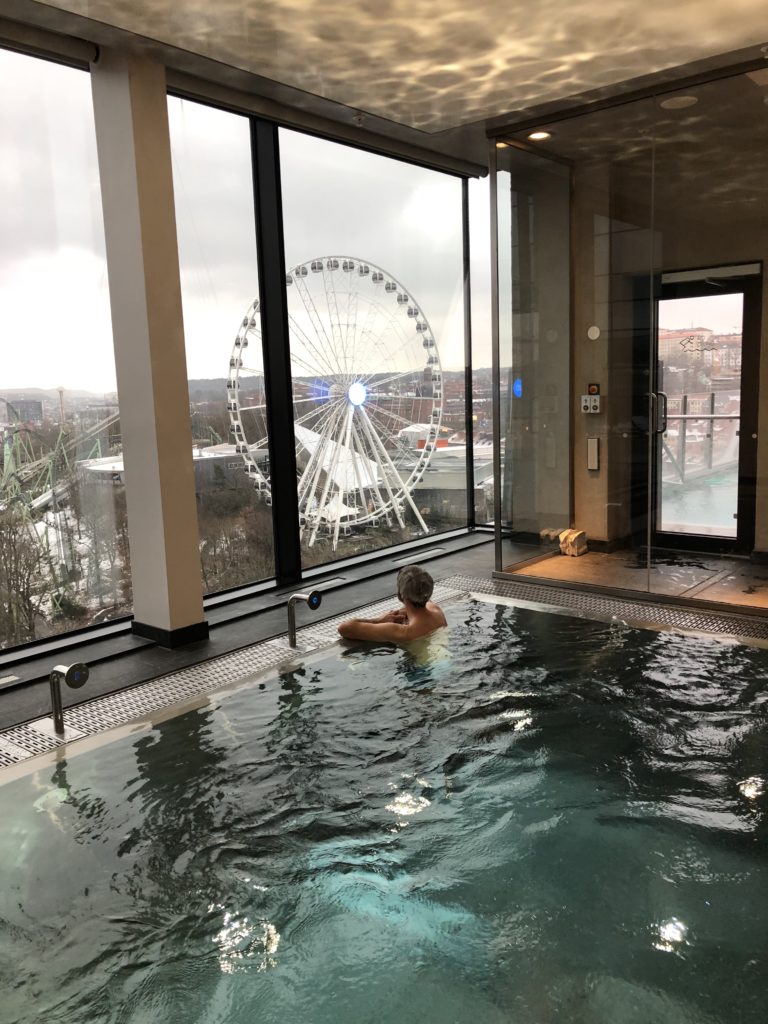 Fully zened, out, we had a light shrimp sandwich lunch at Heaven 23. Calling it light is actually a huge understatement as the shrimp were piled so high there wasn't actually a way to close the sandwich and open your mouth wide enough to take a bite!
In the afternoon, we used our city pass to visit one of the city's museum, Universeum. This 6 floor aquarium meets jungle exhibit was incredible and one of those moments I wished Kid Augustine had been with us. There were monkeys swinging around (no cages to be seen), birds flying, fish swimming. It was as if you had left Gothenburg completely and were transported to the Amazon. It was awesome! The city pass has tons of offers and you can really do almost anything in the city with that pass (including Liseberg and taking the trams and buses).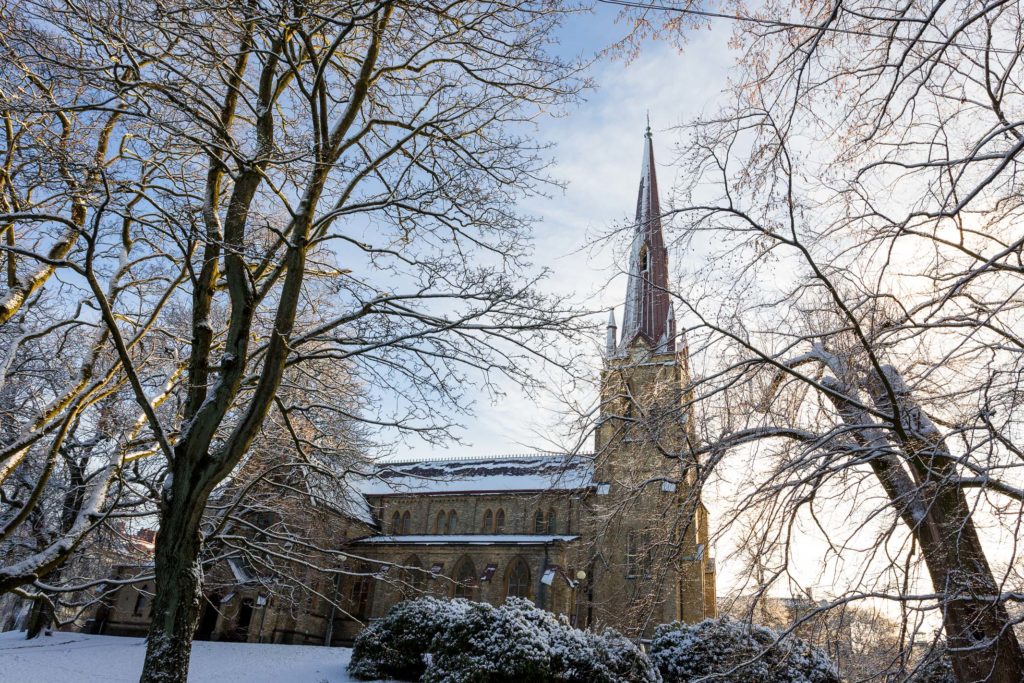 That evening we visited Gothenburg Cathedral for a once a year performance of St. Lucia before walking a few blocks over to The Barn for dinner.
The Barn specializes in bringing local Swedish ingredients and mixing them with American style burgers and was amazing. Considering we had just eaten 6 days of seafood, the burger was a nice alternative and quite honestly, was the best tasting burger I've ever eaten. 🙂 The cheese balls and fries were also very tasty with several unique dipping- including a jalapeno mayo that is life changing.
Where to stay:
Gothia Towers would be great for couples or families looking to experience a lot of fun right around Liseberg. The hotel has two different kids area, with play kitchens and baby strollers and just fun toys for them to play with. I know Kid Augustine would want to spend a lot of time in there. The rooms were also a nice size, with great views of the city.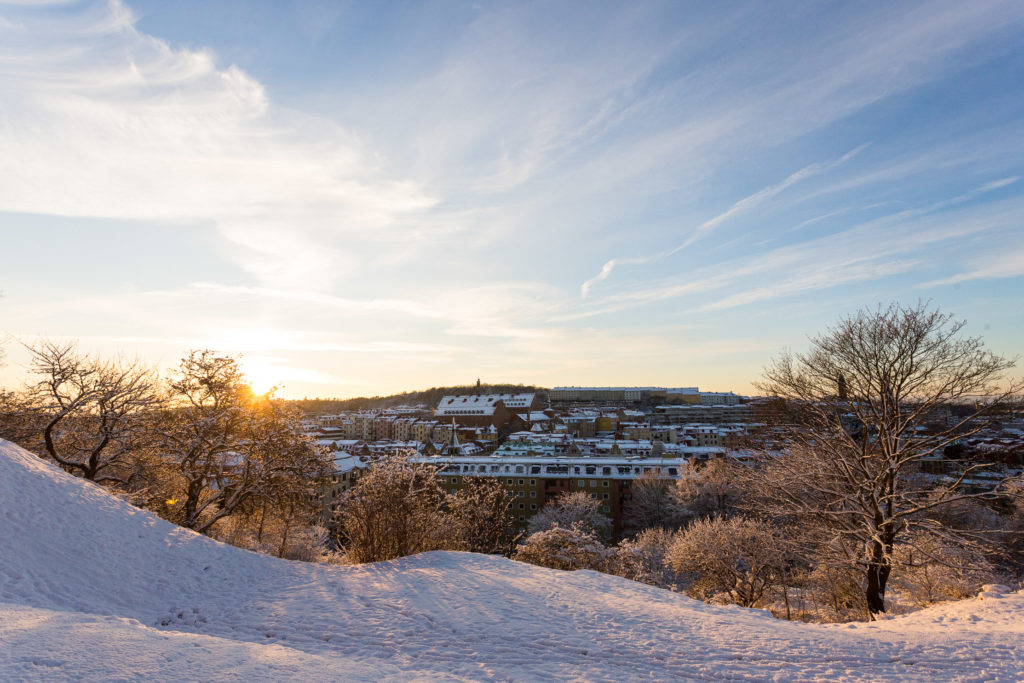 Our itinerary was put together by Visit Sweden, with the help of Eva and Sanna with Göteborg & Co and West Sweden Tourist Board for an iExplore and Travel Mindset partnership. It was such a fantastic trip and I can't wait to return soon, this time with Kid Augustine in tow!