2017.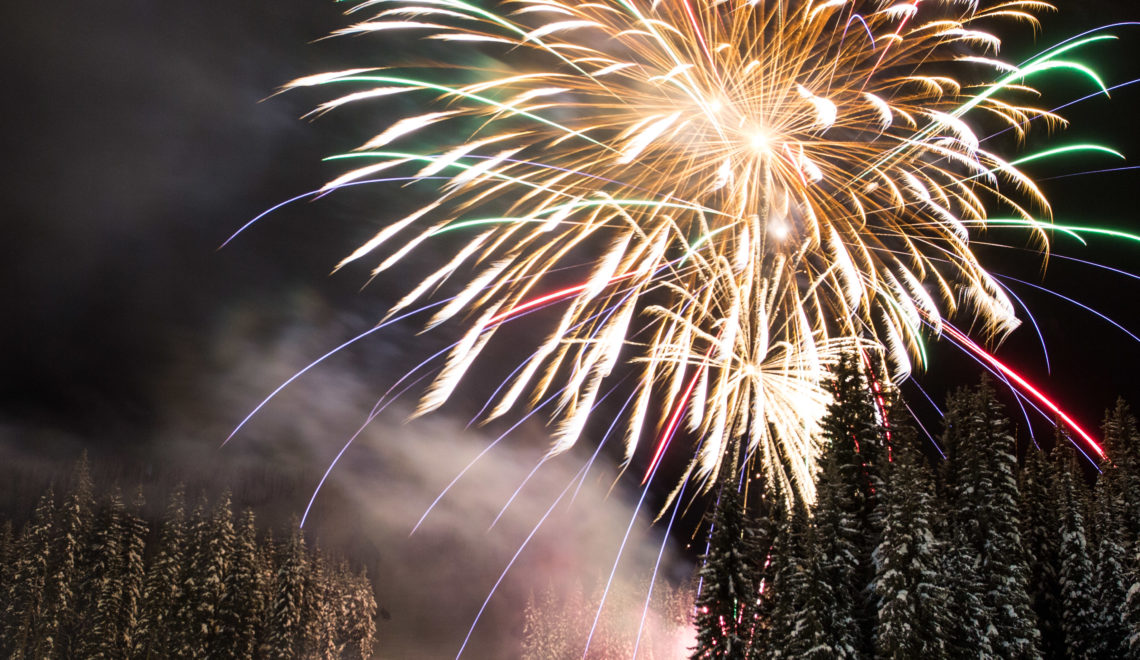 2017 kicked off in the Canadian Rockies, watching fireworks with our then 14 month old adventurer. It was cold, negative 20 degrees, but I have never felt so alive. We were making it work- we were beating the odds, we were showing those negative-nancys how you actually can travel and have fun and work in your dream career and be a couple all at the same time. No, we didn't have it all, but man, it felt pretty close to that.
2017 was our busiest travel year yet- with Kid Augustine traveling on over 78 flights before she hit 2 years old. We visited several new states, revisited old favorites, and explored a few new countries.
Our blog partnered with over 12 tourism boards and my company, Travel Mindset, partnered with another 30+. We took over 40,000 photos, created 20+ videos and shared thousands of little daily snippets on Instagram. It was a busy, fun, and productive year.
There were also several challenges and loses, some we talked about and some we didn't. From launching a new video platform to losing a long term team member, we tried to take each setback as a moment to learn more, and figure out how to better equip ourselves so the same thing didn't happen again.
Here's a look back at 2017:
January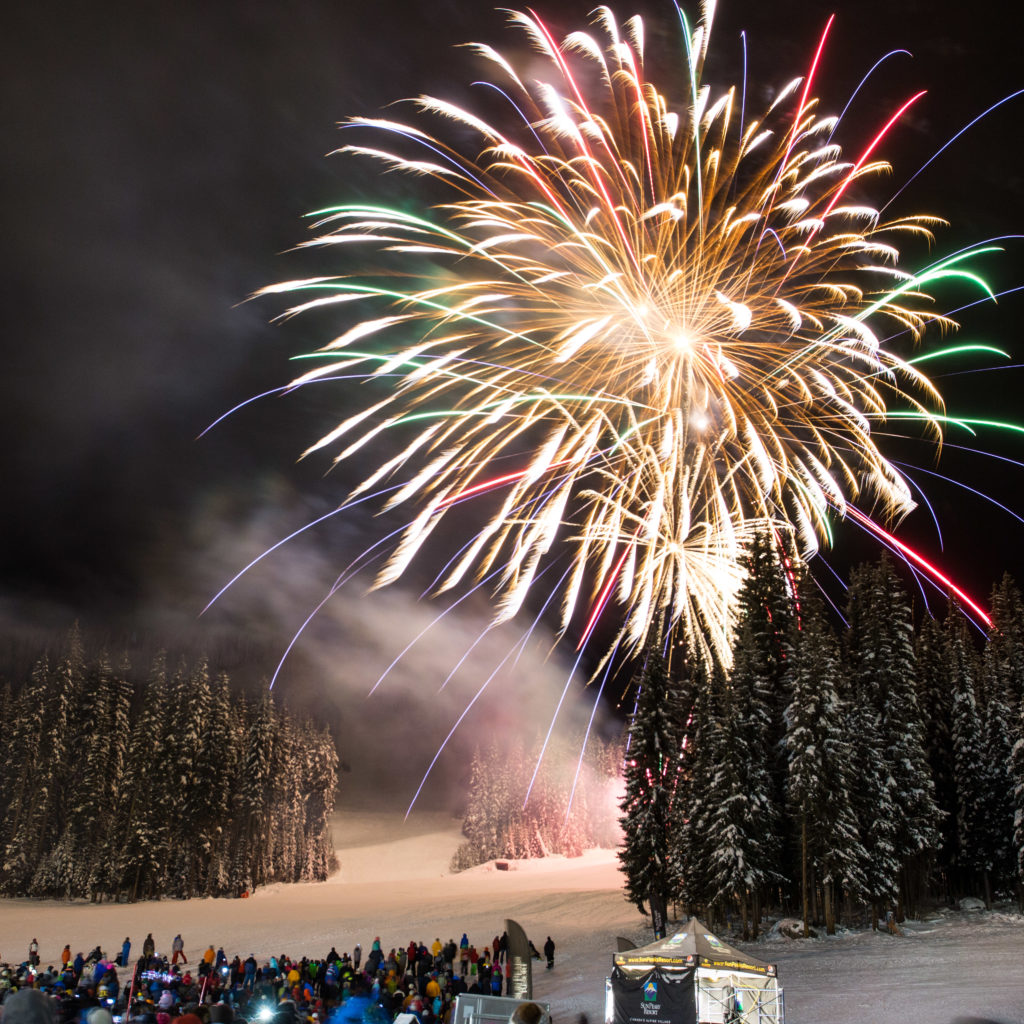 Kid Augustine's first fireworks show, in a balmy -16. She was super cute all bundled up in her gear. This was also her first real sledding adventure and first time we left her at the day camp on the mountain. She loved it!
Read more from our trip to Sun Peaks, Canada.
Two weeks later, we headed up to Mammoth Mountain for a project with Visit California. The project was about a winter road trip where you started at the beach and then drove up to ski- a surf to ski trip. We started in Redondo Beach, SUPing with sea lions before packing up and heading up to Mammoth (about 5 hours from LA) It was the weekend of the largest snow dump in like 30 years or something, definitely the most in recent history. Our cabin was buried under 34 inches of snow…. and accidentally had the heat turned off at 4am, so we woke up to 42 degrees! Thankfully we were all snuggled up together and quickly figured it out once we woke up. Besides that little behind the scenes tidbit, Augustine and Bob sled like crazy down a huge mountain and she LOVED it. I also took her up to the top of the mountain via the gondola and she loved riding to the top.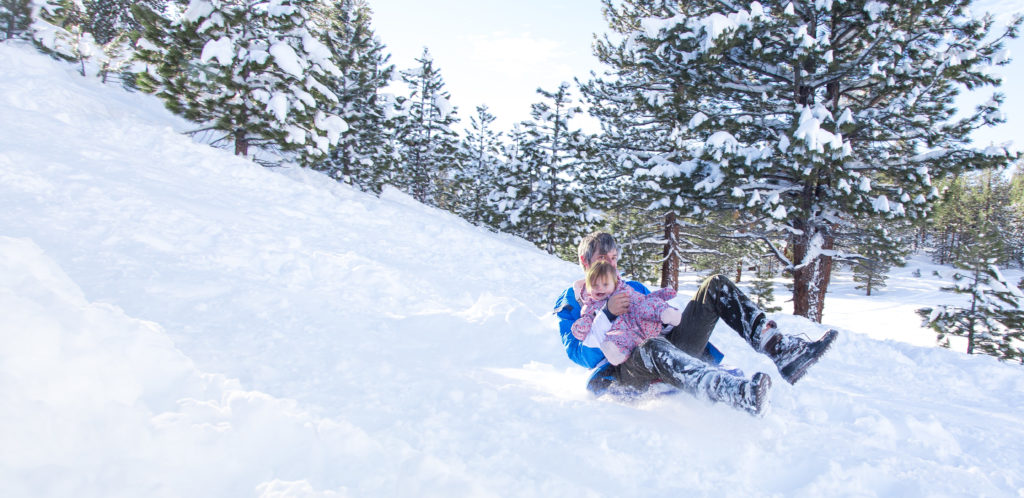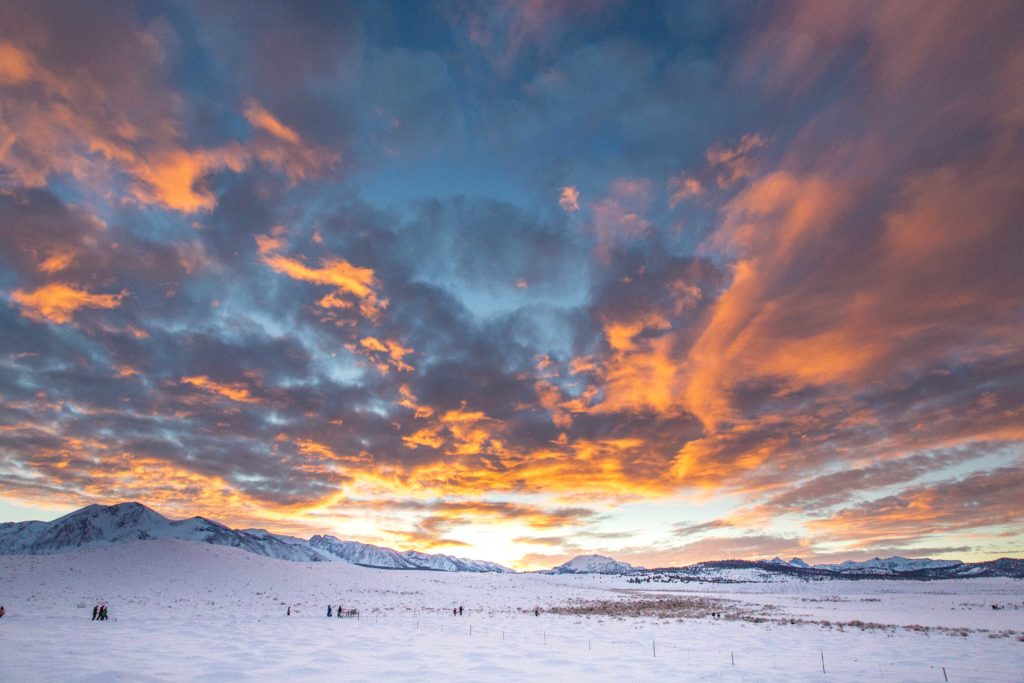 Not even one day later, I boarded a private jet and headed back to Mammoth for a project with Visit Mammoth. This time it was all about adventures to have in Mammoth, so even though I was just there, this trip felt completely different. Plus, I was sans husband and child. I tried Ice Climbing for the first time- in a blizzard- in avalanche territory. EPIC.
Still January.
I flew home and Bob flew out to Miami to catch a Celebrity Cruise for a 10-day excursion to film 360-degree videos and create mini videos for a family campaign. It was the first time Bob was away from Augustine for any large amount of time… and we actually departed for a friends and family trip to the Caribbean before he got back. 20 days without seeing each other!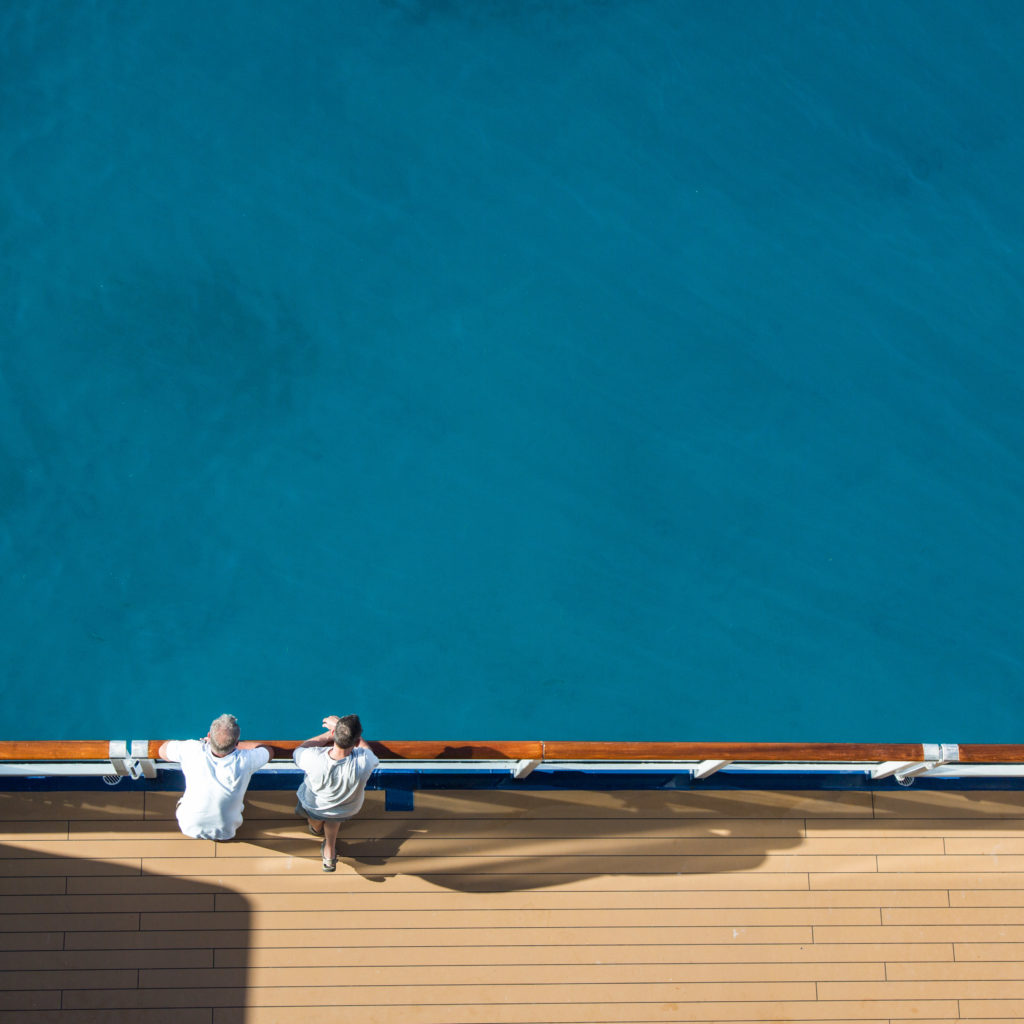 So yea, Bob was in the Caribbean and so was Augustine and I. Just different islands.
February:
We woke up in Grenada, where we met Kristin, Scott, Jeanie and my parents! for a full week of island vacation bliss. Augustine is obsessed with the ocean and the warm waters of Grenada were perfect to just bob around for hours. We made time for waterfall excursions and photo shoots, too, obviously.
We got home, reunited with Bob and had a solid week before any other travel popped up. Ha!
Next it was off to Montana, where I solo road tripped from Billings to West Yellowstone. It was my first time visiting each stop and West Yellowstone is now one of my favorite places in the world. A must-visit in winter trip, if you're looking for recommendations.
Read more about my West Yellowstone trip here. 
March:
March was a relatively slow month, travel wise. We visited St. Augustine to meet up with a bunch of my college friends and their kids (we all have babies now!) and see family. I also attended my first Instameet in Los Angeles and met some awesome Instagrammers in real life.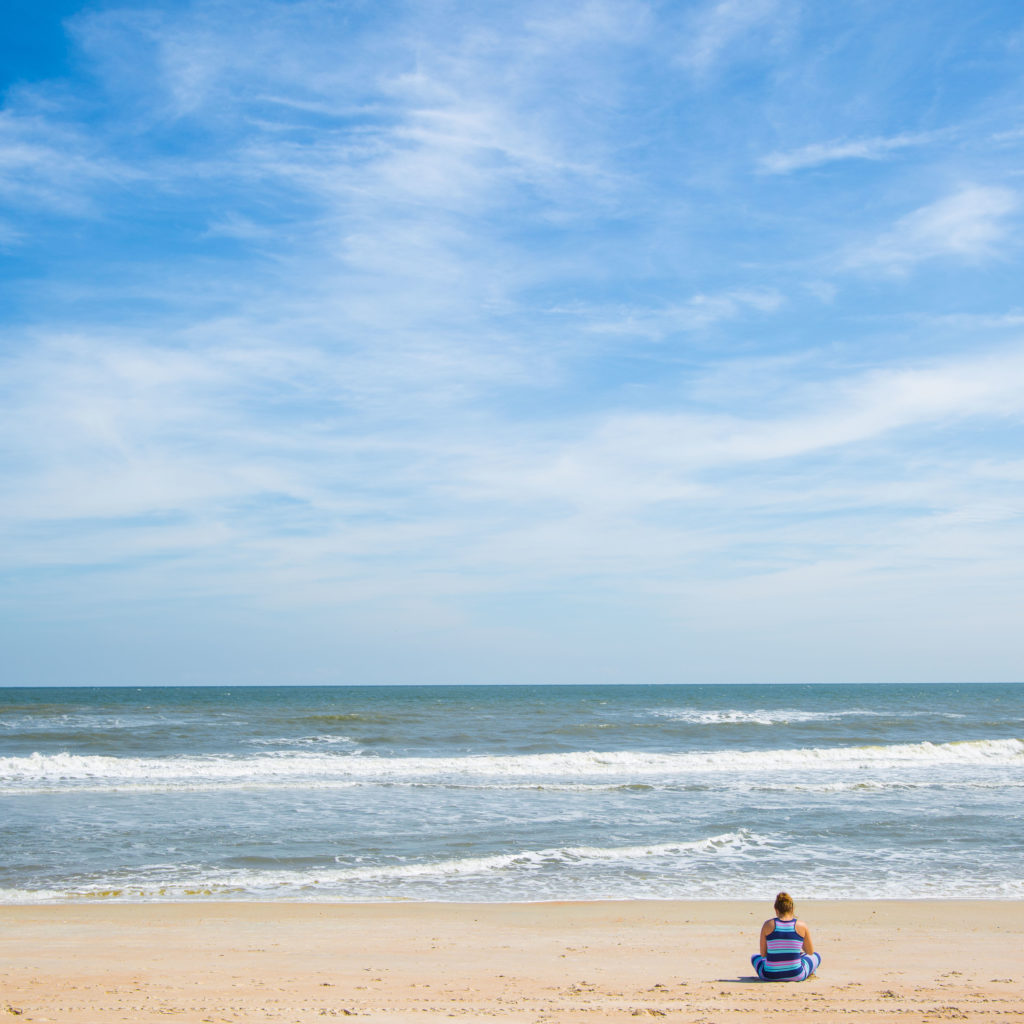 April:
Travel picked back up in April, when Augustine and I flew to Austin and drove down to San Marcos for a Travel Mindset campaign. My parents met us -woohoo- and we fell in love with this quirky little college town on the river. I could seriously see going to college there and loving it!
Read more about our family trip to San Marcos. One of my favorite trips of the year!
Next, we flew back to LA and took Augustine to her first Amusement Park for Knott's Berry Farm's Boysenberry Festival. She wasn't a huge fan of the rides, but she loved all the Boysenberry treats!
Read about our day to Knott's Berry Farm!
April ended and May began with a trip across the pond, a project I had been working on with iExplore, Travel Mindset and our team for 6 months. It was a huge partnership with Virgin Atlantic, Visit Britain, Visit Manchester and our companies. Bob and I were both traveling to Northern England to create content- the only thing was we weren't on the same itinerary. So we flew together and had a few days in Manchester before each heading off on our own to different areas in England. It was awesome and confirmed that I need to get back to England for a proper holiday soon. I quickly fell in love with Manchester and the nearby village of Chester.
Read about my trip to Manchester and watch Bob's 360-degree videos!
I was back from Manchester for 2 days and then it was off on a spring road trip from the Northeast corner of Montana to Glacier National Park. My mother's day was spent exploring Glacier National Park. It was another epic trip- I just wish I had someone with me. There was a lot of alone time driving between places with no cell service or radio. A lot of me time! haha. I also missed Kid Augustine and wish I had planned the timing of this better. Live and learn.
How to have an epic 48 hours in Whitefish and Glacier National Park, You Must Try: Mountain Biking Glacier National Park and, exploring The Birthplace of Montana,  
After another few days at home, we were off to St. George, Utah, for an Instameet for Travel Mindset.
The meet-up included some of my favorite people and overall it was a great group who all got along and added an incredible energy to the weekend.
From there, we drove the dusty Nevada back roads to get to Palm Springs California, where I spoke at one of the top tourism and PR events of the year- PRSA.
June:
June was equally busy, as we had 4 travel campaigns we launched, traveling from Canada to Knoxville to Rapid City and Mammoth Mountain.
First was a road trip around southern Alberta with Canada By Design. If you want a great summer road trip, I can't recommend this trip enough.
We had two days I think before Augustine and I set off to meet my parents in Knoxville. WHAT A BLAST! Such a fun city with so many awesome outdoor adventures.
From Knoxville, we flew to Rapid City, our first time visiting South Dakota. Rapid City is another city that gets A+ rating for awesome kids activities. Kid Augustine was in love with this town. The highlight of the trip was the helicopter tour over Mt. Rushmore. Bucket list worthy!
One night at home and then I was off to Mammoth Mountain for the opening of the mountain bike trails. I've never seen Mammoth in the summer or any other season but winter so this was such a treat. I also got an incredible, life changing massage (much needed after all that travel). I also tried rock climbing for the first time and was totally scared but felt really proud when I was done! (that ole fear of heights is a tough one to beat!)
July:
From one ski destination to another, July kicked with with a trip to Breckenridge, Colorado. I met up with my Travel Mindset co-worker, Corinne, for a girls adventure weekend, including a 8-mile hike to a snowy waterfall!
Then it was back to LA for 4th of July weekend celebrations. We spent the weekends in Malibu or Marina del Rey, at the beach as often as possible.
August:
Next was a Nashville, Florida, back to Nashville for the eclipse party, two weeks! We were able to celebrate both our dads birthdays, see cousins and friends in Nashville. We also took a night for a date sleepover at The Opry and saw a show at the Opry- a first for me! Loved every second!
September:
New state alert- visiting southwest Idaho with Kid Augustine and Bob. We've always been to Sun Valley but never Boise and McCall. The perfect late summer getaway as temps were in the 100s in the city and 80s+ near the lake. I'd like to recreate this trip year after year.
Read all about our Idaho adventures: A Fall Getaway to McCall and  48 Hours in Boise with a Toddler.
A week later, we were off to Nashville for a long weekend in Franklin, Tennessee. A small town about 20 minutes south of Nashville, now home to a huge music festival, civil war history and some of the best bbq in the South.
Read about our trip to Franklin,  and see more photos Bob took, plus where to get your drink on…
From Franklin, we drove down to Atlanta to see Bob's grandmother before picking up my mom from the airport and drove up to Maggie Valley, North Carolina. Another state crossed off the list!
October:
Tucson was a new to me city and Kid Augustine had a blast. It was a true mother daughter adventure trip, yes, even with an almost 2 year old. She loved the museums and the hiking, I loved the tacos and margaritas. Win/Win.
Read more about our Tucson trip.
From Arizona, we caught a flight to Atlanta to visit one of our favorite destinations of 2016- Sandy Springs. Just north of Atlanta, the outdoor adventures opportunities here are awesome- SUP, kayaking, hiking, fishing, you name it. Augustine loved visiting the farm and horse ranch, cause horses are pretty much unicorns and the best thing ever to her.
Read about our date night out and how the time Kid Augustine took over the blog to tell us just how much she loves Sandy Springs!
We were back home in LA for Halloween and the next morning I visited Portland for the SATW conference, speaking on a panel about Influencer Marketing- my favorite topic! Fall had come to Portland and I was so nice to visit when the trees were all changing colors.
November:
The family's next trip was just an hour south to Orange County– where we watched the most beautiful sunset of 2017 and went to Disneyland for the first time!
November was also Kid Augustine's 2nd birthday, so we threw a huge party with a blow up unicorn pool as an indoor ball pit. The kids loved it! Now to outdo myself for birthday #3.
December:
Two days into December, we flew to Florida for my parents to watch Kid Augustine while Bob and I explored West Sweden. We're still putting up more photos from the trip, but it was one of my favorites ever. I would love to go back in Spring or Summer when the days are a bit longer and explore the Archipelago islands much longer. Bob created 4 videos from the trip and I posted four blog posts so far. It just happened and I'm still processing how the trip impacted me.
Watch our trip in 360-degree video, a special christmas video, a cooking class on pickled herring and a overall round up of the trip!
And… we're out 2017! Can't wait for even more adventures in 2018- starting next week with a mother daughter (with my mom!) trip to Canadian Rockies and Jasper National Park.