Friday Favorites: Best Travel Blogs & Jet Setting Deals
Happy Friday, Happy June, Blog Friends! Am I the only one surprised by how quickly this year is flying by? I mean, it's already June, wow. This summer is going to be a great one, filled with many trips back to the East Coast to see family and friends and quality time at the beach. I. CAN. NOT. WAIT! How is your summer shaping up?
About Friday Favorites: One thing that I've wanted to do for a while now was highlight some of my favorite blogs, bloggers and awesome trips that I find online and bring them to you. Some you might have already heard of, others might be newbies, either way I hope you enjoy and if you have a post or see a blog that inspires you- please send it my way!
Friday Favorites for June 1, 2012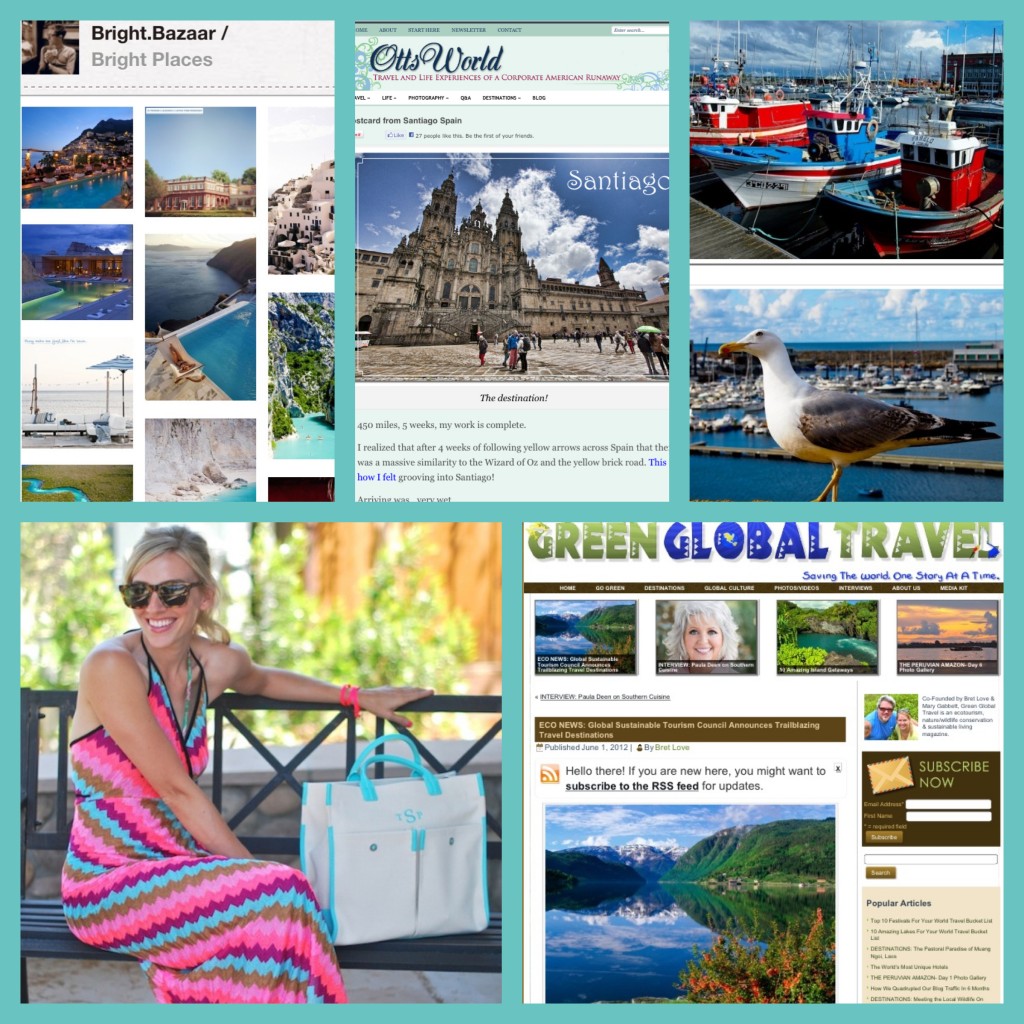 Favorite Photo Post: After my week in Barcelona and the Costa Brava area of Spain earlier this year, I'm bookmarking any post I see on new to me places in Spain. Dave from What's Dave Doing recently posted about 6 Days in La Coruna and again I was intrigued and really enjoyed his photos from his time there. If you love Spain, check out his post on this special city.
Favorite New Road Trip: This week I'm sharing a different kind of road trip. Last week, Bob and I watched The Way, a movie about the Camino de Santiago Pilgrimage, walking 450 miles through Spain. We loved the movie and then today I opened my google reader and saw Sherry's Postcard from Santiago post about finishing the walk herself! I couldn't believe it and I kind of feel like it's a sign that Bob and I should do it too. Hm…
Favorite Travel Blogger: My favorite travel blogger of the week is Amanda and her new site Film and Travel. Obviously we love movies and it's exciting to see another blogger put together a great site for fellow movie lovers to log on and retrace their favorite films in the actual locations. Maybe she'll do Love Actually in London soon… 🙂
Favorite Travel Outfit: How fun, bright and happy is this look from Sterling Style? Cute vibrant maxi dress, easy cute sandals and a huge tote to carry all your traveling goodies you pick up along your way. This is the perfect travel outfit for a weekend beach vacation or walking around a farmers market.
Favorite Pinterest Board: I'm absolutely obsessed with Will's home decor site, Bright Bazaar, but his travel pinterest board has me pretty excited too. Lots of colorful places, pretty empty beaches and lots of Italy.
Favorite Travel Deal: TravelZoo Peru Vacation- $1599 — Peru & Machu Picchu 7-Night Trip w/Round Trip air from Miami. Holla- this sounds pretty amazing! Bucket list item for sure!
And, a few favorite blog posts from us, incase you missed them!
Hiking near Palm Springs… it's more than just a hike, as many of the animals in the area are pretty rare and dangerous. Mountain lions, rare birds and coyotes… oh my!
Our Two Year Travel Anniversary! Woo Hoo! Wednesday we celebrate our RTW trip- that, believe it or not, was two years ago to the day! Crazy and incredible to see how far we've come and how we've changed since then. Also- a look back at how our travel videos have changed!
Do you have a great travel story you told this week? Please! Share it with us!